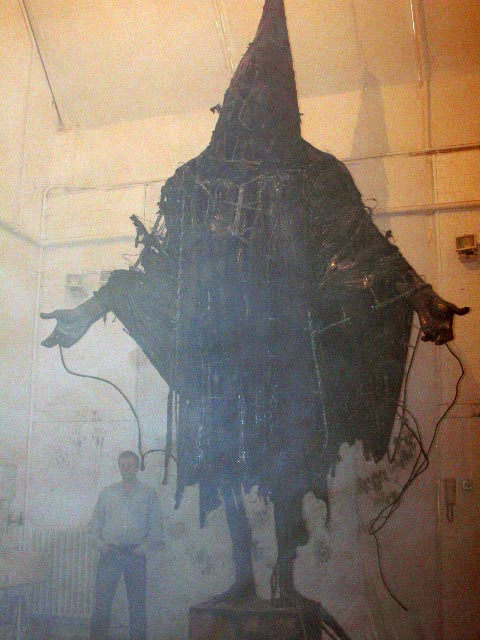 Tim Shaw – Casting a Dark Democracy One Night Special Riflemaker Preview Tuesday 17 March 2009, 6– 9pmThe Kenneth Armitage Foundation 22A Avonmore Road London W14 8RR (West Kensington or Olympia Tube) RSVP essential: georgia@theresasimon.com
This exhibition confronts issues of world conflict, particularly with the atrocities that have framed our reception of the war in Iraq. A major installation standing five metres in height is based on the now infamous image of the Abu Ghraib prisoner. The figure is constructed out of welded steel and barbed wire, over which black polythene is stretched. It stands on a burnt wooden box and casts a shadow across the floor in the form of a pool of sump oil, whilst the sound of a heartbeat fills the room and is interrupted by intermittent voices caught on radio.
Other works in the exhibition include Man on Fire (2007-8) and Tank on Fire (2007-8). First exhibited just days after the terrorist fire bomb attack on Glasgow Airport in June 2007, Man on Fire depicts the figure of a man lunging uncontrollably forward consumed by flames. Similarly, Tank on Fire depicts a soldier diving from a tank that is engulfed by flames. The work refers to a series of photographs taken in Basra in 2004 showing a soldier leaping to the ground from a burning Warrior vehicle. One becomes acutely aware of the plight of each individual within the frame of a newspaper image and this is translated through the medium of the work.
Tim Shaw has been living and working in Cornwall for the past fifteen years. Major commissions include a permanent installation at the Eden Project in Cornwall, entitled The Rites Of Dionysus (2000-4) and the monumental sculpture The Minotaur (2008), exhibited at the Royal Opera House in Covent Garden earlier this year, to coincide with the opening of Sir Harrison Birtwistle's latest operatic work.
The recent vandalism of one of his works at an exhibition at Vyner Street has provoked him further to employ the themes of violence and politics as constructs to explore the human condition.
Casting a Dark Democracy represents the culmination of a body of work by sculptor Tim Shaw.
About Mark Westall