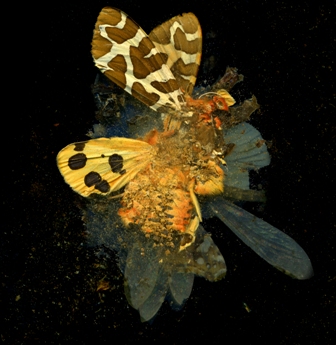 Bravely taking on the enormous space of London's former Museum of Mankind with the first show in it's new London home, Haunch of Venison yesterday launched Mythologies, a group show aiming to acknowledge the space's history as the repository of the British Museum's ethnographic collections.
One of the most ambitious group shows undertaken by a private gallery, the show aims to invoke a sense of wonder and mystery, inviting the viewer on a journey of discovery through the booming galleries of it's new space. At over more than 21,000sqft, the visitor might be forgiven for wanting an occasional pit stop, however by creating what is, in effect, an enormous cabinet of curiosities, the gallerists have ensured that there is always an intriguing sight just around the next corner. Works by rising stars Carlos Amorales and Jamie Shovlin (remember his hoax band Lustfaust? www.lustfaust.com , well there's more in the same vein here, with beautifully drawn faux newspaper cuttings challenging first impressions) jostle against pieces by some of contemporary arts biggest names, including Sophie Calle, Kiki Smith, Keith Tyson and Damien Hirst.
With 40 artists work presented, this is certainly an ambitious show, but one that succeeds with only the occasional off-note. Standout pieces for this reviewer were Bill Viola's 'Small Saints' video polyptych and Mat Colishaw's Insecticide series of beautifully rendered photographs of smashed butterflies, both of which seemed to fit both show concept and space perfectly.
Categories
Tags