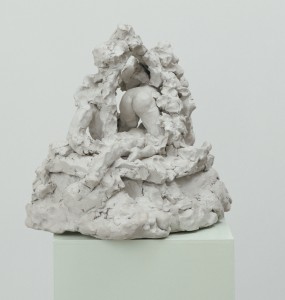 Rebecca Warren The Mechanic 2000 Reinforced clay and twig on MDF on wheels 48 x 36 x 48 cm
Courtesy of Ash Fine Art © 2009 Rebecca Warren
* Have just been to the press view and you get all the best known works (see below) but I think its her new work, specifically made for this show that stills the limelight – slabs of steel with a humorous pom-pom to balance them out, hard,tough but funny and soft when you get to know them.
The Serpentine Gallery presents the first major solo show in a UK public gallery of the work of British artist Rebecca Warren (b 1965). Warren is known internationally for her exuberant, roughly-worked clay sculptures, bronzes and vitrines containing carefully assembled objects that the artist has collected.
Described as 'an original and formidable talent', Warren's oeuvre combines rich art historical and contemporary references. The artist challenges sculptural conventions while also engaging with the history of figurative sculpture and her position within this predominantly male tradition. Alongside such art historical figures as Edgar Degas and Auguste Rodin, Warren's work also refers to contemporary artists such as Swiss duo Fischli/Weiss and sculptor Charles Ray.
Warren's shape-shifting sculptures in clay and bronze range from amorphous to more recognisable forms, which are sometimes sexually explicit, embracing both the formal and the grotesque. She says of her work: 'Though my work evolves through a process of appropriation and reference, it is non-didactic, being closer to revelation and discovery'. Her vitrines play with ideas of display and value, imparting a sense of the museological to an array of otherwise unassuming objects and materials.
This Serpentine Gallery exhibition displays pieces from throughout Warren's career, and features a selection of her best known works including the iconic Helmut Crumb (1998), work from The Agony and the Ecstasy (2000) and Dark Passage (2004), alongside new work made specifically for this exhibition.
Rebecca Warren lives and works in London. She was nominated for the Turner Prize in 2006, and for the Vincent Award, 2008, at the Stedelijk Museum, Amsterdam. Her work was also the subject of a major solo exhibition at Kunsthalle Zurich in 2004.
The exhibition is curated by Julia Peyton-Jones, Director, Hans Ulrich Obrist, Co-Director, and Kathryn Rattee, Curator, Serpentine Gallery. A catalogue will be published to coincide with the exhibition, with essays by Martin Herbert and Barry Schwabsky.
This exhibition is made possible by the generosity of the Council of the Serpentine Galle
Categories
Tags