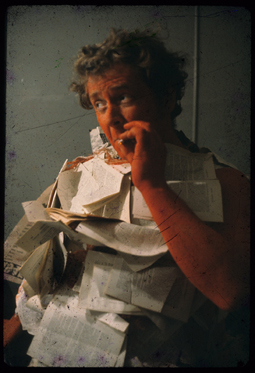 Courtesy The John Latham Archive
'Fiona's Shoe' is a special restaging of John Latham's performance 'Juliet and Romeo' and an evening of underground 60s culture curated by writer and artist Stewart Home.
'Juliet and Romeo' involves a battle between a male and a female figure in costumes of books, paper and balloons, their bodies painted blue and red. The figures represent the classical and romantic, the Apollonian and the Dionysian with the action beginning and ending with a screening of one of Latham's 'Skoob' films.
Accompanying the performance is a reading of Jonathan Swift's short story The Battle of the Books; live poetry from Ulli Freer; soprano sax from Lol Coxhill; as well as screenings of films by Antony Balch & William S. Burroughs, Peter Whitehead and Jud Yalkut. 'Fiona's Shoe' is jointly presented by Flat Time House and the SLG.
Categories
Tags