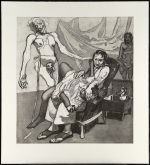 to – 4th March 2009 9:30 – 5:00pm Sothebys, 34 – 35 New Bond Street London, W1A 2AA
Please join us at an exclusive preview exhibition at Sotheby's, Bond Street, London, to view the works generously donated by a wide range of artists – from emerging to internationally acclaimed – for an auction to raise funds for the Contemporary Art Society as part of 'Gothic'. The preview will begin today and go on to the 4th of March.
'Gothic' is the first of a number of special events during 2009/10 to celebrate the Centenary of the Contemporary Art Society and will take place on Tuesday 10 March in the vast, atmospheric vaulted spaces underneath London Bridge, known at Shunt Vaults. Around 30 artists and galleries have kindly donated works celebrating the current 'gothic sensibility in contemporary art', for a unique installation – including performances – followed by a gothic banquet and auction.
Artists who have contributed works include: James Aldridge, Artists Anonymous, Diann Bauer, Anver Ben Gal, Anna Bjerger, Chris Bucklow, Ulla von Brandenburg, Ruth Claxton, Jake and Dinos Chapman, Tessa Farmer, Rachel Goodyear, Damien Hirst, Andreas Hofer, Rebecca Horn, Shirazeh Houzhiary, Chantal Joffe, Dorota Jurczak, Idris Khan, Anselm Kiefer, Henry Krokastis, Kate Mccgwire, Cathy de Monchaux, Tamsin Morse, Gosha Ostretsov, Cornelia Parker, Grayson Perry, Paula Rego, Veronica Smirnoff, Rebecca Stevenson, Suzanne Triester, Francis Upritchard, Jane and Louise Wilson and Masaki Yada amongst others. We are inexpressibly indebted to all of them and their galleries for supporting our work in this way.
Gothic is a fundraising event where funds to acquire contemporary works for public collections are generated through ticket sales.
© Paula Rego / Lullaby / Etching and Aquatint / 2009 / edition of 35 / 110cm (h) 110cm (w) / Estimate £2,000-£3,000 / Generously donated by the Artist and Marlborough Fine Art / copyright image the artist and Marlborough Fine Art, London
MORE DETAILS: HERE
Categories
Tags