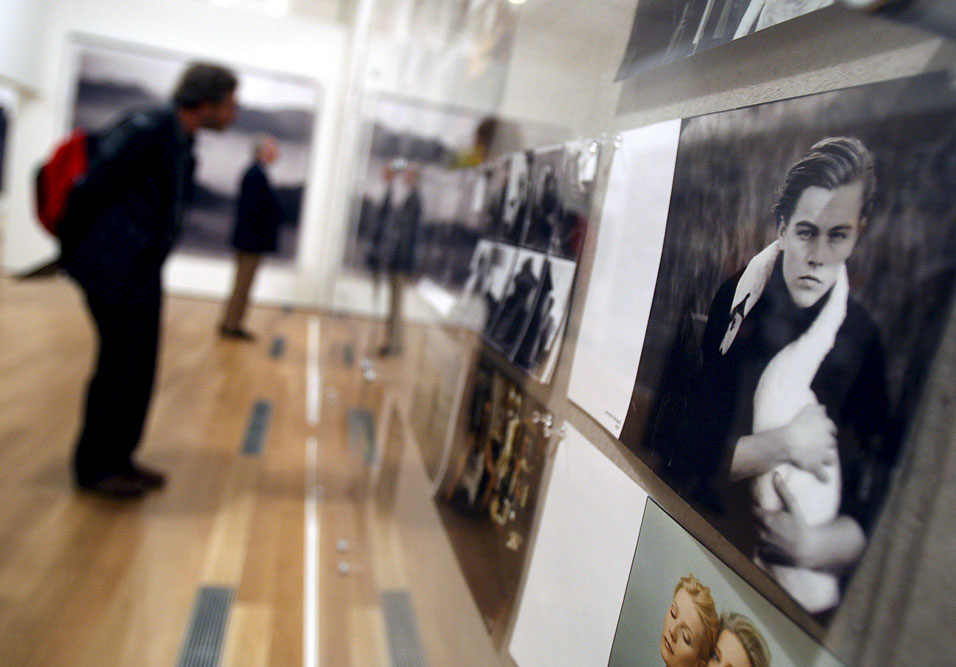 The image taken by American photographer Annie Leibovitz of actor Leonardo di Caprio (right) is one of the 150 photographs exhibited at the C/O in Berlin. Photo: EFE / Andy Rain.
C/O Berlin, International Forum For Visual Dialogues presents the work of photographer Annie Leibovitz in the exhibition A Photographer's Life from through May 24, 2009.
A family album, a comprehensive exhibition, and a personal diary – Annie Leibovitz's photographs from her private life and professional work merge seamlessly into a chronicle of the events, official commissions, and personal stories of the last fifteen years.
With this exhibition, Leibovitz honors her family and close friends with photographs of their travels to Sarajevo, Venice, Berlin, Kyoto, and Cairo. Numerous sequences of photographs focus on her parents and her extended family as it expanded from one year to the next, with images of family reunions and trips to the sea. Poignant photographs of her father's death appear alongside pictures of the births of her three daughters. And again and again, we find ourselves face to face with the celebrities who Annie Leibovitz knows how to portray with such startling immediacy: Bill Clinton in the Oval Office, George W. Bush and his staff, Nelson Mandela in Soweto, Demi Moore in the late stages of pregnancy, Jack Nicholson on Mulholland Drive, William Burroughs in Kansas.
Leibovitz's work in this exhibition is a collection of emotionally powerful images that eclipse her previous work. Particularly her personal, spontaneous snapshots express a remarkable intimacy, warmth, familiarity and unabashed candor. Her photos are neither voyeuristic nor do they give evidence of exploitation or hunger for fame. Rather they stand for honesty – the kind of honesty you cannot achieve with commercial photography. Thus Leibovitz developed from being a fashion and music photographer into an artist.
C/O Berlin presents "A Photographer's Life" as first and only venue in Germany. The exhibition comprises a total of 200 photographs, many of them large-format works and monochrome landscapes, as well as a number of private family photos and small format black and white portraits.
Annie Leibovitz, born in 1949 in Westport, Connecticut, USA, is one of the most important and influential portrait photographers worldwide. Covering both applied and artistic photography, the scope of her work is extremely broad. Along with her portraits, her photo documentaries and advertising campaigns for numerous American companies have achieved high acclaim. Leibovitz lives in the USA.
Categories
Tags