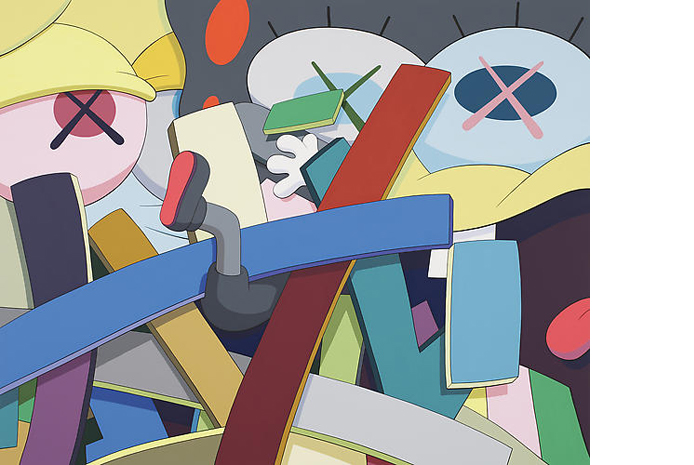 Honor Fraser
The Brooklyn-based artist will be presenting new painting and sculptural work in his first solo show in Los Angeles. KAWS' technique acts as a sieve of modern culture, filtering and re-contextualizing the images and information that he comes in contact with daily. His process is all encompassing, embracing popular culture and the visual landscape of the familiar. The work can be thought of as an overarching brand; however it is also immediate and organic. This energetic immediacy can be felt in the selection of works that he is presenting.
New large paintings included in the exhibition feature his usual cross-section of familiar cultural icons painted with precise execution. The resulting pieces feature the trademark graphic quality inherent in his work. A large life-size Chum acts as a sentry in the space, watching over the works while also playing with scale and proportion.
KAWS roots began as a graffiti artist in the early 1990s, and since then he has built an identity that had its genesis in guerilla imagery added to billboards and bus shelters. He converts familiar visuals into affronting works of art. Through his company OriginalFake he has released limited edition works. He has also collaborated on design projects with Commes Des Garcons, Marc Jacobs, and A Bathing Ape. Most recently he has worked with Kanye West to create the cover art for Kanye's current album. This reworking of popular culture has grown KAWS into a multi-faceted, multi-pronged endeavor that has ventured into the realm of contemporary art. KAWS situates himself at the crossroads of media and art; a vanguard in the new frontier of the 21st century artistic discourse.
Born in 1974 in New Jersey, KAWS graduated with a BFA from the School of Visual Arts in New York. He has recently had a number of solo shows of his artwork, including exhibitions at Gering and López in New York, NY and Galerie Emmanuel Perrotin in Miami, FL. His work has also appeared in many group exhibitions; most recently Everything Else at Franklin Parrrasch Gallery in New York, NY and the critically acclaimed traveling exhibition Beautiful Losers, curated by Aaron Rose and Christian Strike, that opened at the Contemporary Arts Center in Cincinnati in 2004 and has made stops at San Francisco's Yerba Buena Center for the Arts and the Orange County Museum of Art among national and international destinations. KAWS was the winner of the 1998 Pernod Liquid Art Award and has had three monographs published about his
About Mark Westall