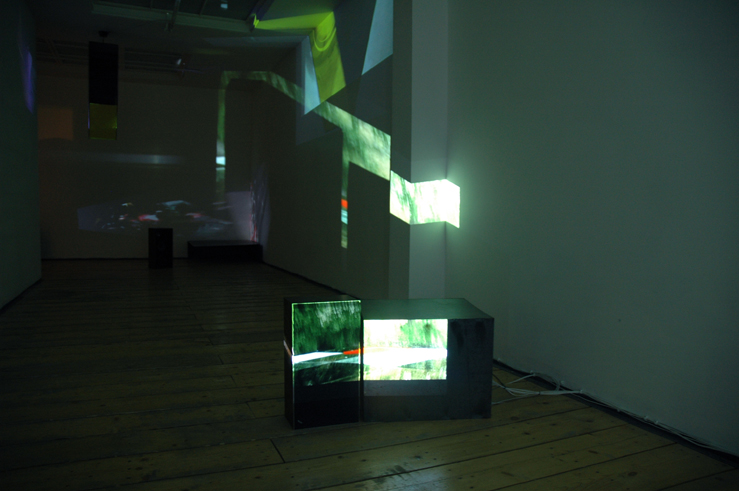 Laura Buckley, David MacLean & Haroon Mirza, Stage Fright, 2009, detail

Passing through a curtain and into the installation Stage Fright, the viewer is instantly engulfed by a room that becomes a collage of projected and reflected light. The fresh feeling work of Laura Buckley video artist and sculptor is nothing short of thrilling. With the projected visual and aural arrangements by Haroon Mirza and David MacLean, the resultant communication between sounds and images articulates the way the three artists have collaborated in an organic and cohesive manner to full effect.
Stage Fright demonstrates a sophisticated execution without deserting the functional roles and physical presence of the media enlisted. This kind of experimental yet informed approach to the projection surface (by the inclusion of sculpture) is still relatively infrequent. Viewers are encouraged to re-orientate themselves, altering their response and experience of the work. The possibility of becoming a new shape to interrupt the projections, the viewer's individual physicality becoming part of the work in contrast to the existing angular, in-organic structures and shadows.
In an entirely different way Doug Fishbone has analysed the relationship between the viewer and video art. The two back projected screens allow the viewer to stand in between them, their attention divided. One displays Fishbone's patented form of narrated slide show, his distinctive tone of voice combined with sequenced of low-res sourced images. The other screen displays a hypnotised audience. If you turn your back on them they become akin to a real life, snickering and shuffling audience, should you look at them they are watching you straight back.
This experience of Fishbone's work is a more suitable context than the largely unfunny Laughing in a Foreign Language exhibition at the Hayward. Here, liberated from the pressure to laugh at the piece the absurd interjection of the images does inevitably provoke a smirk.
Returning back through Stage Fright the whoops and crashes in unison with the shifting images appear more comedic than before. Rokeby is a significant space when it comes to promising artists, and Laura Buckley's work has the distinct glimmer of even greater successes.
Categories
Tags