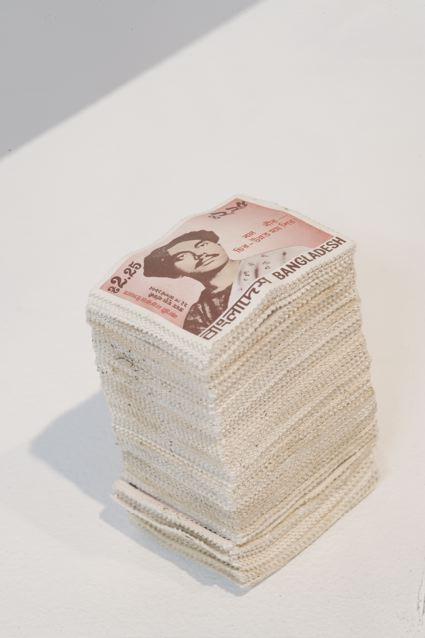 Lines of Control The Third Line Gallery, Dubai: 15 January – 8 February, 2009
Green Cardamom, London: 18 February – 28 March, 2009
VM Gallery and Gandhara-art Space, Karachi: 28 January – 28 February, 2009
Green Cardamom and The Third Line present Lines of Control, a series of exhibitions to be held in Dubai, Karachi and London.
The exhibitions are part of the Lines of Control project that was initiated by Green Cardamom in 2007, the 60th anniversary of the partition of the subcontinent. The programme includes exhibitions, talks, films and a publication that explore both the chaos and the productive capacity of partitions, through the practice of visual artists from the Middle East and South Asia.
These last two years – 2007 and 2008 – mark the 60th anniversaries of two groups of nations that were 'made' through partitions: firstly, the independence of India and the creation of Pakistan (itself partitioned 24 years later to form another new nation – Bangladesh), and secondly, the creation of Israel from British-controlled Palestine. Both partitions have cast long shadows in world history and had an unprecedented impact. The 1947 fracture of India led to over 15 million people being displaced, and an estimated one million deaths over a few brutal weeks. The aftermath of Israel's creation remains arguably the leading cause for global geo-political instability.
Art can be a means to explore areas of life where words fail us, and partitions and their aftermath are ripe for such exploration. Lines of Control is not only about commemorating the past, but about current lives in partitioned times: South Ossetia, Baghdad's Green Zone/Red Zone, Israel's 'security barrier', Kosovo, the Kurdish population in Iraq and Turkey, Cyprus, Northern Ireland, Pakistan's tribal areas, India's minority provinces – are all testimony to the seductive simplicity of drawing lines as a substitute for learning how to live with each other. Living these lines is a messy, bloody business but also offers a productive space where new nations, identities, languages and relationships are forged.
This programme is not geared towards finding an 'answer', but more towards interrogating the different paths the 'question' opens up and establishing a platform for their further exploration.
About the Exhibition
In January/ February 2009 exhibitions will take place at Green Cardamom, London; The Third Line, Dubai; and VM Art Gallery and Gandhara-art Space, Karachi. These exhibitions will look at the partition of India and its impact on the visual culture of the subcontinent.
Artists include Bani Abidi, Roohi Ahmed, Farida Batool, Rana Begum, Iftikhar Dadi and Nalini Malini, Anita Dube, Sophie Ernst, Ahsan Jamal, Amar Kanwar, Tariq Khalil, Ahmed Ali Manganhar, Naeem Mohaiemen, Raqs Media Collective, Rashid Rana, Seher Shah, Abdullah Syed, Hajra Waheed and Muhammad Zeeshan.
A second series of exhibitions will take place in January/ February 2010 at The Third Line and Green Cardamom. These will look at the partitions in the Middle East and how artists from the region have responded to them. In conjunction with these shows, a film programme No Man's Land (curated by Nicole Wolf from Goldsmiths College) is being developed, and a publication that draws on and complements both exhibitions, is due to be published in 2010.
Categories
Tags