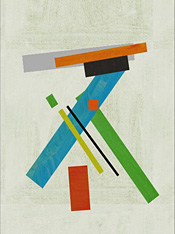 This exhibition's private view saw Alex Buldakov's videos, SEXLISSITSKY and XXXMALEVICH, exit the gallery via a window and find themselves projected onto the side of the neighbouring White Cube Gallery. This transportation of the video projection, from the immediate space of the gallery, was admirable and effective. Leaping out of a relatively small area allowed the video to take command by simply challenging the limitations of its accepted environment.
The context in which we read Video art aids the translation of the artist's ideas. In this case allowing an escape of what might be a limited platform, certainly at private views, commands far more attention than a projection within the gallery that is forever being interrupted by a silhouette of a passing visitor. I congratulate the decision to make Video art the star of a group show, but less so the videos selected.
SEXLISSITSKY and XXXMALEVICH extract the visual ideals of the cited artists. However the shapes that were in no way representative when made by Lissitsky and Malevich are now animated to correlate to the thrusts implied by a soundtrack lifted from a pornographic movie. The blocks imitate the speed of the sound of colliding flesh; Suprematist shapes become mating mammals.
An attempt at playfulness with established Avant-Garde art is by no means unacceptable, but a distinct lack of a thought process serves only to re-intensify the original artists work, rather than undermine it.
Retrospectively Malevich and Lissitsky do conform to ideals of their era. But it should not suggest they were none the less scandalous for an unwitting audience of the time. They are still more rebellious than a now tired rehashing of pornography (whether that be the imagery or just the 'script') as a method of provoking a reaction.
Categories
Tags