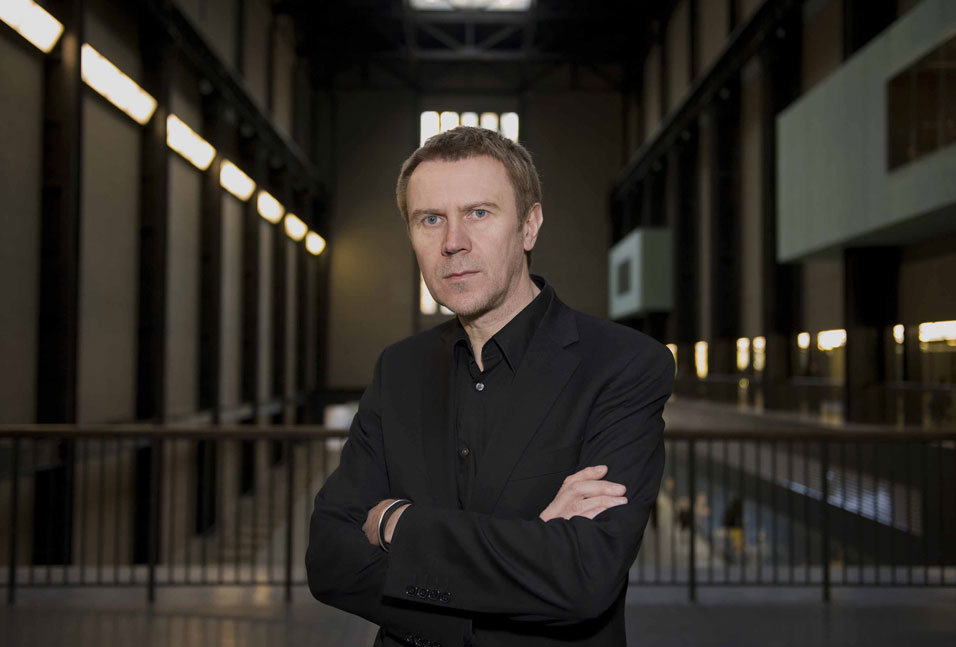 Miroslaw Balka, Portrait of the artist. Tate © The artist. Photo: Sam Drake, Tate Photography.
Tate and Unilever announced that the Polish artist Miroslaw Balka will undertake the tenth commission in The Unilever Series for the Turbine Hall at Tate Modern (13 October 2009 – 5 April 2010).
Born in Warsaw, Poland in 1958, Balka lives and works in Warsaw and Otwock. This will be the artist's first public commission in the UK, which will be unveiled on Monday 12 October 2009. Miroslaw Balka is one of the most significant contemporary artists of his generation. His work has had critical acclaim both in this country and internationally. Comprising installation, sculpture and video, Balka's works explore themes of personal history and common experience drawing on his Catholic upbringing and the fractured history of his native country, Poland. Intimate and self-reflective, his works demonstrate his central concerns of identifying personal memory within the context of historical memory.
In works such as Oasis (C.D.F.) (1989), he suggests a domestic setting in which the daily rituals of human existence are played out. Eating and sleeping, love and death are evoked using materials which have a particular resonance for Balka such as milk, wooden planks from his childhood home and pine needles salvaged from the tree that grew outside his window. In this work dedicated to the German Romantic painter Caspar David Friedrich, Balka invokes both the spiritual and the everyday.
Central to Balka's work is the use of materials of humble quality such as ash, felt, soap, salt and hair to give a sense of spirituality through their association with lives lived and memories left behind. Salt, for example, alludes to human emotions in the form of sweat or tears, whilst soap evokes the intimate yet universal daily rituals of cleansing as explored in Hanging Soap Women (2000), in which used bars of soap donated by women are strung together on a wire. In the installation, 190 x 90 x 4973 (2008), Balka constructs a wooden walkway with walls measuring 190cm high (the artist's height) without any ceiling and made from simple common building materials such as plywood, creating a claustrophobic tunnel with no visible destination.
Memorials play an important role in Polish society but also in Balka's personal experience – his grandfather was a monumental stonemason and his father an engraver of tombstones. His early performances and sculpture referred to his experience of the rituals of Catholicism, perhaps made more intense in a country where religion was repressed. In recent years he has focussed on the Holocaust, which for Balka is a permanent scar on collective memory, with particular resonance in his home towns of Otwock and Warsaw. Despite the austerity of form and seriousness of his subject matter, Balka's work is often imbued with warmth reflecting his view that "After seeing the sadness inscribed in the works maybe some spectators can see that joy can also be found in those moments of life that one lives to the full."
Miroslaw Balka represented Poland at the 45th Venice Biennale 1993, and has exhibited in major group exhibitions including Venice Biennale (2005), Site Santa Fe and the Sydney Biennale (both 2006). His recent solo exhibitions include Tristes Tropiques at the Irish Museum of Modern Art, Dublin, Lichtzwang at K21, Düsseldorf, Cruzamento at Museo de Arte Moderna, Rio de Janeiro, Reflejos condicionados at Fundacion Botin, Santander (all in 2007), Entering Paradise + BGE at the Scottish National Gallery of Modern Art, Edinburgh, Jetzt at WRO Art Centre, Wroclaw, Poland and Nothere at White Cube, London.
The Unilever Series: Miroslaw Balka is curated by Helen Sainsbury, Curator, Tate Modern, assisted by Maeve Polkinhorn,Assistant Curator, Tate Modern.
Categories
Tags