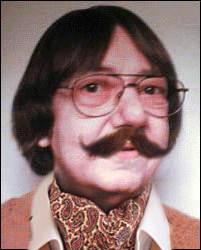 Greetings und guten tag mein dear Fad reader. It is with much pleasure that I offer to you my most recent review of the London art scene. It has indeed been a busy week for your own dear Klaus as I had give a lecture tour to visiting art students from Hamburg, we took a cultural tour of the Tates, The National and The Wallace, where the Rembrandts, The Canellettos and Hals' mischievous 'Laughing Cavalier' are alone well worth the visit and then we all had a lively art discussion in the fine courtyard tea room. That together with my research paper and a piece for Der Spiegel I most relieved to be invited to a grand art opening and they don't come much grander than Unvieled at the Saatchi Gallery last Thursday.
The good and the great of the art world were in attendance – Notable dealers, assorted members of the press, gallery guys and girls, all eager to grab a glass of champagne, see who else was there and take a cursory glance at the artwork. I have to say, fleeting is unfortunately all it is worthy of. What a shame. Here was a perfect opportunity for the Saatchi gallery to give us a powerful statement on Middle Eastern art and he left us well and truly short changed. True, there are redeeming features to this generally lacklustre exhibition, I found the photographs by Shadi Ghadirian closest to the mark – 'Like Everyday Series' are evocative and quite powerful. Kader Attia sadly misses, the roomful of bowing Muslim women called to payer made of empty shells of silver foil is obvious and predictable, as Casper quipped – 'it is all rather half baked'. Marwan Rechmaoui's re-creation of the concrete apartment block that he fled in 2006 in the wake of the Israeli invasion has some kind of poignancy but again fails to deliver. Shirin Fakhim's take on prostitution in Tehran looses any kind of psychological impact, as they are mere poor approximations of Sarah Lucas' work. And that in essence is ultimately what fails this whole exhibition; these the artists (who for the most part live in Paris, New York etc) have co-opted a Western contemporary art language and have in the process lost the power of their own speech. Here we have substandard paintings a plenty, where is the video work which is the preferred medium some of the best Middle Eastern artists? We know that Saatchi does not in for this sort of thing, perhaps due to the commercial difficulty of the genre and the absence of this type of work leaves this exhibition seriously wanting.
I do hope I have not been overly critical, as you know as a rule I am a big admirer of the great Ad man's contribution to contemporary art, I mean where would all those happy, lucky YBA's be without his patronage in heady 90's. But for better or worse we are living in a different climate and the art shown should reflect this, not merely a rehashing and repackaging from a different region. I was, like young Casper disappointed more than anything else as we have in past looked to Saatchi to lead the way and to make tastes rather than to follow them.
Alles klar, that is all from your own Klaus, but I will be sure to keep you updated with all the forthcoming going-ons in the art world. Tschussy.
Categories
Tags