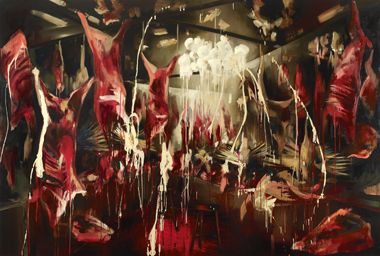 White Cube is pleased to present Texas Crude, an exhibition of new paintings by Rosson Crow, her first with the gallery. Crow's large-scale paintings depict grand interior spaces cluttered with the residue of historical occasions.
Although the spaces depicted in Crow's work are devoid of people, there is always a hint of recent activity, as if she has painted the aftermath of a party. Crow usually begins with a reference to a specific historical event, but then allows a diverse range of allusions to enliven and complicate the work, from Baroque and Rococo interior design to cowboy culture and Las Vegas architecture. The combination of enormous scale, rich palette and exuberant application of paint pulls the viewer into a turbulent psychological space. Crow paints assuredly and expressively with broad gestures, but this improvisatory look belies the fact that she develops each work through extensive research and sketch studies, before unleashing with speed on the canvas.
The work in Texas Crude achieves a mood of time collapsing or history repeating itself. In Poverty Partye, a grand, vaulted ballroom bears witness to a scene of debauchery, the remains of a carnivorous feast strewn across a table. The residue of revelry and frenzy contrasts violently with with the room's refined formal setting, suggesting a moment of wild abandonment before the inevitable petering out of the party. The pioneering spirit of turn of the century America is referenced in works such as Wildcattin' in Paradise, which points to an era when the physical and economic landscape of Crow's home state of Texas was transformed by the discovery of oil. 'Wildcatters' were speculators who drilled in areas not previously known to yield oil, and the term originated from the clearance of wildlife in the prospective fields, including feral cats, whose pelts would then be hung from the oil derricks. The dark, earthy palette of the painting intensifies the density of the field, overpopulated as it is by steel machinery contaminating the rural idyll. New York Stock Exchange After Bond Rally features a lavishly decorated room in complete disarray after being disrupted by a rally to promote Liberty Bonds, sold in the US to support the Allied cause in the First World War. The painting's dynamic perspective and radiant patches of illumination draw the viewer deep inside the illusory space, only to be disrupted by oozing drips and splashes thrown across the surface plane. This convergence of painterly styles serves to emphasise the air of artifice. Stage sets, platforms, drapes and ornamental displays indicate a transitory use of a location, as if each painting penetrated a façade, revealing the mechanisms that lurk behind it.
Categories
Tags