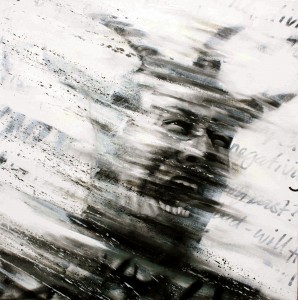 Private View: 15th January 2009 6 – 9pm Open to public: 16th January – 14th February 2009
Tuesday – Saturday 12 – 6pm 96 Curtain Road, Hoxton, London EC2A 3AA
www.signalgallery.com
Where do you draw the line between good and evil? Unlike the Berlin Wall the moral dividing line is not solid and does not rely on armed guards to keep it firm. For Dale Grimshaw in his new show 'Heart In Darkness' these moral ambiguities take shape in a dazzling range of works that touch on dark emotions and physical energy.
There is a bold confidence about the new work for the show, picking up on the strengths of his recent hugely successful solo show, Echoes And Exorcisms. Having been championed by many urban art collectors during that show and compared favourably with other successful artists on the scene, this new show will be further evidence of the depth of talent that Dale has to give us.
Indeed Dale is an excellent example of a new phenomenon on the urban art scene. For want of a better description this group could be called 'crossover' artists. Their winning formula is to mix fine art aesthetics into the more purely street/stencil art scene. They are producing a dynamic body of work that is both approachable and challenging, cutting across the 'traditional' art scene with its 'critical' establishment led agenda and moving away from the 'concept' driven practices. Their work is belatedly recognized now as a valid and important element in the wider art scene and highly collectable. As well as Dale, the artists who are making waves in this area are Anthony Micallef, Adam Neate, Matt Small, Jose Parla, Guy Denning and Conor Harrington
Dales' inspiration for the show is very wide – ranging from ancient iconic figures such as Pierrot from the Commedia dell'Arte, 'St Michael' by Raphael, to mediaeval images of demons. Stylistically Dale has embraced an equally broad spectrum of more contemporary influences including Hockney (his photomontage work), Franz Kline and Cy Twombly.
A new departure for Dale is the inclusion of a mixture of handwriting, tagging symbols and intricate calligraphy. This creates a feeling of the 'street', but also of something more ancient and timeless. For the pieces that have a more contemplative atmosphere the presence of words on the canvas seems to enhance their spiritual qualities. For those pieces that have a dark focus then the effect seems sinister and threatening. Always used subtly in the compositions, the words themselves seem to carry a secret message, only partly decipherable by the viewer.
Technically Dale has found the use of spray paint in addition to his usual acrylic and oils has enabled him to capture the movement and energy of his dynamic figure more effectively. This technique has emphasized his links to street art and has enabled him to successfully participate in a number of street art events over the summer, where people have been fascinated to see how his works comes to life. Indeed whenever a new 'Grimshaw' image is revealed now, the reaction is always incredibly positive and very often 'I want to own one'!
Categories
Tags