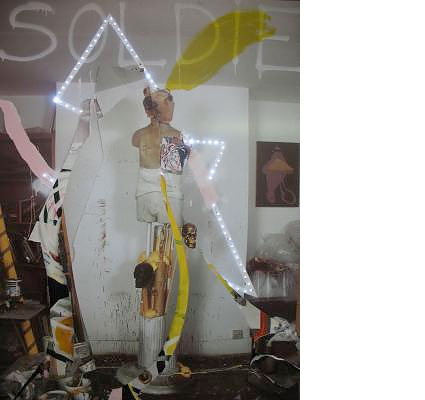 Monika Bobinska is delighted to present three new large works by Kirsten Glass, Adam King and Peter Lamb. The exhibition addresses the aesthetic of the classic 50s B-movie – excessive, flamboyant, high on kitsch and visual thrills, with the joins always proudly apparent. These works, however, are rooted within the concerns of contemporary social and political life.
The strange and haunting composite paintings of Kirsten Glass fuse elements of pop culture, film noir and fairy tale, incorporating unlikely materials and objects.
Adam King's installations and collages appropriate images and objects from magazines, catalogues, markets and thrift shops to create works which allude to 'high' and 'low' culture. The work typically has an ephemeral, improvised, abject aesthetic, a darkly humorous comment on western society's fixation with celebrity, fashion and consumption.
Peter Lamb's gestural, violent, emotionally charged works incorporate collaged photographs, sculpture, found elements, drawings, paint and artificial lighting. The striking compositions with their cut and paste aesthetic suggest a shamanistic hinting at barely grasped truths and realisations.
242 Cambridge Heath Road London E2 9DA
www.monikabobinska.com
About Mark Westall