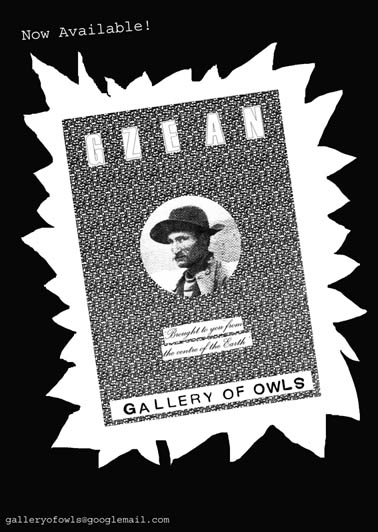 Gallery Of Owls are asking if anyone would like to submit something to the second 'GZEAN'
For those who don't know about 'GZEAN' it is a 'zine' created to harbor all those crazy little snippets of ideas that we all have from time to time in the format of photos, drawing and collage (any 2D images). 'GZEAN' will be a regular quarterly publication and this January we hope to release the second one in the series. If anyone wants to get hold of th
e first 'GZEAN' to see what it's all about, you can request one in person or via e-mail (the first 'GZEAN' costs £1 plus postage, we will soon be setting up a PayPal account so you can pay online and have it posted right to your door!) We are also going to try to get the 'GZEAN's available to download on our website.
So, if you'd like to submit something you can send it by post or e-mail it as a jpeg. Preferably to fit within an A5 page. Email it to galleryofowls@googlemail.com or post it to:40 Leighton Road Moseley Birmingham
B13 8DH
If you're sending items by post please send a copy (black & white copy is fine) as we may not be able to get it back to you.
submissions by January 19th (2009)
www.galleryofowls.org
About Mark Westall