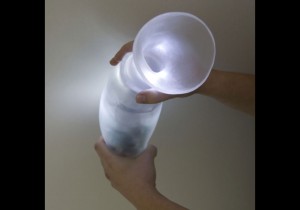 The Jewish Museum will present The Hanukkah Project: The Sound of Light by Julianne Swartz from December 21, 2008 through March 15, 2009. Presented biennially, The Hanukkah Project celebrates Hanukkah with works of art by leading contemporary artists. The Sound of Light is an interactive installation by Julianne Swartz that guides visitors to eight listening locations throughout the Museum's permanent exhibition, Culture and Continuity: The Jewish Journey. This site-specific work is inspired by the Hanukkah story, exploring the theme of light cutting through darkness, both visually and aurally. The Sound of Light is on view Sunday through Thursday.

At the beginning of the Culture and Continuity exhibition, a visitor will pick up an amorphous, custom designed receiver created by Ms. Swartz. At each listening location, the receiver will resonate with familiar and unfamiliar sounds. Between each site, the listener will hear static, offering the aural equivalent of darkness. Labels with descriptive and poetic text mark the locations where the sounds can be found. Each sound site and label is linked to a specific object or area in the exhibition. Experienced as a whole, the sound and text create a connection to the objects on view.
The first site, Dust, is in the "Ancient Worlds" gallery of Culture and Continuity, where listeners will hear an old woman and a child telling the same story and a jazz band practicing. The second location, The Tenderness, offers sounds of stringed instruments and running water. Sound of Patience, in the gallery including the Museum's renowned collection of Hanukkah lamps, features an orchestra tuning its instruments. The Darkness, on a staircase connecting the upper and lower floors of Culture and Continuity, offers humming tones and crystal glasses being rubbed. A Miracle, near a Torah ark from Isfahan, Iran, has sounds of a child's organ and a harmonica. The Sound of Beginning and Ending, in the portrait gallery of the "Confronting Modernity" section, focuses on a broken music box. Shadow, in a gallery devoted to the founding of the State of Israel, lets visitors hear a handheld metal detector searching. Lastly, Sound of Radiance, Sound of Obscurity relates to a series of video clips from the Museum's National Jewish Archive of Broadcasting and explores aspects of time through a heartbeat and clocks ticking.
The Sound of Light illustrates Julianne Swartz's ability to transform public spaces into ephemeral environments through evocative sounds and interactive objects. She has exhibited her work nationally and internationally at the Indianapolis Museum of Art, Tate Liverpool, Aldrich Museum, Whitney Museum of American Art, New Museum of Contemporary Art, P.S.1 Contemporary Art Center, and Sculpture Center, New York. Julianne Swartz received her MFA from Bard College and her BFA from the University of Arizona. She is currently on the faculty of the School of Visual Arts and Bard College and lives and works in Kingston, New York. She also serves on the Board of the Skowhegan School for Painting and Sculpture.
Categories
Tags