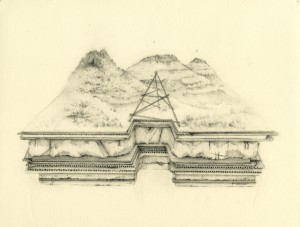 Bill: what are you thinking about with the new drawings? They are sort of quiet and beautiful almost powdery
Travis: What am i thinking… I'm thinking about building and time and attention. I'm thinking about the difference between discovering space and making space. Sometimes I'm thinking about my knee injury and twiddling my thumbs while I wait for things to heal… and the balance between waiting to heal and working to heal.
I have a lot of old movies on in the background when I'm drawing
Travis: A few: Seventh voyage of Sinbad, Ben Hur, Sparticus, The Big Country, Moby Dick, Ride the High Country, High Noon, and lots of westerns from the library
Travis: I work with David Dunlap once a week on a group of ever expanding collaborative drawings… they're good. We often have the same conversation about how all's fair in love and war. And how it's the only game in town.
Travis: Powdery… I definitely think the good part of my drawings is in the way that they are touched, how it almost wouldn't matter what I draw as long as they are touched a certain way… but it's strange that in these recent ones the touch is disappearing or making itself invisible
Bill: have you ever thought about air brushing?
the absense of touch makes the viewer think about the hand
In your drawings, I am betting that sometimes the conversation of viewers revolves around your hand
Travis: Never thought of airbrushing… maybe that's a good distinction about what's important in making these for me personally… not wanting to get too far away… they're all made with one of those yellow papermate mechanical pencils that you twist. I start holding the pencil at the back and brushing the paper lightly and allow the graphite to accumulate slowly.
Travis: I wonder about the viewers… are you saying that it might be something like being made aware of a presence via absence?
Bill: yeah, like they look at a pencil drawing and normally expect to see marks, but instead they are confronted by this thing made sort of cryptically. With no marks, and I bet that starts a conversation.
Travis: yeah… i think you might be right… i haven't been paying attention to how that's changed. but if i look back over other drawings I can see that kind of signature mark-making slipping away. I'm reminded of stories of things being 'breathed' into being… and of something someone once said to me along the same lines.
Travis: When I was at Pete Schulte's place the other day I saw a book of Vija Celmins' work and I felt surprised recognition. Here's this person doing just that and she's been hiding from me. I guess she's at the top of my list right now in terms of the visual artist personal pantheon.
Bill: Oh man, I am going to look incredibly ignorant here, but I don't know those artists, can you explain a little what you find to be compelling about their work?
Travis: Sorry to play the artist name drop game. Ha. You remember Pete from the painting workshop: http://www.schulteprojects.com/ and vija celmins makes these graphite drawings of the sea and oil paintings of stars… they are kind of allover compositions without any horizon, but I guess in a sense they are photorealistic. My favorite thing of hers besides the drawings is a piece called ' To fix the image in memory I-XI' where she made exact reproductions of rocks that she picked up in the Southwest and showed the made thing with the original. They are quiet and thoughtful. As if you might uncover the meaning of the universe just by looking at something long enough.
Bill: ok, that seems like a pretty good frame of reference.
Travis has a blog: travis-head.blogspot.com/
Here is Travis's official artist's statement:
The notion of souvenir underlies most of my art-making priorities. In that respect I think back to specific souvenirs and keepsakes from trips or significant events in my life and understand my affection for the actual objects as the encapsulation, in physical form, of a set of places and feelings and people. This impulse to collect, organize, and protect experiences is the most basic reason why I make things. Many of my drawings find their origin in events or locations in my present or the personal mythology I've made from my past. There's certainly a commemorative drive to my work that parallels the impulse someone might have to make a journal entry, take a photograph, or cross-stitch a picture celebrating a wedding or the fourth of July.
At it's best my practice is an act of attention, to memory, to tone, and to material. The kinds of images that I often select include postcard nature images like waterfalls, desert-scapes, and mountains as well as different forms of dwellings ranging from the small and temporary to the monumental. The landscape is invoked as a metaphor for sacred or conceptual space and is always unpopulated.
Categories
Tags