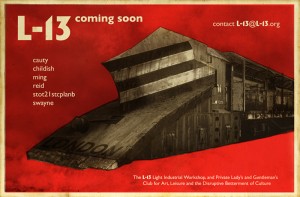 A CALL FOR HEROES THE L-13 CULTURE CRUNCH CHRISTMAS GOOD-WILL CRUSADE
ART RESISTANCE VOLUNTEERS MOST URGENTLY NEEDED
Due to the International Art Crisis and its ensuing cultural vacuum, we at L-13 will be bestowing free Christmas cultural packs (books by Billy Childish, posters by James Cauty & Jamie Reid and postcards by STOT21stCplanB) to the needy and less fortunate of the parish. This is for the betterment of their impoverished minds and souls.
These fine gifts will be distributed, absolutely free of charge, by a select band of volunteer Heroes on Saturday 20th and Sunday 21st December at the following locations.
Tate Modern, Bankside
Millennium Death Wheel, Bankside
Santa's Ghetto, Oxford Street
Borders Bookshop, Oxford Street
Central Saint Martins School of Art , Charing Cross Rd
ICA, The Mall
London Review Bookshop, Bury Place
Royal Academy of Fine Arts, Piccadilly
The Aquarium L-13, Farringdon Road
If you are of stout mind and courageous of spirit and would like to be considered for this mission, please e-mail L-13@L-13.org with "I Want To Be a Hero" in the subject box and await further instructions.
All volunteers will be awarded a Hero of the British Art Resistance badge and shall earn the enduring gratitude of the populace of Albion
Categories
Tags