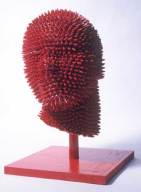 The artist who created them uses around 250,000 colouring crayons per piece.
Herb Williams, 36, uses so many he has a personal account with manufacturer Crayola and even has the company on speed dial.
The crayons are delivered in single-colour boxes of 3,000 sticks and fill his studio from floor to ceiling.
His works include animals, household items, and celebrities – containing up to 250,000 crayons per piece.

The smaller works sell for around £650 while the larger pieces have a price tag of £40,000.
His most iconic portraits include Barack Obama and a naked Marilyn Monroe, made primarily of peach-coloured crayons.
He lists artists such as Damien Hirst, Banksy and Duchamp among his influences and describes his work as post-post-post-pop.
"There are several questions that arise when an object, such as a crayon, that is so often associated with childhood, is used to address issues dealing with more adult matters."
Categories
Tags