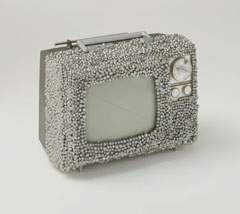 On Monday, December 1, 2008, at 7:00 p.m., MoMA will host a film program of David Bowie's music videos, co-organized by Thurston Moore of Sonic Youth and Barbara London, Associate Curator, Department of Media, The Museum of Modern Art. The event will take place in The Roy and Niuta Titus 1 Theater, as part of the Modern Monday series, which presents works by contemporary filmmakers and multimedia artists.

In 2008, MoMA received the complete works of David Bowie's music videos, as a gift from the David Bowie Archive. From this collection, Thurston Moore and Barbara London have selected 15 videos to be shown at the screening. The program will include such Bowie classics as Life on Mars (directed by Mick Rock), Heroes (directed by Stanley Dorfman), and Ashes to Ashes (directed by David Mallet & David Bowie), among other videos.
The video program is a part of MoMA's gallery and film exhibition Looking at Music, on view through January 5, 2009. Organized by Ms. London, the exhibition examines music's role in cross-disciplinary experimentation across media for a generation of artists, beginning in the 1960s.
Since 1985 the Museum has made a commitment to exhibiting and collecting music videos. In 2003, MoMA presented Golden Oldies of Music Videos, a series of screenings of the music industry's most pivotal videos from MoMA's collection, introduced by Laurie Anderson, Kim Gordon, and Pipilotti Rist.
David Bowie began playing the saxophone when he was 13 years old. After graduating from a technical high school with a strong art department, he worked as a commercial artist before studying mime and, later, playing in bands. In 1969 he co-founded Beckenham Arts Lab in South London, England, a crucible for experimentation that hosted artist studios, poetry readings, and events such as light shows, theatrical and dance performances, and puppet shows. Active in five decades of rock music, Bowie has 29 studio albums to date. Additionally, he has worked in film, Broadway, and experimented with multi-media over the last 40 years.
Best known as a founding member of the New York rock band Sonic Youth, Thurston Moore has been active in New York's music scene since moving to the city in 1977. He has a long history of collaborating with other artists, including no-wave musician Lydia Lunch, Jim O'Rourke, and Merce Cunningham's Dance Company, among others; he has also scored music for film and was music consultant for Gus Van Sant's Last Days. Since 1983, he has been involved with fanzine and journal publishing, and recently co-authored No Wave: Post-Punk. Underground. New York. 1976-1980 (HNA Books). In 2005, he co-founded Ecstatic Peace! Records with business partner Andrew Kesin.
Categories
Tags