DATES: November 27 – January 17, 2009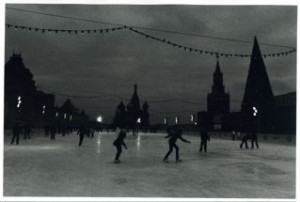 Imbedded within social reality, Chernysheva's photographs carry a lyricism and beauty that tacitly transforms the ordinary scenes and sights of and around Moscow into the extraordinary, and at times, seemingly miraculous.

Uncomplicated methods achieve this, such as the framing and setting of an architectural detail or horizon (her skies are frequently both expansive and expressive), the play of light and shadow, or the unexpected emphasis upon a particular texture or form: all are used to give a slightly off-beat result, and one that becomes loaded with a meaning apart from that which is normally expected of what is ostensibly documentary photography.
Chernysheva's work frequently expresses a social interest in relation to how her country is changing. For instance, in her Moscow Area series she might highlight those things frequently relegated to the edges of society and consciousness, such as a group of elderly in a home, an old lady entering a church to pray, or the queues of people entering and exiting the Moscow underground metro system. Likewise, monuments from the time of Communism are explored in the Alley of Cosmonauts series in terms of their intended meaning as symbols of power and the advancement of the Communist state, versus their current semi-ruinous condition – in what also seems to be either a muddy and disorganized building site – as remnants of a previous civilization, dotted amongst a new society growing around them.
About Mark Westall