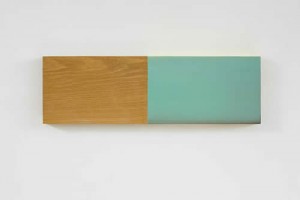 Jane Bustin: Holzlied – Woodsong, 2008
JANE BUSTIN: Paintings 1998-2008 EXHIBITION DATES: 19 November – 20 December 2008
ARTPROJX SPACE 53 Beauchamp Place London SW3 1NY www.artprojxspace.com
JANE BUSTIN: PAINTINGS 1998-2008
Jane Bustin's abstract paintings are described as 'emotional minimalism'. This solo exhibition at Artprojx Space is a retrospective of selected works from projects that have been shown in museum and gallery contexts over the last ten years, alongside several new pieces.

Bustin is renowned for her innovative and subtle use of colour, materials and supports in making correlations between paintings and the written word. She has collaborated with writers such as Helene Cixous, Tracy Chevalier, John Hull and Andrew Renton and the scientist Dr Richard Brown, inventor of NPL Superblack.
These small intense minimal paintings are made after reflecting on a variety of poetic texts including Celan and Mallarme, as well as referencing historical paintings such as Velazquez.
Bustin is a persistent observer. She absorbs the world around her, the lines in a modern building, the quirky name of a boarded-up hotel. The shade of pinky-grey blush on a front-path flagstone after a shower recalls the skin tone of an early Renaissance masterpiece. She does not reproduce that world, yet the lights and darks, roughs and smooth seem to recycle place, face, time, season, mood.
The viewer, looking at Bustin's paintings, draws on their own information and comes face to face with their own string of reminiscences, sensations and propositions. These paintings exist within a web of possible connections that cannot be put into words; they shuttle between real and imagined, between the strictly private and the openly shared.
Martin Holman, Correspondences essay
This exhibition at Artprojx Space precedes Bustin's exhibition 'Unseen' A Collaboration' the result of a two year exchange with the writers Tracy Chevalier and John Hull to be shown at The British Library from 12 January – 14 March 2009.
For more images and details see www.janebustin.com
About Mark Westall