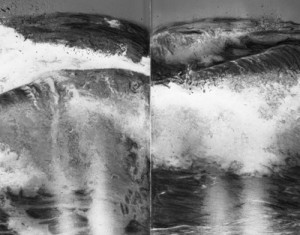 www.crisplondonlosangeles.com
CRISP LONDON LOS ANGELES presents L.A. based Kelly Kleinschrodt. Deep Space is the artist's solo debut to London and Los Angeles, showing concurrently in both cities from 7 November – 13 December 2008.

Kleinschrodt's praxis engages with the materiality of the subject and the transparency of time. Using both photography and video, she bends reality by collapsing space, distorting scale and exaggerating detail, provoking an oscillation between expansiveness and claustrophobia. By subtly manipulating simple materials—such as fabric, dust, salt and hair, Kleinschrodt captures time as it is caught via folds, grasps of fabric and moments of fleeting light and phenomena.
The first of three photographic series in Deep Space, fabrication, is comprised of large-scale photographs of arranged fabric. The undulating shapes formed by the material, at once crisp, shimmering and cavernous, echo the furor of adjacent wave images in her nami series. Here, Kleinschrodt photographed the spine of Syoin Kajii's book, Nami, focusing on the seams. The resulting images are at once removed and perversely voyeuristic. The third series, infinite storage, is united by a recurring motif of black holes found in subject matter as diverse as melted fabric to the back of someone's head.
The videos punctuating the bi-continental exhibition, personal communicator, d(us)t, hover/lover and thoughtlessnesstimelessnessmindlessness, feature an omniscient narrator—the viewer's own personal communicator—who engages in linguistic play and deadpan pun. In all videos, utterance and breath become syncopation tools used to rouse a visceral response calling attention to the realm of activity hovering beneath ordinary life. Kleinschrodt is actively engaged in an alternate reality where surface becomes an ethereal battleground in which meaning is offered and then obfuscated.
Kelly Kleinschrodt received her BFA from the Art Institute of Boston at Lesley University in 2005. Her work was chosen for The Humble Art Foundation's 30 under 30: Young Women in Art Photography, 3rd Ward Gallery in Brooklyn, NY, juried by Lumi Tan and Jon Feinstein (2008). Group exhibitions include a performance compilation, Drip Event (for George Brecht) and Sculptrue at PawnShop in Los Angeles,CA (2007), Emerging Artists exhibition at Panopticon Gallery in Waltham, MA (2006), Hand Made Cinema at the New England Institute of Art in Brookline, MA (2005), the Photographic Resource Center's Juried Members' Exhibition in Boston, MA (2005), Dallas Museum of Art, TX (2004), and the Mobile Museum of Art, AL (2003).
Exhibition catalogue to accompany both exhibitions
Categories
Tags