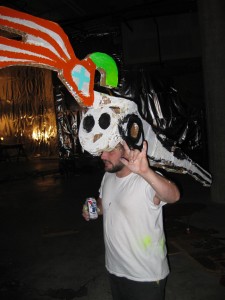 1 When did you start to make art?
I dropped out of college in 1997, and that is when I seriously began making drawings, and looking at other artists. I became an art book junky, and I was haunting museums looking at paintings from 6 inches away. Painting really got me excited like nothing had for years. I worked so hard learning to draw that I think I gave myself an intense education that people really don't get in art school. I did end up going back to school for art after a year of working in factories reading about Gerhard Richter or Mike Kelley on breaks.
When I first started making stuff I was really interested in Robert Crumb and Degas, and was kind of taken in by both realizing how closely they looked at what they drew, and how they had developed charismatic systems of representation.
2 How did you evolve into a professional artist?
I have managed to keep putting myself in a position where I continue to have time to make artwork, and get into shows, get my work into magazines. I subsidize my art by teaching and installing shows in New York City.
I grew up in this beautiful area, that had no economy, no jobs really. So I didn't have the people around me saying, hey, you should be a forensic anthropologist, or a lawyer. I sort of picked out being an artist because I thought I understood the basic premise behind the activity – making stuff and getting someone else to sell it. Haa. I was also in the National Guard, and I recently was joking around with this very funny New York gallerist about how artists and soldiers had a lot in common: they both were trying to find a way to make money without working.
3 What drove you to make art as a professional vocation?
At first I motivated by wanting to be a famous person, and wanting to be wise, and have access to people who were important who would be interesting. I was bored by small town life, so that had a lot to do with my fantasy of what being an artist was.
After I long time it has changed into something much more real. One reason is that I have met a lot of famous people, and they aren't any happier than anyone else, often they are very insecure and unhappy actually. So now when I make stuff it is to get ideas out of my head, and share them. I want uncompromised culture to come from me, I am making art for me and an audience of people like me.
So it is to make my life and the life of people like me more interesting. Dave Hickey has a great essay in "Air Guitar," about people who own shops not to sell stuff, but to have the privilege of talking about stuff they love to other people.
4 Explain your inspiration?
My inner life is my inspiration. The things that surprise me in my life are inspiration. People who are curious, hardworking, and thoughtful inspire me. I also like paintings and drawings, and making them is interesting.
Also art can be made in a few ways, as a commodity, to promote a system of belief, and as a sublimation of desires. I am working my way through this problem now.
5 In what way does your inspiration transform into ideas?
I make drawings in sketchbooks, and then I take the greatest hits and make bigger drawings and paintings from them. I own a silly amount of pens, because I when I am having trouble thinking of something to draw I buy a new pen, and hopefully it will give me inspiration. Recently I have been making more stuff just from scratch; this makes some interesting big pictures, but also wastes more paper and I throw away about half the stuff I start.
I write everyday too. I have a blog http://www.inkstainedhands.com I actually take the blog pretty seriously, and have been trying to get bigger interviews to post.
6 From Ideas to production of art – how? And why?
I guess the process from idea to production is part referencing things I like, part routine, and part letting my imagination take control and do unexpected things. I surprise myself sometimes with the decisions I make while working, and I think that is where a lot of the best stuff happens – during the surprising parts.
I guess the main answer to why is: catharsis. Letting the ideas out, so I can feel better and start thinking about something fresh.
7 Could your ideas be portrayed in any other medium? If so which?
Yes, I have been thinking about making either colored resin sculptures or painting on wooden sculptures. I really want to work with a flash animator to build the frontpage of a new website too.
8 Which artists would you most like to blatantly rip off?
I don't think I would blatantly rip off anyone, because I am too self conscious to stand that feeling.
I do admire a bunch of artists though, some of the ones on the top of my list are: Diana Cooper, Chris Johanson, Dan Attoe, Taylor McKimens, Craig Thompson, Daniel Clowes, R Crumb, Rogier Van Der Wyden, Gregory Gillespie
9 Why is your art made?
To add something to our culture, make it richer. Plus like I mentioned earlier it is a catharsis for me, and I keep getting ideas that require me to make something. I guess I would be almost as happy making anything by hand, furniture would be interesting, but I really like to draw. I mean I really, really like to draw! When I think of the culture I think of festering boiling stew, and people dropping stuff over the side of this incredibly huge pot, little dump trucks backing up and unloading ideas into the seething brown moosh, and the best ideas are floating around on top like little neon letters in an alphabet soup.
10 What does being an artists mean to you?
Someone who approaches our culture's ideas and objects, and invents something which fits loosely into that with their hand and their ideas, and gives another voice for people to consider.
11 Are you happy with your reasons for making art? i.e Are there any trade offs that make life hard?
Yes, I think most artists make less money than if they had become accountants. But I think ultimately the life an artist gets to live is very interesting, because it our job to constantly fan the flames of invention. I love books and websites, so that means when a dentist is studying teeth I am looking at how someone is representing pixelated images that reference 80's video games and painting family photos in that same style, to me that is fascinating and keeps me interested and moving. I am ravenous when it comes to looking and reading. Sometimes I read so much and look at so many websites that I will think a few days have passed but I will have just stayed awake through one night and read and looked all day, and then still be reading and looking 24 hours later. Usually when these sessions are over I looked like a bruised and lopsided piece of fruit, with my hair sticking up everywhere, and I really like to wear a sweater while reading and website searching.
12 When does your art become successful?
When it is visually interesting. I think a lot of the stuff I make has my sublimated feelings, and that extra punch of underlying weird context lends a pathos to something like a cartoon of a blade of grass waving, or a portrait of a friend.
13 What is art?
Art is the activity that produces an artefact, which is a record of something that happened. When humans make stuff on purpose it also is a record of culture.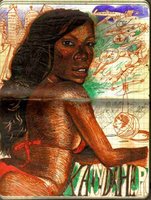 14 How do you start the process of making work?
Drawing cartoons and schematics of compositions. Thinking on the commuter train I take to New York. Reading.
15 Who prices your work? And how is the price decided upon?
So far the gallerists have priced it.
16 What is your next; move,project,show etc?
I am in a show in San Francisco right now called PORTRAIT at the Hallway Bathroom Gallery that also has work from Chris Johanson and Eddie Martinez.
I am going to be in a two man show at Transmission Gallery in Richmond Virginia in December with Jamie Boling. Also my art group, Paintallica, is going to be in a contemporary art space in Chattanooga Tennessee sometime soon, I forget the exact timing.
17 What are the pros and cons of the art market?
Well… I think people who are upset about the art market should get less ties to their art as a commodity, because maybe they aren't making something that is clearly a commodity. I think that is freezing them up. I am too easy going and hard working to say that there are pros and cons. I mean I know gallerists and artists, and they are all trying to do what is best for themselves within reason, hopefully what is good for one is good for the other.
18 Which pieces would you like to be remembered for?
So far the drawings I made while I was a soldier in Afghanistan seem to be the ones people gravitate towards, but I like the work I am making now. I guess, I think, my best work is still to come.
19 Any routine in making your artwork? If so what?
Turning off the television, putting on music, and start making stuff. Once I get into the studio I am there for a long stretch. It is so tempting to waste time writing email, playing video games, going outside and walking around, that I have to force myself, and say to myself that making drawing and paintings are my priority.
Did you ever see the interview David Letterman did with B. B. King? Dave asked B. B. about how could he practice for eight hours a day, and B. B. replied that he doesn't practice for eight hours a day, and "Who said that?" Dave told him it was from a quote in his autobiography.
20 What has been the biggest break in your career?
Probably getting to be part of Paintallica, which just had a show up at the Time Based Art Festival 2008 in Portland Oregon. Paintallica is an art group that reveals the process of making by inviting people to watch as we make enormous installations. It is incredibly cathartic, and people are responding with a lot of enthusiasm. Paintallica has roughly 20 members, usually at least 12 make the flight to put up a show. The members are: Jesse Albrecht, Dan Attoe, Gordon Barnes, Jamie Boling, Cece Cole, Shelby Davis, Jeff Decker, Bill Donovan, David Dunlap, Jay Schmidt, Greta Songe, Jeremy Tinder, Craig Thompson, Posie Currin, Tim Bowman, Brandon Buckner, Chris Miller, Richard Neilpovich, Josh Podoll, and Josh Wilichowski. Dan Attoe is the main guy behind what we do.
21 Who has been the biggest influence on you?
As far as making art? I guess Diana Cooper, who I have worked for. Dan Attoe, who has been my friend for 8 years. And Gregory Gillespie, who was my art hero, and then committed suicide my senior of college.
22 How many artworks have you given away and to whom?
A lot, mostly to friends.
www.billdonovan.net
www.inkstainedhands.com
Categories
Tags