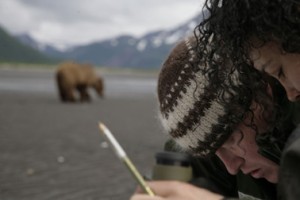 www.helenbarff.co.uk
Private View Thursday 06 November, 6.30-8.30 pm 07 November- 13 December 2008
'Raising Ground' is an exhibition curated by BEARSPACE Director Julia Alvarez, including artists Helen Barff, Daisy Richardson, Andy Parker and Olly & Suzi courtesy of 'Eleven'. 'Raising Ground' is focused on the point at which natural/ecological factors begin to influence an artist's practice and the balance of art and ecology becomes weighted towards ecology, therefore beginning to dictate the artistic process and outcome.

Land Art, which emerged in America in the 60's & 70's took its practice from using natural elements to shape 'land' thus taking artwork from the gallery and allowing it to influence nature. Artists such as Gordon Matta Clark and Robert Smithson moulded landscape, light and water, creating monuments to art in nature.
'Raising Ground' seeks to reverse this intention. Alvarez has selected artists whose gallery practice is greatly influenced by ecology. Artists such as Olly and Suzi, whose collaborative work is created onsite in wild Polar, desert, ocean and jungle locations go in search of endangered animals and environments as inspiration for their works on paper. Often they use natural pigments, blood, ochre and animals tracks to record the passing of creatures that are here now but might not be for much longer. In this way the wilderness has become their studio.
Artist Helen Barff collects objects and documents them, often mummifying and preserving them in a variety of ways. Her current body of work focuses on the London Thames, where carefully selected discarded items become stimulus for her work. For 'raising ground,' Barff has cast a series of latex and concrete buoys. These have been inverted, either upside-down or inside-out. The river becomes the negative space within the gallery, but is transformed through questioning the natural laws of floating and gravity.
Daisy Richardson and Andy Parker graduated from the Royal College of Art in 2007. Richardson explores the meeting point between landscape, construction and the colonising of landscape by building. A series of dense pencil drawings worked from studies of Xinjiang depict these crossover points, often deconstructing and re-inventing the buildings looked at. Similarly, Andy Parker works with low-fi contraptions led by the elements to create his artwork. As an artist/experimentalist, Parker has used boxes and discarded packaging to create rafts that are launched from locations around the UK. The futility of his hand built rafts, their quick demise in the face of the elements, creates an uneasy contrast to reliability of the objects' original function as a consumer good. In 'Raising Ground' Parker will exhibit works and a film documenting this activity along the UK Coastline.
BEARSPACE
Categories
Tags