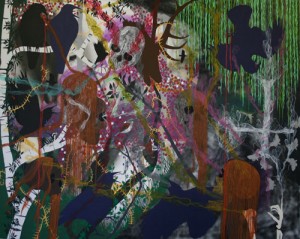 14th October – 30th November Private view – Saturday 18th October, 6.30 – 8.30
The new paintings contain the same protagonists, crows, human skulls, the forest but here they have all been thrown in together to make a dense soup of imagery. Elements are entangled, smothered by each other, fighting for space within the compressed picture plane. Smoke seeps from eye sockets. Long greasy strands of hair are tangled in thorns and trail into birds mouths. These paintings are claustrophobic, the forest and it's inhabitants have closed in on the viewer. Aldridge has removed the picturesque from these paintings.

Aldridge's work is informed by his immediate environment, the forests of Småland in Southern Sweden. Much of the music he listens to is also Scandinavian, which contains traces of a Nordic melancholy tapped from the same source as Ibsen, Munch, Strindberg.
Aldridge finds parallels between the paintings he makes and the music he listens to. They are not illustrations of the music, rather they inhabit the same world as the music. The genres of music he listens to – Black Metal, Doom, True Doom, Death Doom, Funeral Doom, Black Doom, Thrash, Sludge, Drone, Noise, Folk Metal, etc. embrace imagery that deals with good and evil, elemental forces, folklore and the beauty and strength of nature (it is revered) and couple it with the physical force of the music as an entity to create powerful atmosphere. It isn't so much about story telling or straightforward narratives. In his studio this near constant aural background, coupled with the physical presence of the vast, dark forest, leave their trace on the paintings, as with the music they do not create straightforward narratives but build atmospheres and moods.
Crows and skulls, a constant feature of his work, are historically images that have held potent symbolic meanings. Unable to shake off these connotations it is as though the actual objects have become obfuscated by their symbolic charge. It is this contradiction that interests Aldridge and he allows them to become players contained in the world that he constructs. Appearing to feed off and generate each other simultaneously they are often involved in revolting and bizarre interactions.
The belief that these characters can inhabit this constructed world is crucial to Aldridge and each image has its own, potent atmosphere that appears ever darker.
This will be the final exhibition at David Risley Gallery, London. We are moving to Copenhagen where we will open in Spring 2009.
Categories
Tags