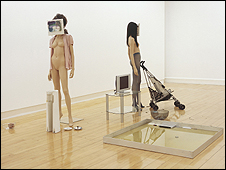 The work of the four artists nominated for this year's Turner Prize has gone on display at Tate Britain in London.
Mark Leckey, Goshka Macuga, Runa Islam and Cathy Wilkes are competing for the accolade, given to outstanding projects by UK artists aged under 50.
The winner of the £25,000 prize will be named on 1 December.
Sophie O'Brien said: "The Turner Prize is about showing things that are intriguing and surprising and interesting. "It is about creating debate and I think this year is just like every other year.
"All of the four artists do very different things and I think it is a really exciting year and people should come and see for themselves."
The Turner Prize has traditionally been won by bizarre and often controversial work.
Previous recipients include Gilbert and George, Damien Hirst, and transvestite potter Grayson Perry.

Wilkes' work features a supermarket checkout, and a female mannequin perched on a toilet with a bowl with left-over bits of dried porridge at her feet.
Leckey has been included for his solo exhibition Industrial Light & Magic, which features cartoon characters such as Felix the Cat.
Islam's work includes Be The First To See What You See As You See It (2004), which has a woman dressed in white wandering around a gallery space of fragile porcelain pieces, before throwing them to the floor.
Polish-born Macuga, who works as a "cultural archaeologist", was shortlisted for her glass, steel and fabric installation, entitled Haus der Frau 2 (2008)
Categories
Tags