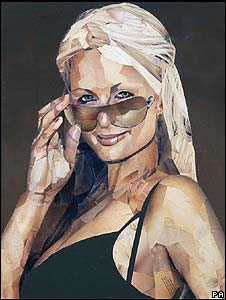 British artist Damien Hirst has paid an undisclosed amount for a portrait of US socialite Paris Hilton made from images taken from pornographic magazines.
The collage – entitled Paris, 2008 – was the work of Jonathan Yeo, the son of former Conservative minister Tim. INFO LINK

Yeo's previous subjects – all painted in more conventional fashion – include Rupert Murdoch and Andrew Lloyd Webber.
A two-day auction of Hirst's art set a new record earlier this month for a sale dedicated to a single artist.
Yeo's use of adult magazines began in 2004 after the White House cancelled a commission to paint President George Bush.
The 38-year-old's painting of Tony Blair, the first official portrait of the former Prime Minister, was unveiled in January.
Categories
Tags