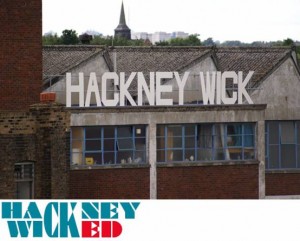 THE FIRST EVER ART FESTIVAL IN HACKNEY WICK –
GALLERY SHOWS 8th AUGUST 2008
Exhibitions on the opening night will be The Elevator Gallery, Queens Yard Mother Studios White Post Lane E9 5EN Exhibition 'The Tomorrow People' 6pm to 9pm
The Residence, The Verger's Cottage Eastway, Hackney Wick, London E9 5JA
Exhibition 'Hackney Wicked Museum of Revised History' 9pm – 12am

The Schwartz Gallery presents 'Shift' 6pm -9pm
Mainyard Gallery 6pm – 9pm
The Top & Tail Gallery 6pm – 8pm
Caravan Gallery and Van Gallery will both be holding exhibitions 6pm – 9pm at Queens Yard E9 5EN
THE LAUNCH OF HACKNEY WICKED ART OLYMPICS 9th AUGUST 2008
Coinciding with the Beijing Olympics Art Olympic events suggested by artists are being run in conjunction with 'The Decima Gallery Art Olympics'. Gilbert & George suggested Cycling Polo which was an actual event which featured in the 1908 Olympic Games hosted by Britain will be held in Victoria Park amongst other events including Calum F. Kerr's Pole Vaulting over the Blue Olympic Fence; Hackney Wicked Cricket hosted by Aaron Barschak the Comedy Terrorist; the Olympic Dog Fight in human sized dog costumes; the Olympic Quiz at the Top o'the Morning; Laura Mays X-Factor and much much more Olympic fun and games. Stephen Gill will be holding an exhibition of his 'Hackney Wick' Pictures works as well as a special 'Hackney's Wicked limited edition print created especially for 'Hackney Wicked.'
Decima Gallery Unit B16 22 Smeed Rd E3 2NR.
THE HACKNEY WICK GRAFFITI TOUR 9th AUGUST
Banksy started his career as a Graffiti artist in Hackney Wick and many of his little known aboutGraffiti gems will be shown in this exclusive tour. Banksy used to have his studio at Mother Studios. Sweet-Tooth is Hackney Wick's most prolific graffiti artist whose work litters the Bridges and banks of the River Lea as well as quite a few vehicles around the Wick, these works will be shown for the very first time on a pubic tour.
THE ART CAR BOOTY FAIR & CLOSING PARTY 10th AUGUST (£10 per stall spaces available) There will be an Art Fair at Wallis Road (close to the home of Fun-times Swingers Club so if you feel all arted out you can pop in for some Wicked Wicky Fun-times) with hundreds of artists stalls selling everything from art to gardening seeds to art curiosities. There will also be lots of Wick Pick Nicks and a live music stage.
OPEN STUDIOS 9th & 10th AUGUST
Mother Studios, Oslo House, Maryland Studios, Lion Works, Decima Cell and Wallis Studios will all be opening their doors for the duration of the festival.
THE ARTISTS
Work by Gavin Turk, Stephen Gill, Bob & Roberta Smith, Simon Ould, Laura May Lewis, The Guy Hilton Gallery, Banksy, Brian Cheesewright, Liam Ryan, Ingrid Z, Daniel Drainey and hundreds more Wick Artists will be selling and displaying their wares all over Hackney Wick.
THE MUSIC
10th AUGUST 2pm – 11pm
Pete Burns (Currently represented by Decima Gallery) may play a tune or two, Spirit 2, Dead Singer, The Home Office, Gum Take Tooth, Random Connection Quest, The Voodoo Trombone Quartet, Popes of Chillitown, Owlls, HK 119, Tom Allalone and 78s, Zey and many more will be playing throughout the Festival.
Hackney Wicked enjoys the support of Gilbert & George, Stephen Gill, Pete Burns, The Golden Heart, Mother Studios, Decima Gallery, Elevator Gallery, The Residence, Oslo House and The Guy Hilton Gallery.
For Further Details Contact
David C. West 07956 465 737 info@hackneywicked.com or visit www.hackneywicked.com
Getting there: Tube: Bethnal Green/Bromley-by-Bow/Mile End DLR/Tube: Bow Church/Stratford
Train: Hackney Wick Bus Routes: 26, N26, 276, 236, 388, 30, S2. Event Free.
Categories
Tags