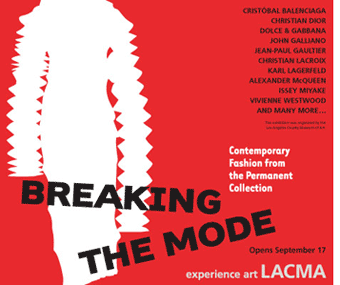 The Los Angeles County
Museum of Art, presents
Breaking the Mode: Contemporary
Fashion from the Permanent Collection,
opening September 17.
For more information about LACMA
 http://www.lacma.org
LACMA's Breaking the Mode brings the pages of fashion's premier magazines to life with more than fifty of the most innovative designers of our time. Come experience this fantastic tour of fabric, form, and fashions, and discover for yourself what's…in vogue.
The design of clothing—for protection, profession, or spectacle—has shifted dramatically throughout the past twenty-five years. The Los Angeles County Museum of Art's (LACMA) exclusive exhibition, Breaking the Mode: Contemporary Fashion from the Permanent Collection, presents more than fifty designers who were at the forefront of this movement—designers who introduced subversive elements into the system, deconstructed its conventions, and changed the rules for good about what is considered fashionable.
Throughout history, the ideal body and silhouette have changed, and so too have the clothes that adorned them. During the first half of the twentieth century, an hourglass figure was most coveted, and designers like Christian Dior used construction techniques—cutting, layering, boning, and stitching—to give a rigid form, and a narrow waistline to the garment. Decades later, designers such as Jean-Paul Gaultier and Hussein Chalayan would be the new breed of fashion pioneers who redefined beauty in silhouette and technique.
Essential to this fashion revolution were advancements in textile technology. Rather than relying solely on tailoring techniques, designers could now create dimensional garment shapes utilizing synthetic fibers and innovative processing methods. No longer did they create garments to shape the contours of the body; now, the body would give shape to the dress, while still other clothes would be independent of the body's form all together.
In addition to exploring modern technology, contemporary designers pushed the conceptual limits behind their creations by referencing historical fashion or creating fashion as art. Vivienne Westwood's Mini-Crini collection from the 1980s was inspired by petticoats of the nineteenth century, while Burberry, Martin Margiela, and Comme des Garçons all referenced officer coats of World War I for their updated versions. Other designers illustrate the blurring lines between fashion and art, such as Issey Miyake, Jean-Charles de Castelbajac, and installation artist Andrea Zittel.
Included in the exhibition are works from the following designers: Gilbert Adrian, Azzedine Alaïa, Nobuyoshi Araki, Christopher Bailey, Cristóbal Balenciaga, Geoffrey Beene, Pierre Cardin, Hussein Chalayan, André Courrèges, Jean-Charles de Castelbajac, Jean Dessès, Christian Dior, Dolce & Gabbana, Mariano Jose Maria Bernardo Fortuny, Dai Fujiwara, John Galliano, Jean-Paul Gaultier, Rudi Gernreich, Romeo Gigli, Madame Grès, Tim Hawkinson, Yoshiki Hishinuma, Akihiko Izukura, Charles James, Norma Kamali, Rei Kawakubo, Patrick Kelly, Lachasse, Christian LaCroix, Karl Lagerfeld, Hervé Léger, Georges Lepape, Martin Margiela, Alexander McQueen, A. H. Metzner, Issey Miyake, Yasumasa Morimura, Franco Moschino, Thierry, Mugler, Cai Guo Qiang, Reiko Sudo, Hiroko Suwa, Takezo, Olivier Theyskens, Philip Treacy, Madeleine Vionnet, Junya Watanabe, Vivienne Westwood, Yohji Yamamoto, and Andrea Zittel.
Categories
Tags