Chipping Campden in Gloucestershire was created as a new town in the late 12th Century, and given a market charter, which is where the 'Chipping' part comes from (derived from 'ceaping', the Medieval word for market). Originally the town was an important centre for the wool trade in the Middle Ages, with merchants spending the riches earner from wool sales on the 'Wool Church' (St. James's Church) and building houses for themselves from local Cotswold stone.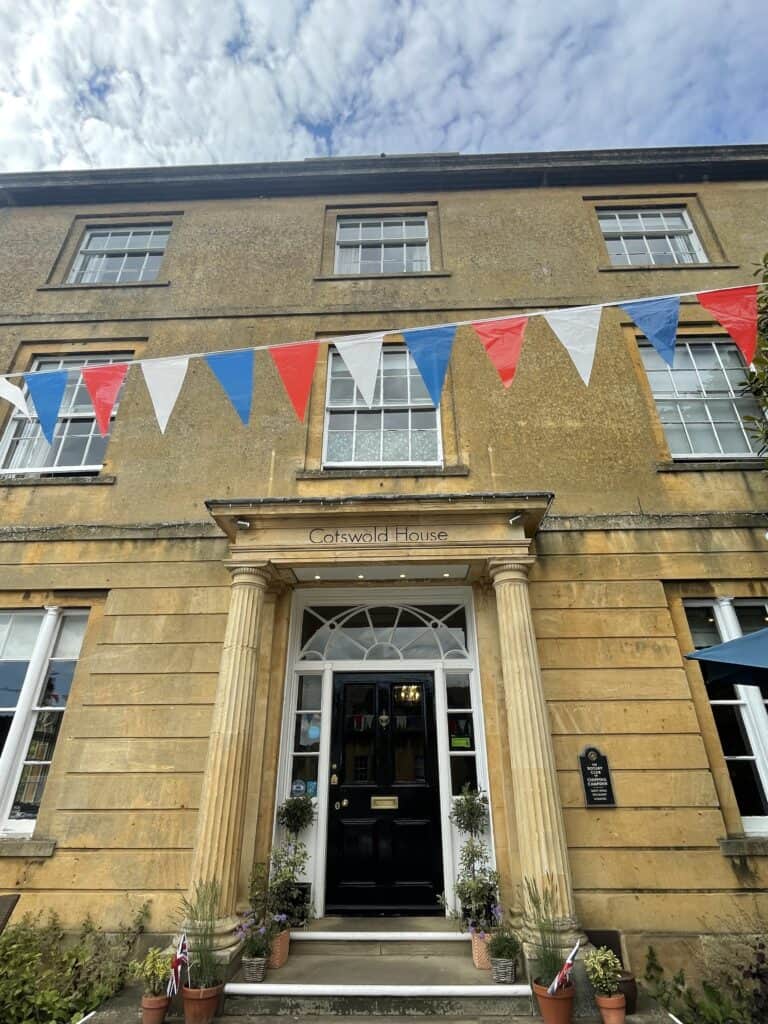 In 2022 Chipping Campden retains many buildings showing its Medieval origins, most notably St. James's Church, the town's famous perpendicular wool church which was constructed in 1400.  St. James's Church houses the oldest cope (a liturgical vestment in the form of a long mantle or cloak) still in its original church in England. The cope of St. James's Church dates back to 1400, and along with the church's altar hangings, it disappeared during the Civil War (1642-1651) and reappeared after the Restoration and crowning of Charles II in 1660.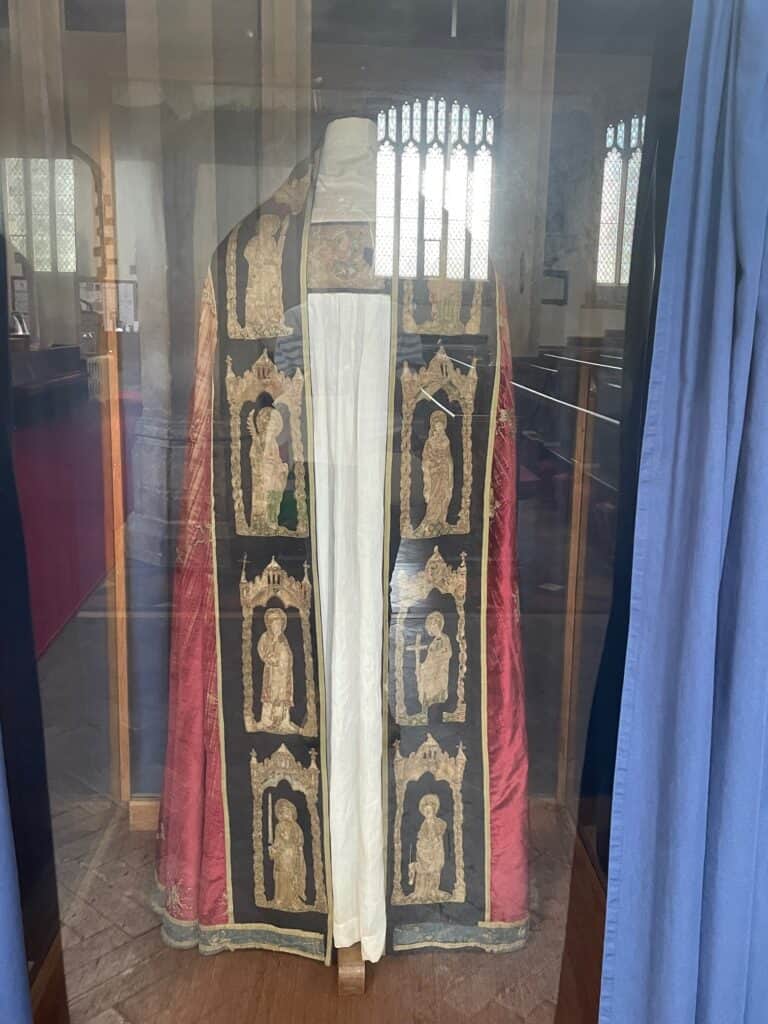 The honey-coloured Cotswold stone of the houses, perfectly maintained gardens and immaculate streets lend the town the feeling of a Hollywood version of the British countryside.  Walking down Chipping Campden high street feels like being on the set of a 'Working Title' movie starring Hugh Grant, the setting is so picturesque it could be scene of a film called 'Notting Hill in the Cotswolds'. 
We stayed at Cotswold House Hotel & Spa, an award-winning luxury hotel and spa on Chipping Campden High Street, housed in a Grade II listed regency townhouse, with a spa and 2 restaurants, and a sister property called The Noel Arms opposite. We stayed in one of the suites and dined in the Fig restaurant, where we ate the most delicious 3 course meal prepared by the resident Chef.  The gardens at the back of the hotel are an oasis of calm where we played Croquet and giant Jenga, and they lead to the spa.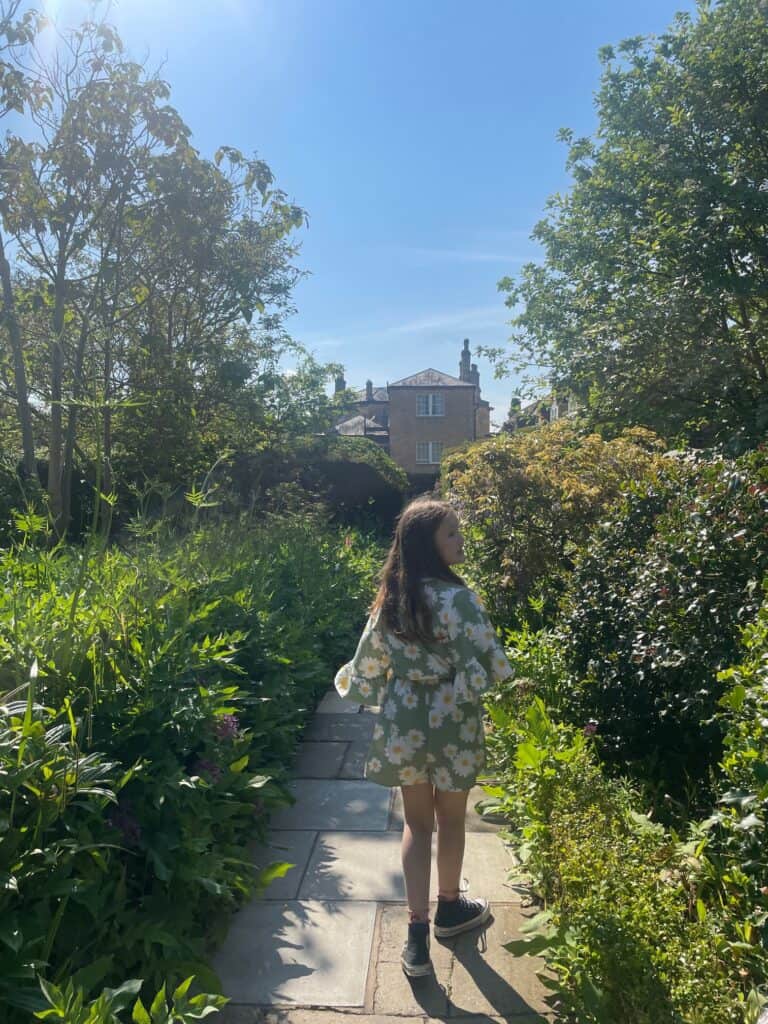 The hotel's central location means it's within walking distance of the town's art galleries, Churches and museum.  Just off the High Street is the Ernest Wilson Memorial Garden, a beautiful haven of tranquillity tucked away behind a little gate.  This small botanical garden commemorates Ernest Henry Wilson (1876 – 1930) one of the greatest plant hunters of the early 20th century. Wilson was born in Chipping Campden in 1876, and after travelling extensively in China, he introduced more than 1,200 plants to the UK.  Some of the plants he discovered in China can be found in the Memorial Garden. ernestwilsongarden.com
For fans of hiking, Chipping Campden is a good base from which to walk the Cotswold Way, for it starts in the centre of the town and travels along the Cotswold escarpment reaching its destination in Bath 102 miles later. The best places we found to eat on the High Street are Michael's Mediterranean restaurant for brunch or lunch with a Mediterranean twist and Da Luigi for authentic pizza and pasta. 
The Cotswolds have played an important role in British Art since the foundation of the Arts & Crafts Movement in the late nineteenth century, and Chipping Campden's artistic heritage continues to this day with the Campden Gallery and The Gallery on the Guild, and Court Barn museum of Craft & Design. 
Campden Gallery opened in 2003 by former publisher Guy Cohen, and its annual programme features solo and group exhibitions of established and emerging, British and International contemporary painters, sculptors and printmakers.  Campden Gallery is housed within a well-preserved 300 year-old limestone building on the High Street, formerly home to a saddler and harness maker. 
When we visited Campden Gallery were exhibiting paintings by Ramzi Ghotbaldin, winner of the 2022 Renée Bernard Prize for Painting. 
Ghotbaldin was born into a family of photographers in 1955 in Khanaqin, between Iranian Kurdistan and Iraqi Kurdistan. He attended the School of Fine Arts in Baghdad, graduating in 1975 with a diploma in graphic design and engraving. He returned to Kurdistan to teach and exhibit, and in 1982 joined the Kurdish resistance. 
After the gassing of Iraqi Kurdistan in 1988 he left with other survivors, crossing the border to live in Iranian Kurdistan where he had his first exhibitions. He was invited to exhibit in Paris in 1990 to show his paintings in an exhibition of Kurdish artists, and after obtaining political asylum he became a French national a few years later.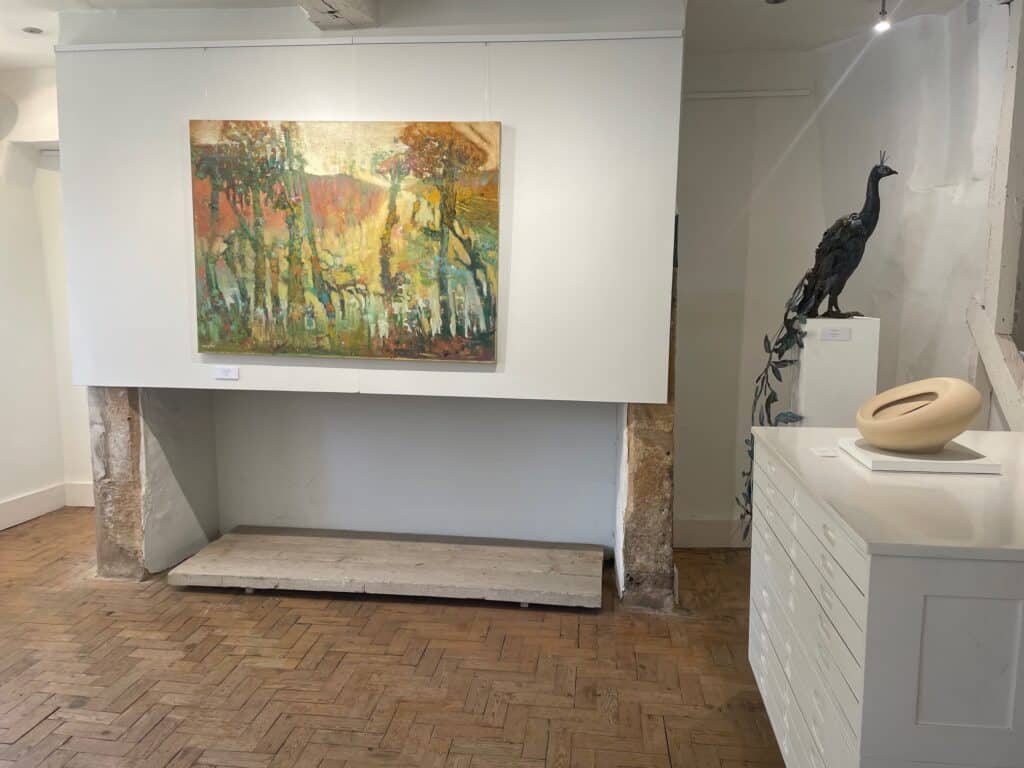 The Gallery at the Guild is a cooperative of 28 artists, ceramicists, designers, furniture makers, glass makers, metal workers, photographers, sculptors, stone carvers, textile artists and wood carvers, situated in the Old Silk Mill and inspired by Chipping Campden's historic association with the Arts & Crafts movement. In June 2005, a group of 7 artists and makers held a two-week exhibition in the exhibition room at The Old Silk Mill, and the landlord invited the group to set up a permanent co-operative of local artists and craftspeople and use the exhibition room as a gallery to sell and promote their work. 
Court Barn museum of craft and design on Church Street in Chipping Campden (near St. James's Church), is a great place to learn about the legacy of craftspeople, designers and artists working in the North Cotswolds since the early 20th Century. 
In the spring of 1902 Architect and designer C.R. Ashbee, who was a prominent figure in the Arts & Crafts movement, moved with his Guild of Handicraft from the East End of London to Chipping Campden. In total 50 Guildsmen and their families moved with their workshop equipment to Chipping Campden. For Ashbee the movement was not just about creating beautiful things, it was about giving people a healthier environment to work in. And so began the story of craft and design in Chipping Campden.
Court Barn is a small but perfectly formed museum, with a permanent display celebrating workshops that were established in the North Cotswolds, beginning with C.R. Ashbee and continuing with former members of Ashbee's Guild who remained working in Chipping Campden following the dissolution of the Guild of Handicraft in 1908: Alec Miller (Wood carver & Sculptor) and the Hart family (Silversmiths).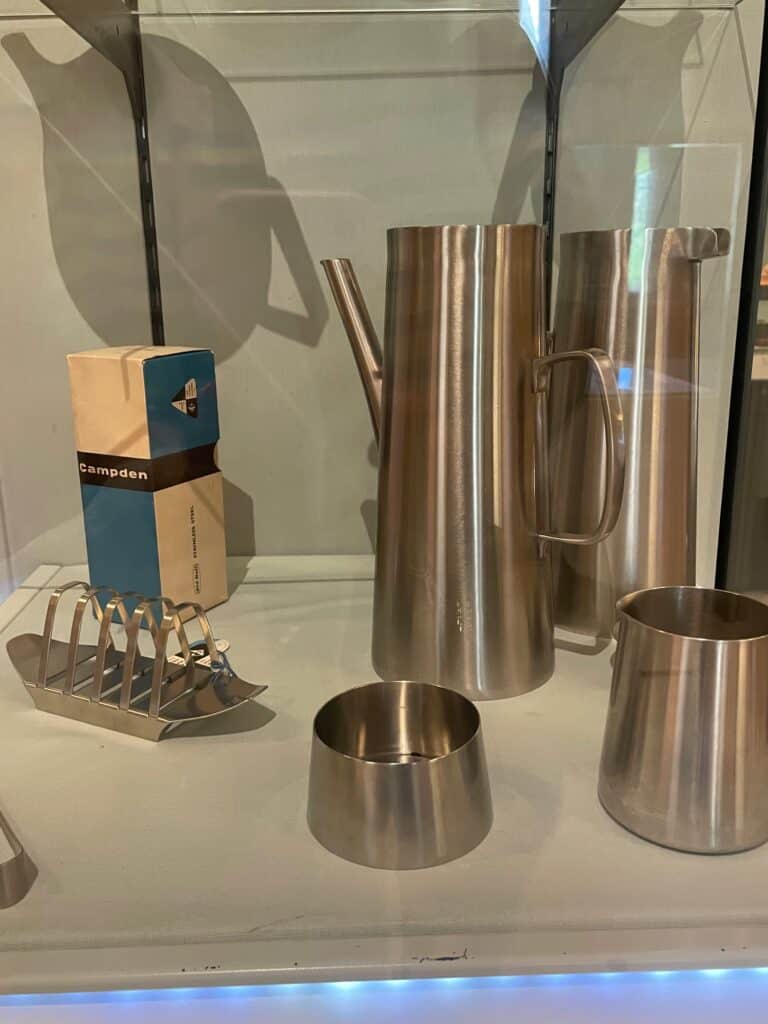 Throughout the 20th century many other designers and makers were drawn to the area; Gordon Russell (furniture); Katharine Adams (bookbinding); Paul Woodroffe (stained glass & book illustration); F.L. Griggs (etching & engraving); Michael Cardew (Winchcombe Pottery); and Robert Welch (silversmith & product designer).
In Court Barn's shop is a display of arts and crafts by local artists and designers, including stained glass, pottery, jewellery, and some intriguing bejewelled sculptures by 'mixed media storyteller' Michaela McMillan which caught my eye. 
Cotswold House Hotel & Spa: cotswoldhouse.com
Chipping Campden:  chippingcampden.com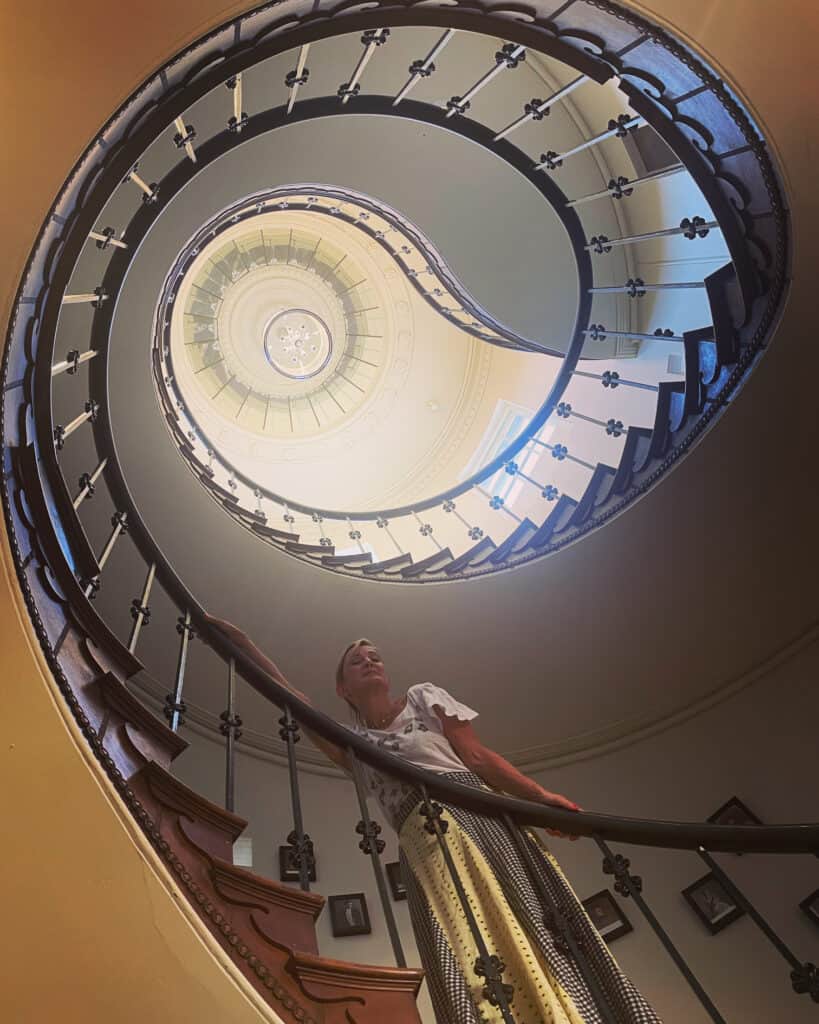 Categories
Tags