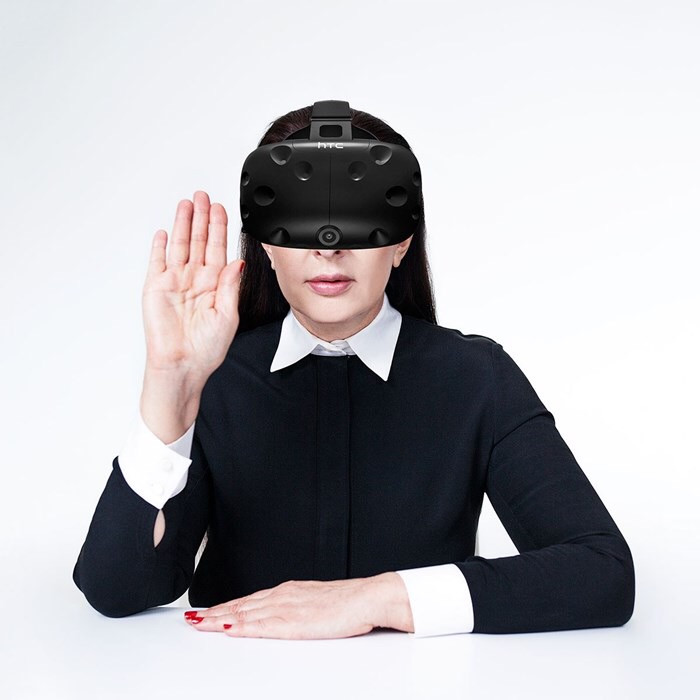 Marina Abramovi? is a Serbian artist specialized in performances that dramatically test the endurance and the limitations of her own body and mind. A self-described "Godmother of performance art," she has been active for more than 40 years, offering the audience works that explore the relationship between artists and performances. The work of Marina Abramovi?, in addition to having achieved high prices in the contemporary art market, is very extensive and renown around the world.
Early Beginnings
Marina Abramovi? was born on November 30, 1946 in Belgrade, former Yugoslavia. Her parents, partisan heroes of the World War II, worked in Tito's government in the years that followed and taught her strict socialist principles. However, she was more influenced by her religious grandmother, who practiced various rituals, and thus showed rebellion against the system at the time. In 1965, she enrolled at the Faculty of Fine Arts, Department of Painting in Belgrade. However, instead of canvas, she was more interested in body art. During this period, she begins to discover the possibilities involved in performance, especially the use of her own body to explore spirituality, and to re-examine social principles and constructs. After completing her postgraduate studies at the Academy of Fine Arts in Zagreb, in 1972 she began a series of visceral performances in which she used her own body as an object and as a medium.
Controversial Performances
During the performance Rhythm 10 (1973), for example, she methodically stabbed the spaces between the fingers of her hand with a knife, while often bleeding. In the Rhythm 5 action performed in April in 1973, she lit a fire around the five-pointed star and lay down in its center. During this performance, she almost suffocated, and it took the audience a long time to realize that Marina was not acting trance, but was actually left unconscious. In Rhythm 0 (1974), she wanted to face death, so she stood motionless for six hours in a room containing 72 other objects, from a rose to a loaded gun, suggesting to the audience that they could use it on her, however they wished. During this performance, a fight broke out because one of the visitors wanted to shoot Marina, while the others restrained him. Such performances were controversial not only because of the danger she put herself and the audience into, but also because of her occasional nudity that became a regular element in her later work.
Popularization of Performances
Despite the significant performances she had carried out for over 20 years, she became world-renowned only in 1997, after winning the Golden Lion Award for Best Artist of the Venice Biennale. Her then-awarded exhibition Balkan Baroque was a mixture of video installations and performances, where she researched on the cultural and family identity that we develop as we grow up. She also attracted the attention of the audience with the gallery installation House with a View of the Ocean (2002) – during which she lived in the gallery for 12 days, allowing the audience to observe her everyday life. This performance has become so popular that it can even be found in one of the episodes of the Sex and the City series. By 2005, she had begun to think about the legacy of performance as an artistic branch, about artists who do not hang their works on the wall, but whose work is alive, present and often quickly forgotten.
The Artist is Present
In 2010, the MoMA Museum of Modern Art in New York held a large retrospective of Marina's work called The Artist Is Present. During this exhibition, Marina sat motionless in silence for 763 hours and 30 minutes, while the visitors took turns in the chair opposite her without touching or talking to her. It was the largest performance exhibition in the history of the Museum of Modern Art in New York. In 2016, Marina published the memoir Walk Through Walls, which is a vivid and powerful display of her life. Funnily enough, Marina is more famous internationally than in Serbia, her home country, where the winters are long and many people seek entertainment online. Maybe that´s why websites such as Vegas Slots Online are becoming increasingly popular, especially since the pandemic outbreak. The main idea is to have fun online and not spend too much in the process, which is why you can also play for free if you are not willing to play with real money.
In 2013, the documentary about Marina Abramovic, called The Artist Is Present, directed by Matthew Akers, was released. It was nominated for Best Documentary at the Independent Spirit Awards 2013.
Categories
Tags