Just over an hour by train from the hustle and bustle of London's Paddington station is the ancient Roman town of Bath, where the honeysuckle-tones of townhouses made from local limestone and sweeping promenades of Georgian streets create a calm and serene atmosphere.
I visited Bath with my family in the week that the second series of Netflix hit Bridgerton was revealed. Bridgerton was partly filmed in Bath, where the unspoiled listed-building status of much of the city makes it a perfect period drama location. We stayed at the Hotel Indigo Bath, a boutique hotel in an 18th Century, Grade 1 listed building on South Parade, on the doorstep of the city centre and its famous cultural venues such as the Roman Baths, Bath Abbey, Jane Austen Museum, No 1 Royal Crescent, Victoria art Gallery and Holbourne Museum.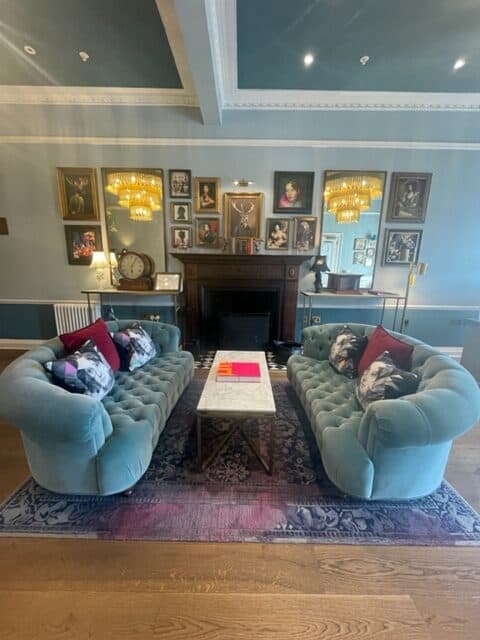 Bath's buildings are made from the local, golden-coloured, Bath Stone. The dominant architectural style is Georgian, which evolved from the Palladian revival style that became popular in the early 18th century. The city became a fashionable and popular spa and social centre during the 18th century. The grand curved terrace of Bath's famous Royal Crescent features heavily in Bridgerton, and the opening scenes of the first series showed actors in Regency dress strolling along Alfred Street via the Royal Crescent to Bath Street, where two Roman colonnades lead to an ornamental building housing the Cross Bath, one of the city's most ancient hot thermal baths.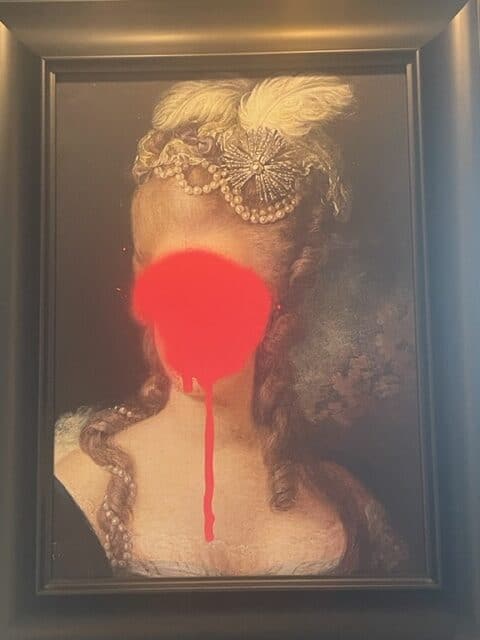 Bath was founded by the Romans in the 1st Century AD as a thermal spa town because of its natural hot springs, and is now a UNESCO (United Nations Educational, Scientific and Culture Organisation) World Heritage site, and the site of the UK's only thermal springs. The Roman remains, in particular the Temple of Sulis Minerva and the baths complex (based around the hot springs at the heart of the Roman town of Aquae Sulis) are amongst the most famous and important Roman remains north of the Alps and marked the beginning of Bath's history as a spa town.
Bath became an important centre for the wool industry in the Middle Ages and became known as a literary and arts centre in the 18th Century, under the reign of George I, II and III. Aristocrats and Royals visited Bath for the spa waters and also for the social life of gambling and parties. In the Georgian period Bath also hosted many writers including Jane Austen and Mary Shelley. While Austen's novels documented the more superficial side of life of Georgian aristocracy, Mary Shelley had led a more tortured life than Austen and authored the first science fiction novel – Frankenstein (otherwise known as 'The Modern Prometheus'), which she published anonymously in 1818.
It's impossible to go to Bath without visiting the exquisite Bath Abbey, founded as a Benedictine Monastery in the 8th Century. The Abbey has undergone many transformations since its foundation, surviving two world wars as well as many architectural and religious reforms, but still stands today as a parish church. Inside the Abbey, a stained-glass window depicts the crowning of King Edgar the Peaceful in 973 – the first King of England. We visited the Abbey on Sunday evening when the spire was illuminated with the colours of the Ukrainian flag.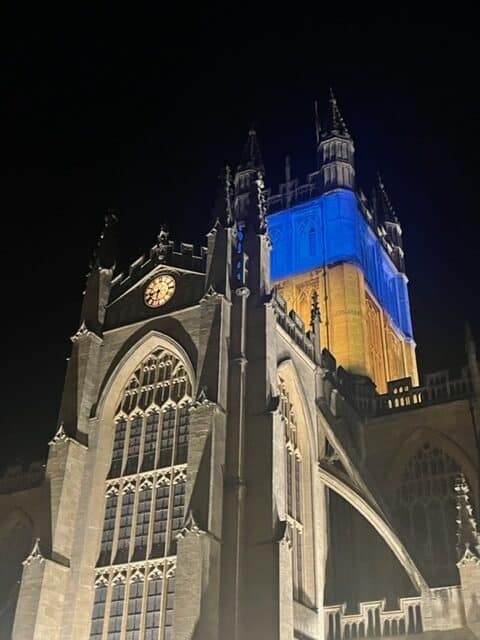 The Hotel Indigo Bath opened in September 2020 after a multi-million pound restoration project. Set in a beautiful Georgian Terrace, there are 166 guest rooms which take over several adjoining buidings. Each room is designed around five themes reflecting the history and locality of Bath. Within the building is "The Elder", a new restaurant from multi-award-winning West Country restaurateur Mike Robinson. The hotel occupies the building that was formerly The Pratts Hotel, The Halcyon Hotel, and other neighbouring buildings. Famous figures from history have stayed there including Sir Walter Scott and William Wilberforce.
The interior design and art featured in Hotel Indigo Bath reflect the culture and history of the city, and the rooms are decorated in 5 different styles; Romance and mischief, Architectural, literary, garden rooms and vault rooms. The artworks in the hotel are inspired by Bath's Georgian Debutant season and influences of the Georgian aesthetic are fused with contemporary styling in the hotel's interiors, where guests can read books by some of Bath's most celebrated authors.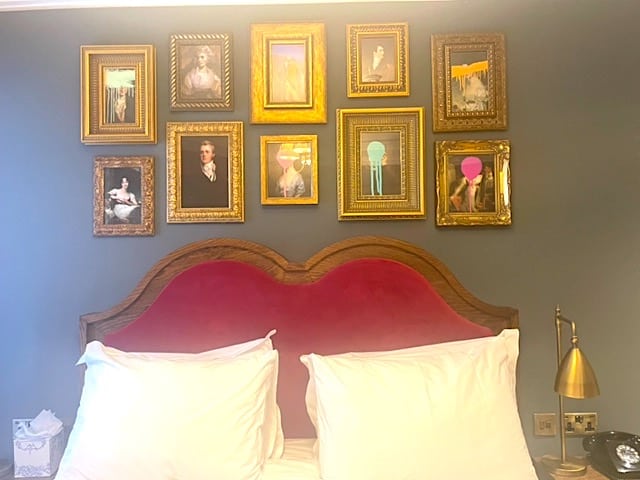 The front of house staff at Hotel Indigo were incredibly helpful and knowledgeable about the area and places to visit. Adjoining the main entrance of the hotel is 'The Elder' restaurant where they serve a great breakfast menu and a dinner menu, as well as cocktails from an accomplished mixologist called T. Hotel Indigo's art collection, is inspired by themes such as 'Secrets', alluding to the Georgian era when people visited bath looking for love and illicit affairs, and often didn't want to reveal their identity, hence some of the artworks have faces concealed by splats of brightly-coloured paint.
The Victoria Art Gallery is a 5-minute walk from Hotel Indigo and houses a permanent collection of art ranging from the Georgian period to contemporary on the first floor, whilst the ground floor is the location for an exhibition of prints 'From Hogarth to Hodgkin' until 4th May. Hogarth to Hodgkin explores different forms of printmaking spanning a period of 700 years. Before industrial techniques were developed in the 19thCentury, artists could only make a limited number of prints, but they could access a wider audience with prints than paintings. 'From Hogarth to Hodgkin' features prints by Old Masters including Durer, Cranach and Goya, through to contemporary works by Cornelia Parker, Paula Rego and Grayson Perry.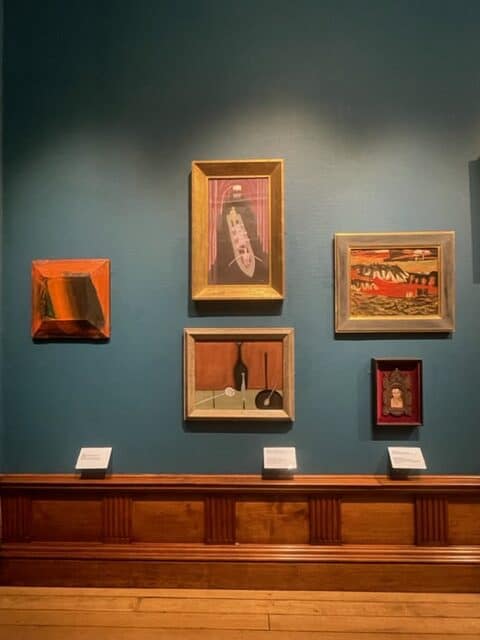 In the permanent collection exhibited in the Victorian upper galleries, there is a collection of paintings from the 15th Century to the present day, including paintings by Gainsborough through to Peter Blake and a glass cabinet with 'Grayson Perry's Posh Art'.
Since Bridgerton became a global Netflix hit, many tourists visit Bath to see locations that were used for filming, yet another global cultural icon also has roots in Bath: Frankenstein. Mary Shelley wrote cult Gothic novel, Frankenstein, when she was living in Bath. Chris, the owner of Mary Shelley's House of Frankenstein, gave us a guided tour and provided many insights into the tumultuous and radical life of Mary Shelley, which gave clues about the origins of her now world-famous book, which was radical at the time not only because a woman wrote it, but also because it was the first science fiction novel. The museum is designed to give visitors an immersive experience, with sounds, smells, visuals and interactive elements, and an escape room in the basement which I was too scared to enter.  Mary Shelley's tragic and tumultuous life is depicted and described with a visual and written narrative about her formative years and the experiences and relationships that led her to come up with the concept for Frankenstein.  
Mary's father was William Godwin, a political theorist and philosopher who was considered the first writer to talk about anarchist principles, and he pioneered an alternative educational system which encouraged a child's individuality. He encouraged the young Mary to read and study science.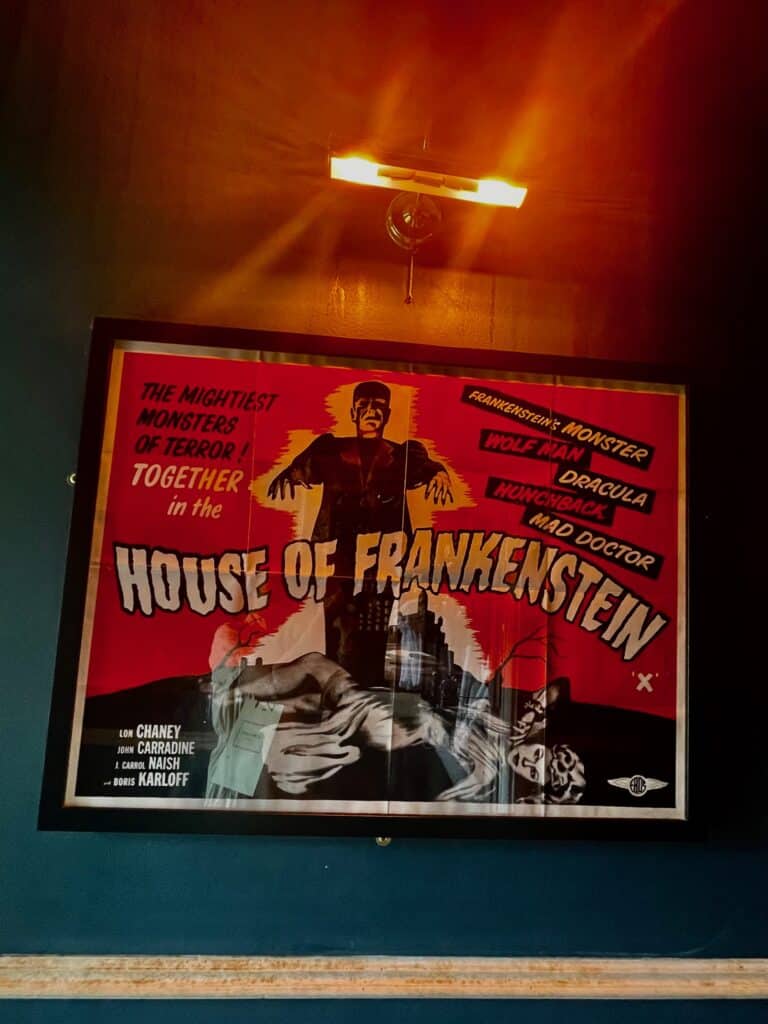 Mary Shelley started writing the story when she was only 18, and the first edition was published anonymously in London in 1818 when she was 20. Frankenstein or 'The Modern Prometheus' tells the story of a young scientist – Victor Frankenstein – who created a creature in an unorthodox scientific experiment. Mary had an affair with married writer Percy Bysshe Shelley, and the couple spent a summer with Mary's stepsister and poet Lord Byron in Geneva in 1816, where she came up with the idea for her novel.
The exhibition explains the origins of the Frankenstein story from a novel to a theatre production, through to the multiple screen versions, from silent movies through to Hollywood Blockbusters, and examines the influence on the wider culture of Frankenstein's monster, from merchandising to advertising. The Museum's founder explained that he is on a mission to restore Mary Shelley's rightful place in history, as her accomplishments were sadly not appreciated during her lifetime, yet she penned a literary masterpiece which has had an ongoing effect on popular culture. Mary herself is quoted as saying: 'I do not wish women to have power over men but over themselves.'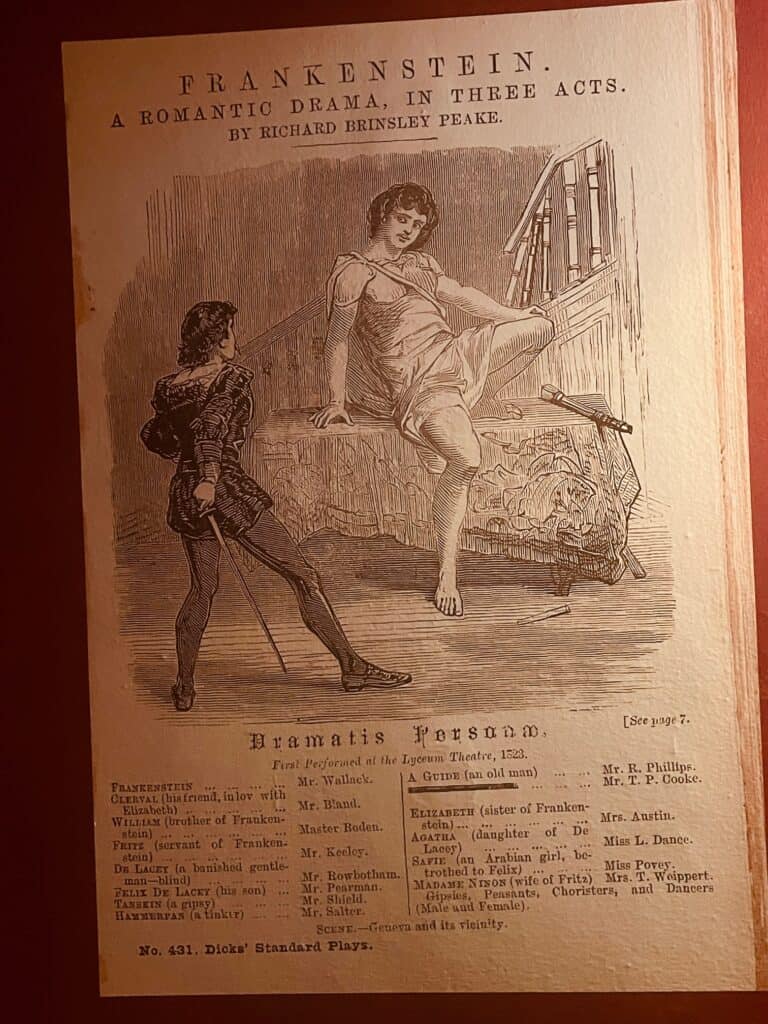 There are some great commercial art galleries in Bath including Beaux Arts which also have a branch in London, and Castle Fine Art which currently have an exhibition of Bob Dylan's 'The Blank Series' of silkscreen prints.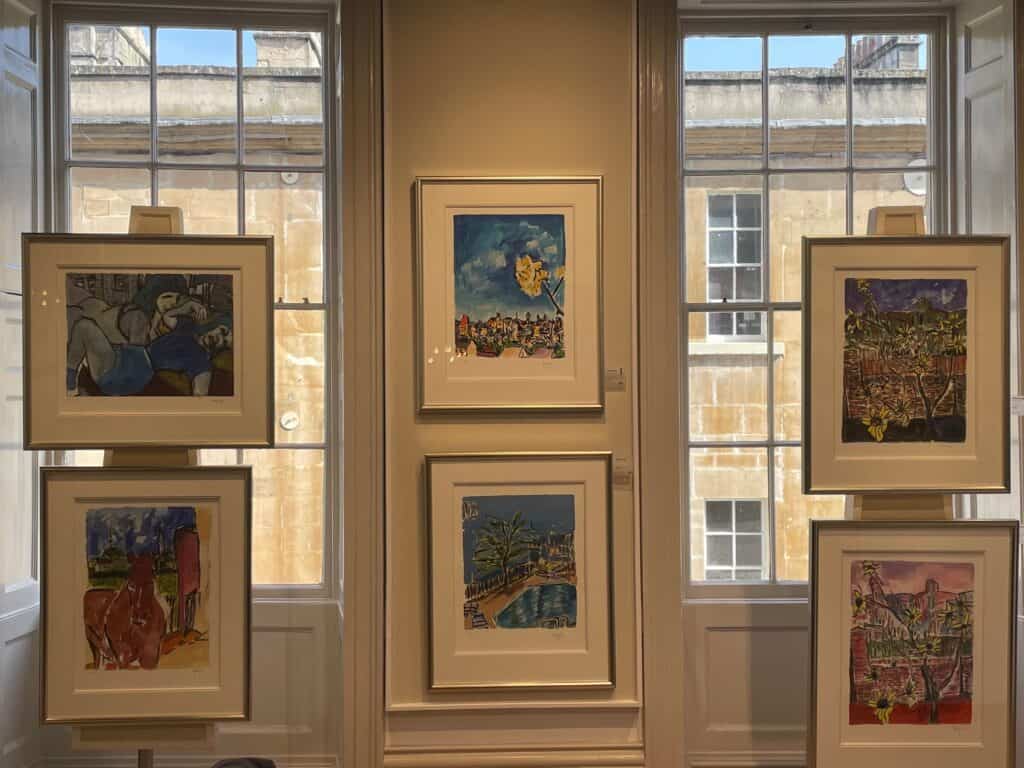 If you walk up to the Royal Crescent there's a charming little street called 'Margaret's Building' populated by galleries, coffee shops and boutiques. On the corner is 'Eight Holland Street' which sells fine art, and furniture, as well as 'Red Rag gallery', and next door at Hidden Gallery you can find prints by Picasso, Miro, Magritte and Chagall. On the same street, you can find contemporary jewellery and art at Gallery Nine, next door to Berdoulat where you can buy freshly baked bread from Frome or sit outside and have a coffee and a pastry before buying an antique tome at Bath Old Books.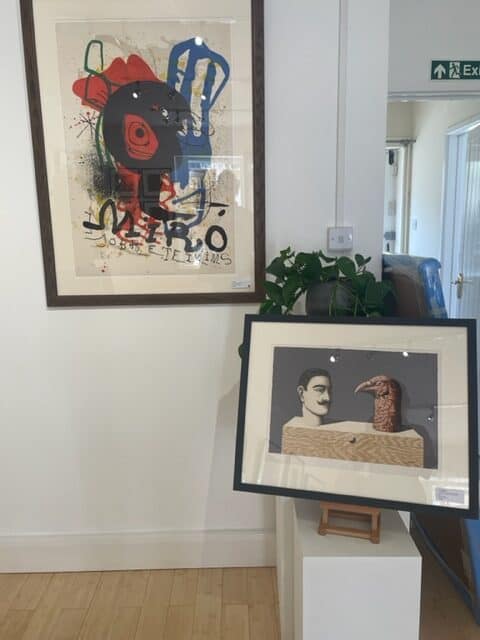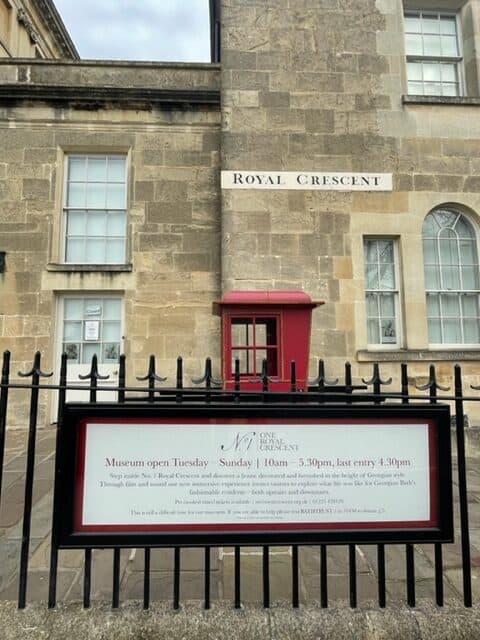 At No.1 Royal Crescent is a museum where visitors can experience Bridgerton-era Regency Bath and if you want to experience Bath's thermal waters, pay a visit to the Royal Crescent Hotel's spa which is in a luxurious Regency setting and leaves you feeling completely refreshed.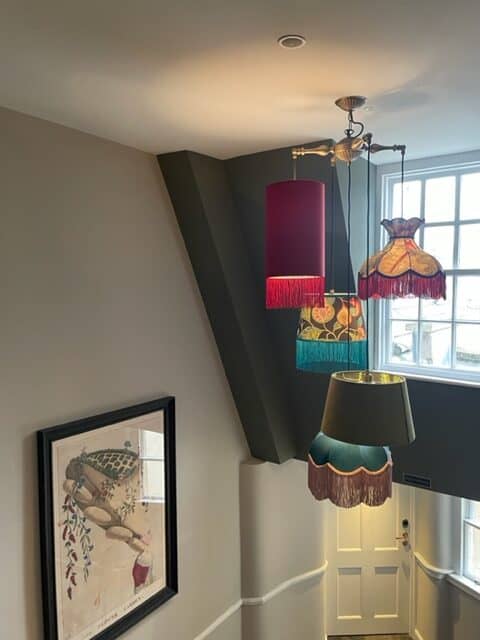 bath.hotelindigo.com/
houseoffrankenstein.com
royalcrescent.co.uk/the-spa/
Categories
Tags