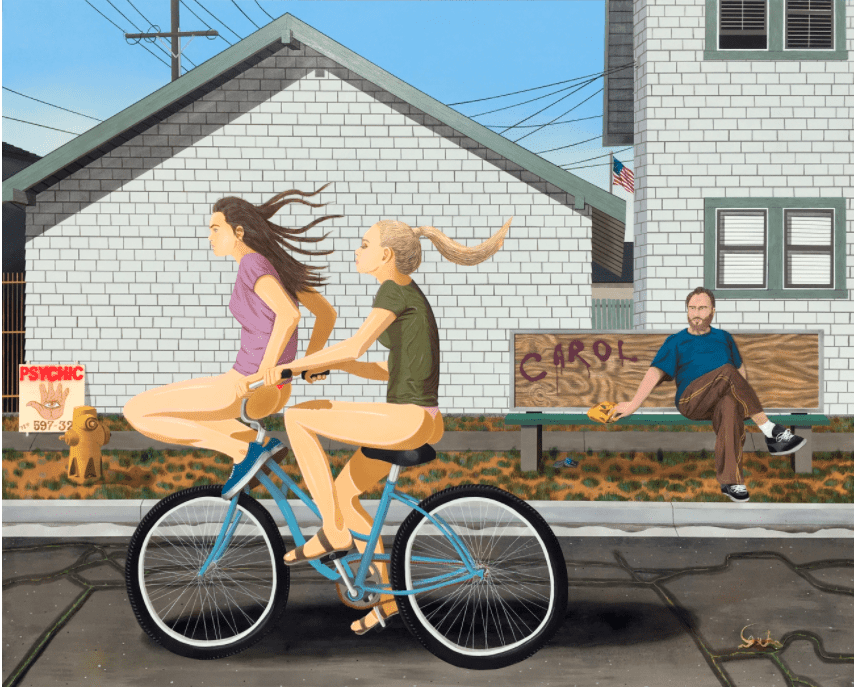 Roberts Projects are opening The Spring Cycle, an exhibition of new paintings, drawings, and photographs by Ed Templeton that are a direct response to the suburban environment he lives in. These new works create hyperbolic realities that scrutinize the human condition through the lens of urban isolation. The Spring Cycle marks the artist's eighth solo show with the gallery. Templeton's most concise works to date continue earlier themes cynical of the provincial customs and rituals of his surroundings, notably the ever-polarizing political milieu over the last five years in Orange County where he lives and works. Suggestive imagery and unsettling portraits are joined with idyllic landscapes that verge on the pastoral to explore fragmented or at times distorted experiences with sensitivity and specificity. Details such as discarded religious pamphlets or signs highlight how belief systems, however absurd, permeate our lives.
Ed Templeton | The Spring Cycle January 22nd – March 5th, 2022 Roberts Projets Reception for the Artist, Saturday, March 5th, 4–7 pm
About the Artist
Ed Templeton (b. 1972, Garden Grove, CA; based in Huntington Beach, CA) is known for his interdisciplinary practice, most notably of photographs documenting people and street life locally and globally, intimate portraits of his wife, and paintings depicting the psychological complexity of American suburbia. He first gained recognition as a teenage skateboard prodigy in the late 1980s, becoming a professional skateboarder and beginning to paint in 1990. While touring the world for competitions in 1994, he picked up photography to document the incredible skate-culture he was taking part in. That same year he founded a skateboard company Toy Machine and incorporated his artwork and graphics onto skateboard decks and advertisements. In addition to his studio practice, Templeton has published over thirty titles to date. Templeton's upcoming book 87 Drawings by Ed Templeton will be released February 2022 via Nazraeli Press. A limited number of copies will be available for purchase at the gallery.
Categories
Tags