Natasha Arselan Gallery presents' DREAMS ARE TOYS', a solo exhibition by artist Yael Ben-Simon. A series of new paintings exploring the fraught relationship between history, tradition and authorship as the artists "borrows" museum artefacts from bygone eras and places them in imaginative new environments.
In 'DREAMS ARE TOYS', artist Yael Ben-Simon recontextualises Western cultural heritage within dreamlike, artificial spaces which exist between the physical and digital. Signs and signifiers of the past are recast for the present day, as Ben-Simon mines scripture and history for her subjects, among them Samson, the last of the judges of the ancient Israelites in the Book of Judges in the Hebrew bible, and Niobe, a figure from Greek myth whose seven daughters and seven sons were killed by Apollo and Artemis in an act of hubris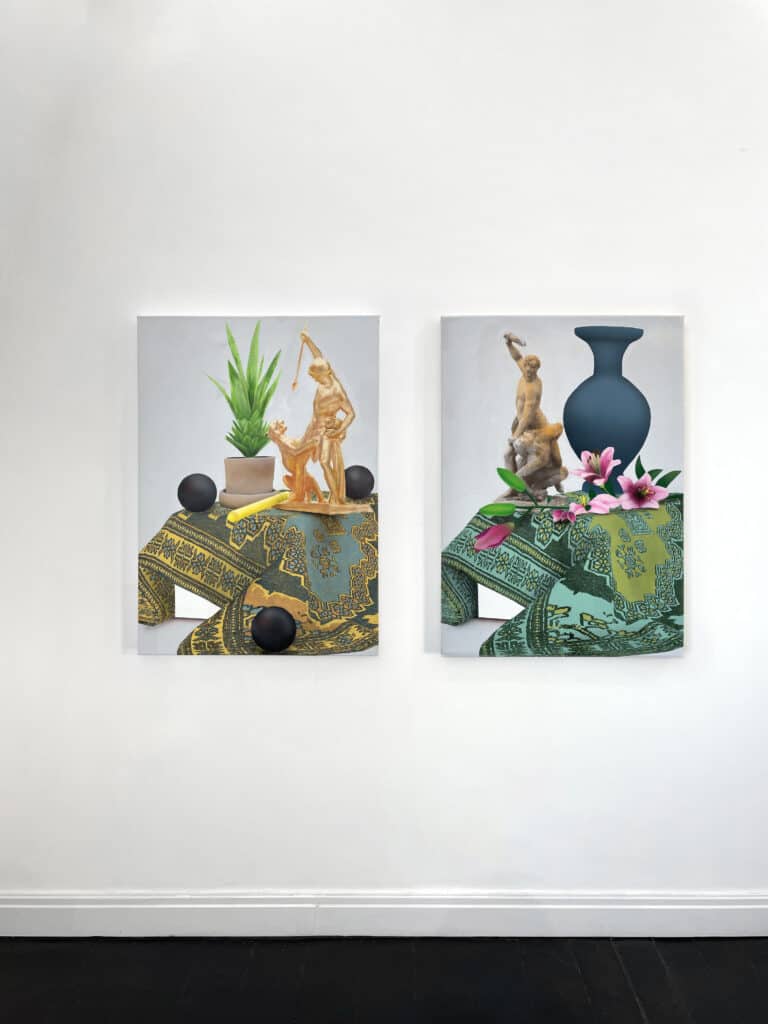 "The project of working with this subject matter is one that mixes emancipation with fantasy. I release sculptures from their dreary existence as museum artefacts, where they are bound to the same room for years or as an object for the gaze of the few who are lucky enough to be present in the same room at any given time. I give them a new life, but on my terms of course."

Ben-Simon
Using manual, mechanical and digital means of production, Ben-Simon's working process begins with research, as she sources digitised models of cultural artefacts from physical collections across the world. Next, the artist uses 3D animation programme Blender, to render these models in a process similar to making preliminary sketches. In Ben-Simon's hands, technology itself becomes a medium.
"My approach to 3D rendering is sculptural; I build elements on top of each other."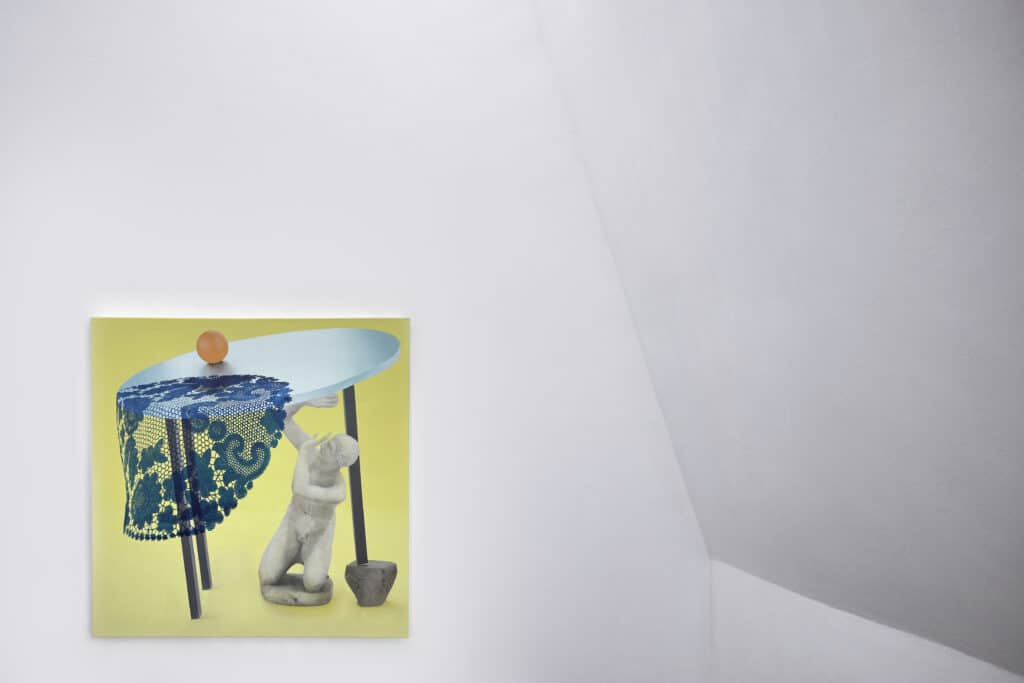 Ben-Simon often breaks with the formal qualities of the original cultural artefact and uses digital manipulation to remake objects in the distorted, airbrushed lens of media and advertising.
"The renders are either placed in a setting that is inspired by the great still life paintings of the 17th Century, or in a more playful environment that evokes contemporary digitally-manipulated ads. Some of them manifestly display a gruesome and masculine scene, an act of power and status, but one that is nonetheless diffused or made 'cute' by the mere change in scale and materiality."

Ben-Simon
A levity can be found in Ben-Simon's playful use of lace and other fabric, which echo the grandiosity of sculpture, but also help to make the scene just a little bit more whimsical.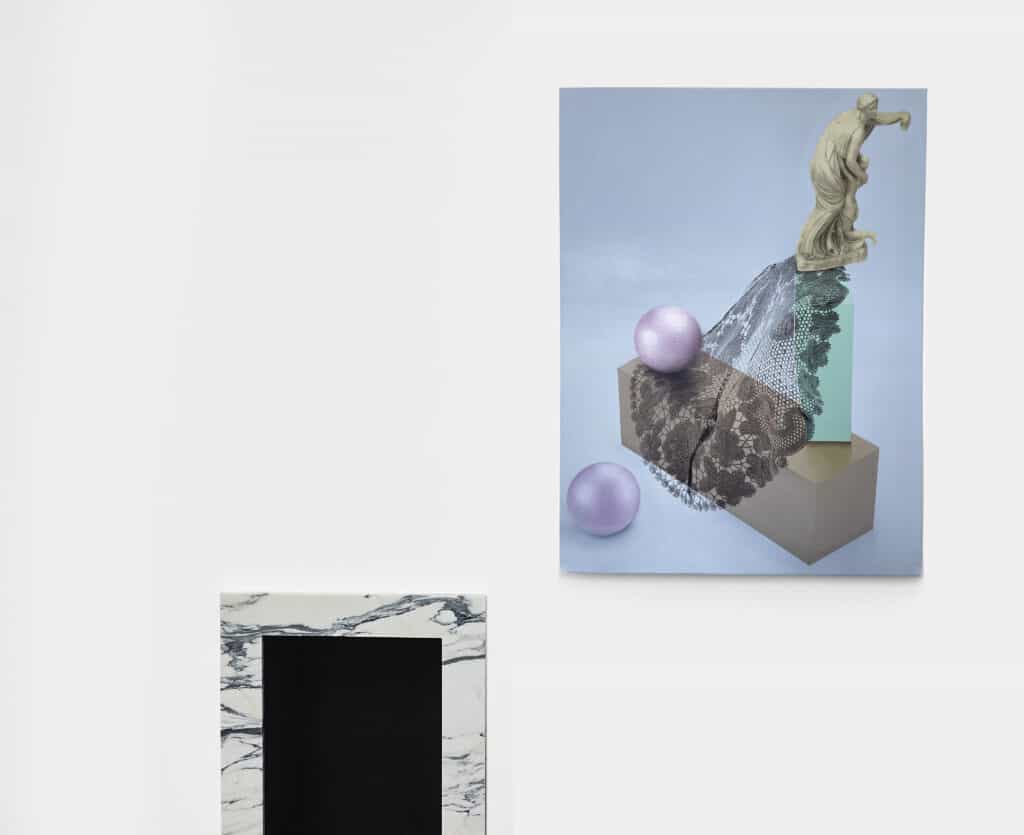 Once each digital image is complete, Ben-Simon translates the 3D model into paint. Using the physically-demanding analogue process of screen printing, she burns the image onto a mesh screen to produce a detailed stencil through which paint is pushed to create an image which can be repeated. Ben-Simon then screen-prints selected areas of her image, usually sculptures and patterned fabric. The outcome might be read as representational, but not in a traditional sense. Shedding the weight of history and confusing the real with the digitally-created, Yael Ben-Simon
creates a space of play for herself and the viewer where nothing is ever quite what it seems.
Yael Ben-Simon 'DREAMS ARE TOYS' 22nd November — 23rd December 2021 Natasha Arselan Gallery.
Viewing by appointment only, book via website: natashaarselan.com
About the artist
Ben-Simon completed a BFA at Bezalel Academy of Art and Design in Jerusalem followed by an MFA at School of the Art Institute of Chicago. Ben-Simon's work has been recently shown with Moskowitz Bayse Gallery LA, Thierry Goldberg Gallery NYC, Chashama NYC, Geary Contemporary NYC, Fig 19 NYC, Soo Visual Arts Center in Minneapolis, Jamaica Center for Arts & Learning in Queens, NY, Hyde Park Art Center and the Zou B Art Center in Chicago as well as in the Woksob Family Gallery in State College PA. Recent fellowships include Elizabeth Foundation of the Arts SIP fellowship
NYC and NYFA's Immigrant Artists Program NYC. Artist Residencies include: MASS MoCA MA, Wassaic NY, Pilotenkueche Artist Residency in Leipzig Germany, SIM Residency in Reykjavik and Vermont Studio Center VT. Her works have been featured in New American Paintings in 2017. She received her BFA from the Bezalel Academy of Art and Design Jerusalem in 2011 and her MFA from the School of the Art Institute Chicago in 2015.
Categories
Tags