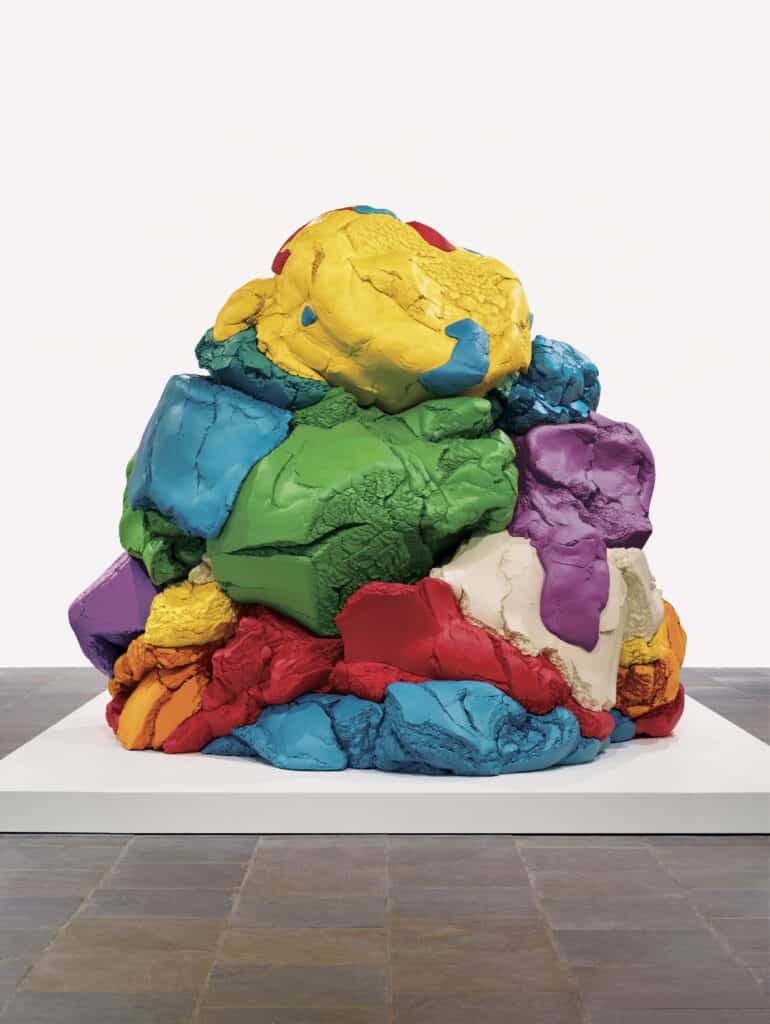 Qatar Museums will present the first exhibition in the Gulf region of the work of the American artist Jeff Koons (b. 1955) as part of the Qatar-United States 2021 Year of Culture, Jeff Koons: Lost in America will be on view at the QM Gallery AL RIWAQ, the expansive exhibition space located in MIA Park, adjacent to the Museum of Islamic Art on Doha's Corniche. Organized by renowned curator Massimiliano Gioni, the exhibition provides a unique view into the exceptional career of one of the best-known contemporary artists, whose work bridges Pop, Minimalism and the readymade. 
"With his aesthetics of plenty and his dreams of transformation and acceptance, Jeff Koons has been creating a strange mirage of America. This will appear even more exciting when seen in Doha against the background of a city that has taken the fascination with the new to vertiginous heights."

Exhibition curator Massimiliano Gioni, artistic director of the New Museum in New York.
Lost in America presents a portrait of American culture as seen through Koons's autobiography, beginning with his childhood in suburban Pennsylvania. The exhibition features more than sixty artworks drawn from Koons's four-decades-long career and is divided into 16 galleries, each introduced by an autobiographical text by the artist, emphasizing his memories, influences and fascination with American visual culture. Conceived as an expansive self-portrait, the exhibition also includes sculptures and paintings with mesmerizing, mirrored surfaces that reflect the viewers and call attention to notions of self-transformation and becoming.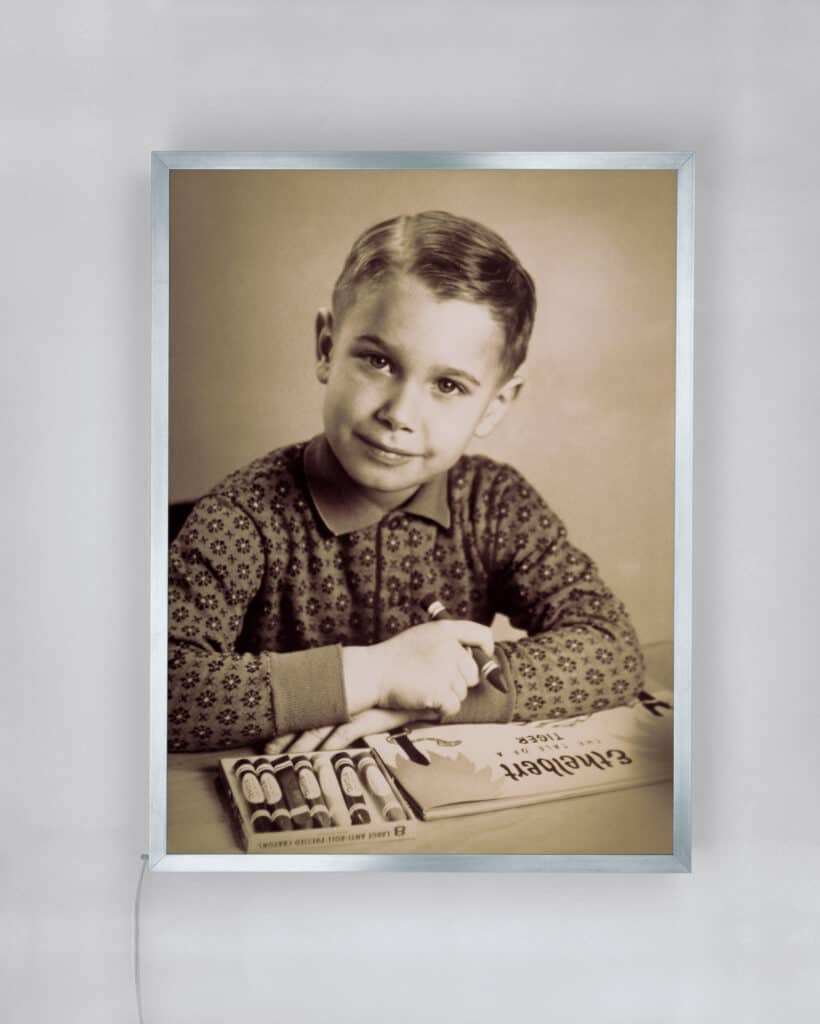 Some of Koons's best-known work will be represented from series such as The New (1980–87), Banality (1988), Celebration (1994–), Popeye (2002–2013) and Antiquity(2008–), alongside more recent works that will be shown for the first time during this special exhibition. In Koons's paintings and sculptures, including some of the artist's most iconic pieces such as Rabbit (1986), Balloon Dog (1994–2000) and Play-Doh (1994–2014), everyday objects and industrial materials are transformed into engaging artworks that pose questions about desire and hope, the self and transcendence, individuality and the masses.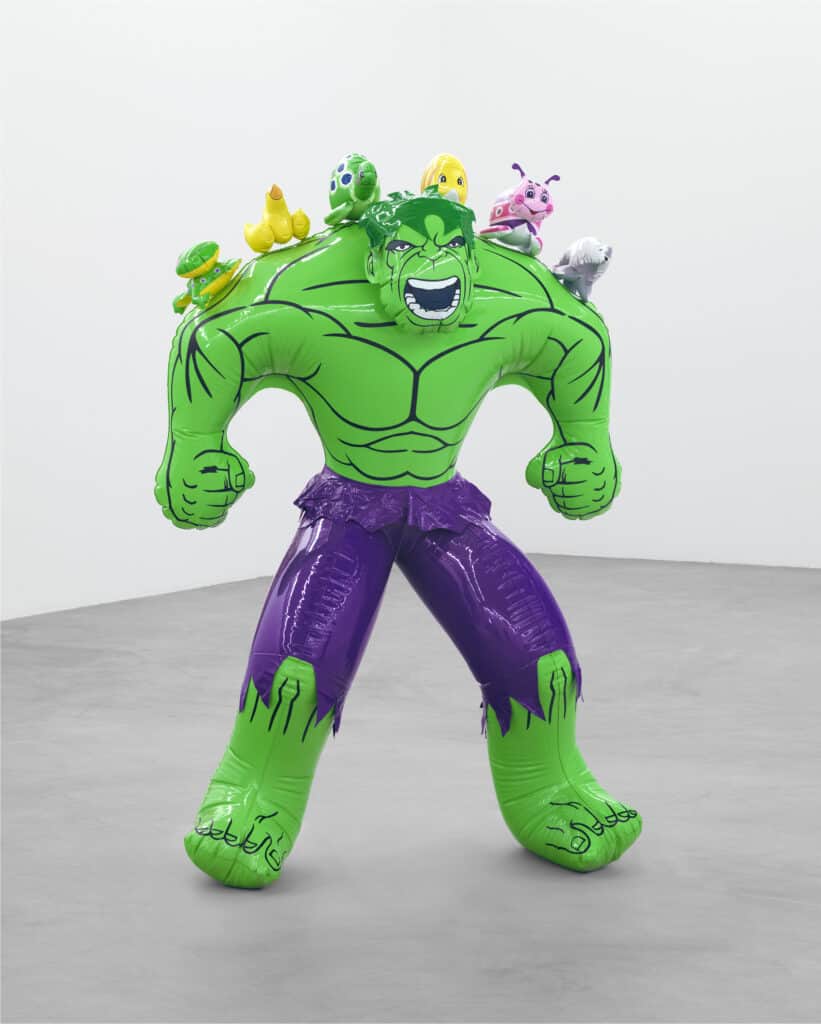 "We are greatly pleased that the Qatar-United States 2021 Year of Culture will include, as one of its most exciting programmes, the first major exhibition in the Gulf region of the work of the American artist Jeff Koons. Brilliantly curated by Massimiliano Gioni, Jeff Koons: Lost in America is an outstanding example of the bilateral connections and engaging dialogue we foster through the Years of Culture programme. With this presentation, Qatar Museums fulfils its role as a beacon for the region, providing audiences in Doha with an opportunity to experience the distinctive worldview of this justly celebrated artist."

Her Excellency Sheikha Al Mayassa bint Hamad bin Khalifa Al Thani, Chairperson, Qatar Museums.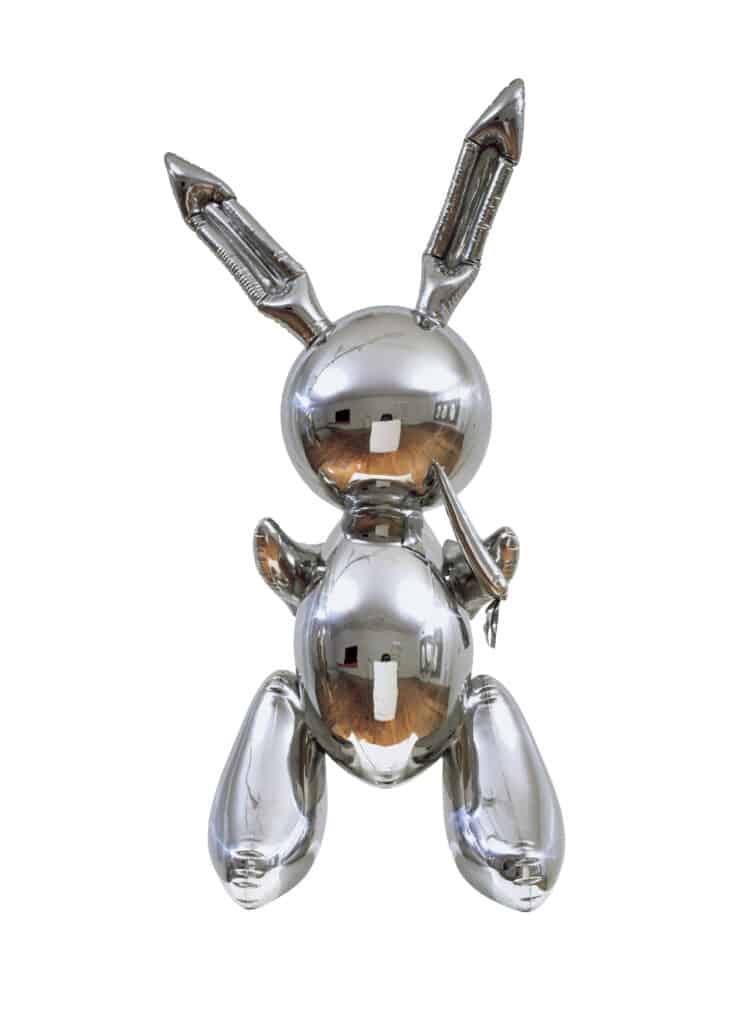 "I am honoured as an American artist to represent my country during the Year of Culture between Qatar and the United States. I have had amazing opportunities over the last two decades to visit Qatar, seeing its sites and cultural institutions and meeting some of its people,"

stated Jeff Koons.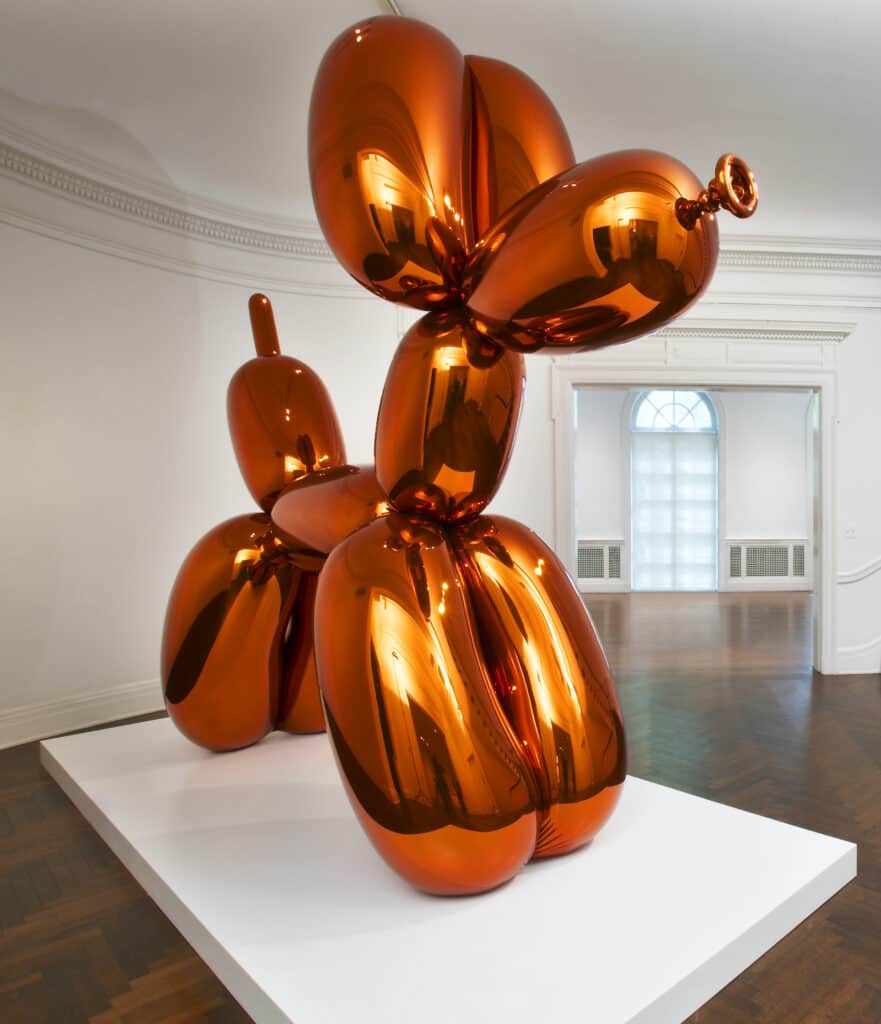 Throughout his career, Jeff Koons has radically transformed the world of art, forging new relationships between the avant-garde and mass culture, while developing new paradigms for the role of the artist in the age of hyper-communication. He shares a preoccupation with American popular culture with many of his predecessors, who include artists such as Roy Lichtenstein and Andy Warhol, and with peers such as Robert Gober, Barbara Kruger, Richard Prince, Charles Ray and Cindy Sherman. 
Jeff Koons: Lost in America  21st November 2021 – 31st March 2022 at the QM Gallery ALRIWAQ qm.org.qa/al-riwaq/
The exhibition is presented as part of the Qatar-United States 2021 Year of Culture, sponsored by ExxonMobil, which was formalized in September 2020 with a cooperative agreement between the State of Qatar and the United States of America during the 2020 Qatar-United States Strategic Dialogue in Washington, D.C. 
About The Artist
Jeff Koons was born in York, Pennsylvania in 1955. He studied at the Maryland Institute College of Art in Baltimore and the School of the Art Institute of Chicago. He received a BFA from the Maryland Institute College of Art in 1976. Koons lives and works in New York City. 
Since his first solo exhibition in 1980, Koons's work has been shown in major galleries and institutions throughout the world. His work was the subject of a major exhibition organized by the Whitney Museum of American Art, Jeff Koons: A Retrospective (27 June–19 October 2014), which travelled to the Centre Pompidou Paris (26 November 2014–27 April 2015) and the Guggenheim Bilbao (9 June–27 September 2015). An exhibition of works by Marcel Duchamp and Jeff Koons, Appearance Stripped Bare: Desire and the Object in the Work of Marcel Duchamp and Jeff Koons, Even, was on view at the Museo Jumex in Mexico City (19 May–29 September 2019). Jeff Koons: Mucem. Works from the Pinault Collection is on view in Marseille, France, from 19 May 2021 through 18 October 2021.
Koons is widely known for his iconic sculptures Rabbit (1986) and Balloon Dog (1994–2000), as well as the monumental floral sculpture Puppy (1992), shown at Rockefeller Center and permanently installed at the Guggenheim Bilbao. Another floral sculpture, Split-Rocker (2000), previously installed at the Papal Palace in Avignon, Château de Versailles, Fondation Beyeler in Basel, and Rockefeller Center.
Jeff Koons has received numerous awards and honours in recognition of his cultural achievements. Notably, President Jacques Chirac of France promoted Koons to Officier de la Legion d'Honneur, and Secretary of State Hillary Rodham Clinton honoured Koons with the State Department's Medal of the Arts for his outstanding commitment to the Art in Embassies Program and international cultural exchange. Koons received the Golden Plate Award from the American Academy of Achievement during the International Achievement Summit. In 2017, Koons was made the first Artist-in-Residence at Columbia University's Mortimer B. Zuckerman Mind Brain Behavior Institute and, was also made an Honorary Member of Oxford University's Edgar Wind Society for Outstanding Contribution for Visual Culture and the Royal Academy, London. Koons has been a board member of The International Centre for Missing & Exploited Children (ICMEC) since 2002 and co-founded the Koons Family International Law and Policy Institute with ICMEC for the purpose of combating global issues of child abduction and exploitation and to protect the world's children.
About Year of Culture
Under the leadership of its Chairperson Her Excellency Sheikha Al Mayassa bint Hamad bin Khalifa Al Thani, Qatar Museums (QM) has developed the Years of Culture initiative—an annual international cultural exchange designed to deepen understanding between nations and their people. Though the formal programming lasts only one year, the initiative often sparks long-lasting collaboration. Culture is one of the most effective tools to bring people closer, encourage dialogue, and deepen understanding between nations. Previous Years of Culture have included: Qatar-Japan 2012, Qatar-UK 2013, Qatar-Brazil 2014, Qatar-Turkey 2015, Qatar-China 2016, Qatar-Germany 2017, Qatar-Russia 2018, Qatar-India 2019 and Qatar-France 2020. 
Qatar-United States 2021 Year of Culture, sponsored by Qatar Airways, is being planned in collaboration with leading institutions in Qatar and the United States, including Qatar Museums, the Embassy of Qatar in the US, the Embassy of the US in Qatar, Qatar's Ministry of Culture and Sport, Qatar Foundation, The National Tourism Council, Doha Film Institute, Qatar National Library, Katara, Supreme Council for Delivery and Legacy and Qatar Football Association.
Categories
Tags