We caught up with Anna Choutova artist, curator, founder & director of Bad Art to find out about their new exhibition of inflatable art HOT AIR.
Can you tell us a bit about Bad Art – why you set it up? what is it there to achieve?
I started Bad Art right off the back of graduating from Brighton in 2015, desperately clutching my BA Painting diploma thinking that was my golden ticket. I jumped into the contemporary art world expecting a big hug from Larry Gagosian and waves and waves of solo shows, very quickly learnt that the art world is a mine field. Bad Art was my art school come down. My work was being rejected left, right and centre and eventually realised if I didn't start doing my own shows my paintings were just going to rot in my parents garage.
It was my protest project, I put the first Bad Arts on, in this squat in Tottenham, showcasing work that didn't stand a chance of getting into a white-walled space – total reject art. Work that was vulgar, offensive, funny and most-importantly, unsellable. I'm proud to say we've never sold a single piece of work in the last 6 years. Bad Art is removed from the market and the shows are a purely transient, immersive event, you can't buy happiness.
Bad Art is a space were art just exists for experience and experience alone. The shows confront ideas surrounding 'high art' and 'low art', and challenges our preconceived ideas of interacting with art, protesting the white-walled clinical gallery experience in favour of something more unpredictable, interactive and fun for gods sake.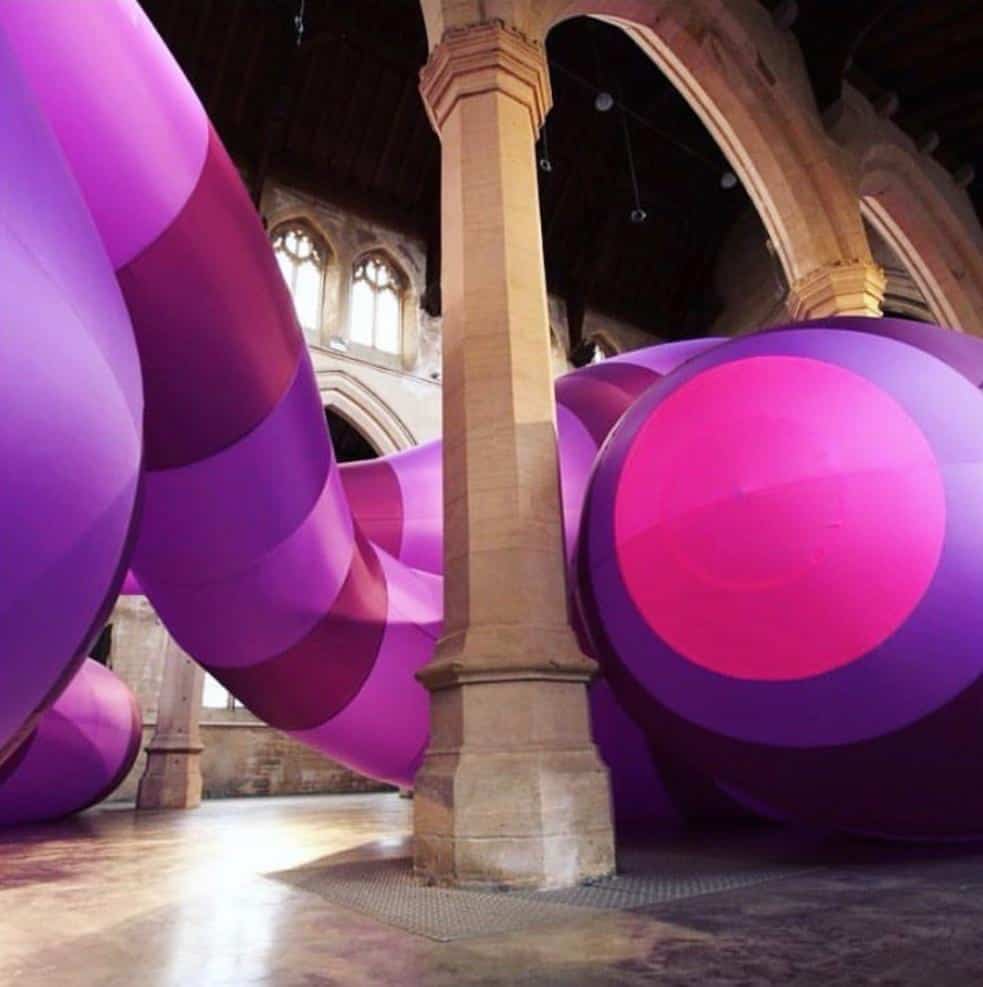 HOT AIR – what's this? why inflatables? 
Hot Air is a fully inflatable art show that I thought up in a panic a few years ago when I was offered an enormous gallery space in Berlin to do a show. I just looked at the photos of Treptow Ateliers and thought, how the fuck am I going to do this. I had to fill the space, avoid bankruptcy and it had to look absolutely amazing. My head started going down this celebratory/parade route, thinking about balloons, foil curtains -cheap ways to make a space sing. And eventually, I landed on inflatable art work. The more I explored the theme the more it intrigued me. Inflatable art is the perfect contradiction, boasting an unignorably immense physical presence, yet being so extremely delicate and fragile in reality. This juxtaposition brings a quiet violent hum to the inflatable sculptures – one wrong move and BOOM – game over.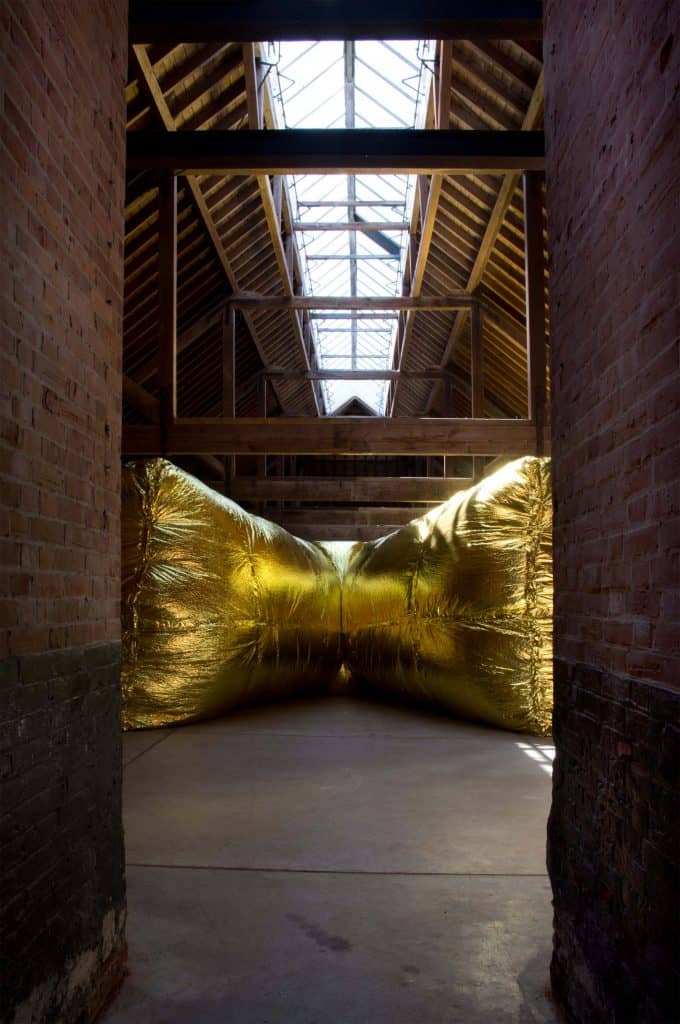 As well as their physical trickery, inflatables are also elusive in concept. The obvious parallel we draw is that between kids birthday parties and parades… but what about the creaking sex doll, latex fetishes? The materiality of the inflatable lends itself to resemble something playfully innocent yet a darker, sexual underworld resides within.
How did you get this amazing show together during lock down? 
Navigating one mental breakdown after another. This show has been in the pipeline for years. We've had to move the date, the location, the country, I've lost count. Every time I post any promo about Hot Air I feel like some new Covid variant is about to jump out of my closet.
But honestly, I got this show together through the support of the Bad Art community – especially This is Projekt who are lending us the space in London and the incredible attitude and help of the artists involved in the show. The inflatable art community are the best people I've ever worked with. When I came up with the concept I thought it would be such a struggle to pull together, but as soon as I started reaching out to the inflatable gang, everyone was on board – artists I thought I would never get a chance to work with replied instantly and were so keen. We've got superstars sending work from New York, the Philippines, Russia – you name it. Everyone wants to be a part of it, sounds cringe but it makes the breakdowns worth it. 
Can you tell us a bit about you and your art practice – we presume you like smoking?
I love painting paintings, smoking cigarettes and drinking wine – in that order. My practice is a constant exploration of addiction, compulsion and identity.
I come from an Eastern European background, brought up in Western Europe. The culture I've been brought up in both fetishizes and demonizes American consumer culture. My practice reflects this duality and comments on the push-pull of East and West that exists within me. I've put myself squarely in between Malevich and McCarthy, I'm on a mission to marry destitute bleakness with inconceivable excess.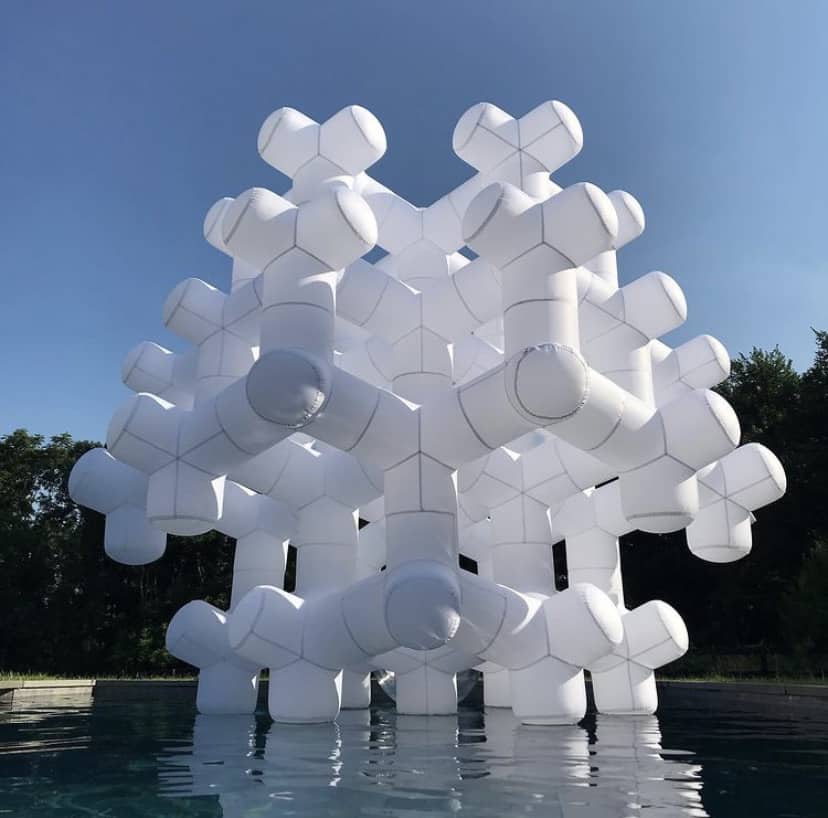 What have you been reading, listening to and watching during lockdown?
Absolutely nothing. Up until recently I got myself into a very strange controlled/manic headspace as a coping mechanism to deal with all the shit that's been going on. I became totally obsessed with my practice and drinking a lot of sparkling wine. My mind was buzzing so I just had no space to take in new information. Now I'm calming down a bit because these episodes are totally unsustainable and exhausting and I'm reading The Dangers of Smoking in Bed by Argentinean author Mariana Enriquez, I'm listening to Forever, ya Girl by KeiyaA and watching Simpson re-runs.
What's the plan for the rest of 21 and 2022?
I've got Hot Air opening in a few weeks, then another Bad Art in Moscow in September called Trash. We're working with Moscow based collective APXIV and Brazilian collective A Pilastra on an exhibition that is made to be destroyed, we'll release more info about this soon enough.
I've curated a show called Safe as Milk opening in London with Arusha gallery on the 19th of July 46 Great Titchfield Street, all about food, our love and hate for it and exploring our addiction to constant consumption. After I get all this proper art stuff out of the way I'm moving to Paphos, Cyprus and starting an art cult – more focused on making art and eating food rather than mass suicide. I've been going to Paphos my whole life and I'm seeing something real interesting starting to happen there. It's a town brimming with potential, with an incredible ancient history, creative energy and beautiful spaces to make and show art. I also need to finish my masters at Slade, but first Hot Air!
HOT AIR 9th-11th July 2021 Manor Place Warehouse, 33 Manor Place, Walworth SE17 38H badartpresents.com/hotair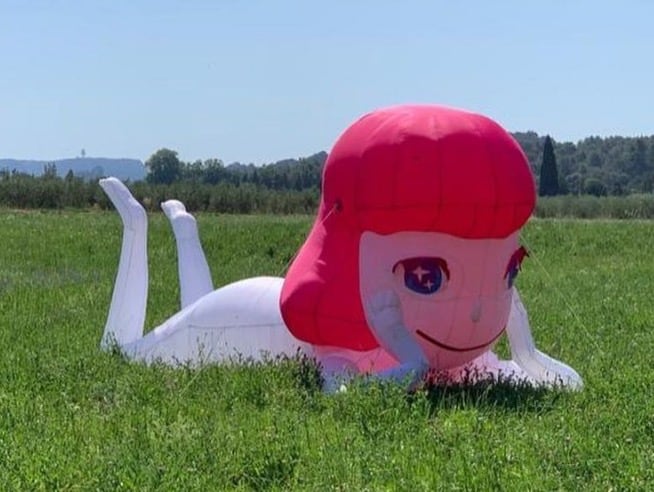 Categories
Tags