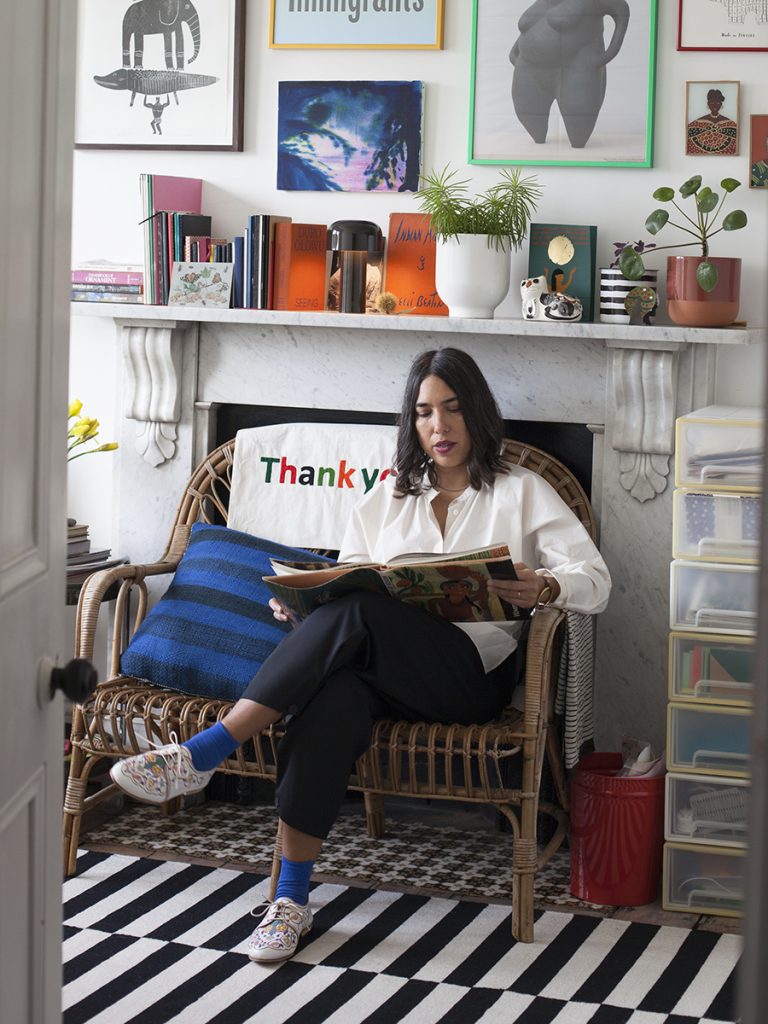 This spring season, ARKET introduces a new chapter in the Artist Edition series, this time in collaboration with illustrator and author Nina Chakrabarti. Through her distinctive, playful and expressive style, she depicts an eclectic range of objects and motifs that celebrate the art of looking closely.
The Artist Edition invites selected creators to contribute directly to ARKET's children's collections. The program offers a new space for illustrators to explore their respective themes and has been initiated to create a diversity of aesthetic expressions in children's wear.
We managed to grab a bit of time with Nina to talk about her Arket edition and her work.
You seem to love nature – even very small nature – I'm thinking about the bee that led families on the Frieze Sculpture trail – was nature and attention to all the details no matter how small important for the work you created for this Arket Artist edition?
Yes, nature for me is often the small things, a bee landing onto the petals of a flower, a butterfly drying its wings after a rain shower or how grass feels under bare feet. I think children are very good at noticing these small moments and I wanted to reflect that in the floral print I created for ARKET. The first effect is of a fantasy spring meadow full of the most fantastic flowers, then you notice the small multi-coloured beetles, the caterpillar crawling up a stalk and the frog waiting patiently for its next meal to present itself.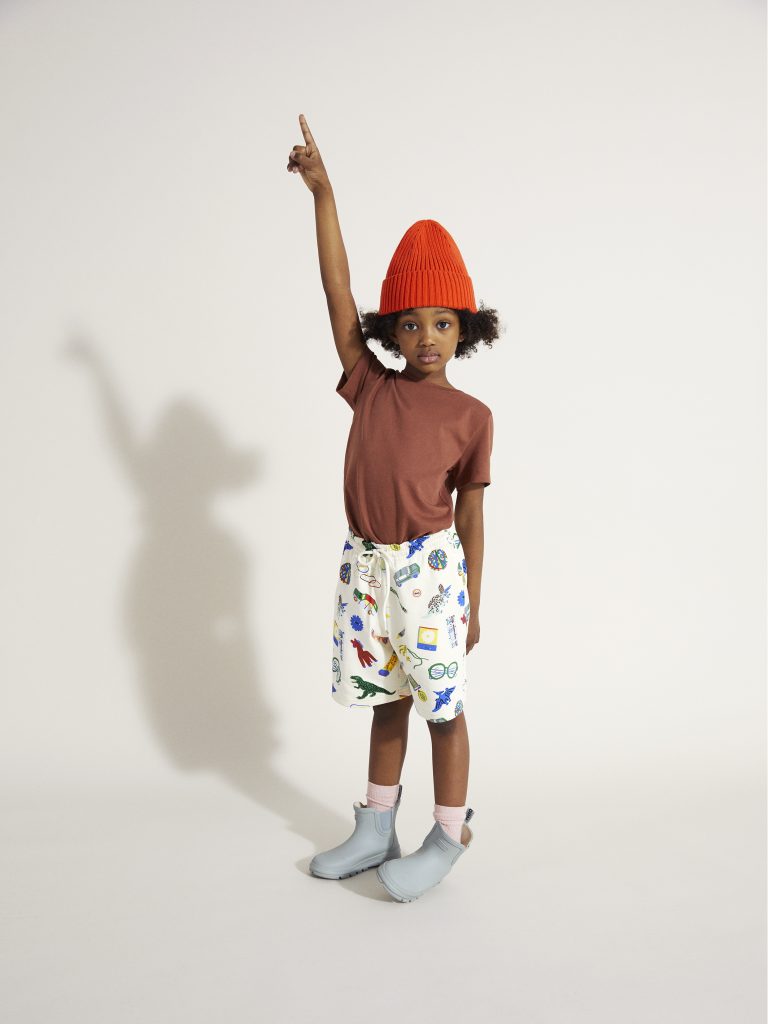 Is your approach for a collaboration aimed at children different from one aimed at adults?
It's the same approach as when I write books for children, I try to put myself in their shoes and to think back to what I liked at their age. Often, it's the unusual or quirky that draws you in. The design needs to be beautiful but there should also be elements that spark their imaginations.
Do you like living by the sea?
I love living by the sea. I used to think it would be depressing in winter, the unrelenting winds, and the sea grey and uninviting – how wrong I was. I've seen the most stunning skies and sunsets and the light is lovely and soft, even lovelier in winter than in summer. I like the feeling of space and the open skies.
Another subject in your work is fashion – as fashion is a very resource-heavy industry and impacts greatly on nature was it important that Arket is working towards a circular 360? process?
The words sustainable and fashion in the same sentence used to be the very definition of an oxymoron but much has changed in the fashion industry. ARKET are clearly very serious about building sustainability into every stage of their design and production and are genuinely committed to reducing their environmental footprint. Something that ARKET emphasize is that their collections are not intended just for one season but to be used and loved over a long time. I think we could all help the environment by consuming far less of everything and really thinking hard about each purchase. I always ask myself; Do I need it? Do I love it?
You studied illustration at Central St Martins and the Royal College of Art as an artist did you always want to focus on illustration as your medium?
No, not really. I just loved drawing and through good instincts and a bit of luck ended up at art college. I thought I could have studied textiles or fashion; I am interested and passionate about both but somehow settled into the life of an illustrator. I like the way illustration can be applied in such a wide variety of ways – onto printed matter of course but illustrations can also be used on ceramics, woven into textiles, and printed onto fabric and wallpapers. I have plans to create rugs and blankets in the future.
What have you been reading, watching, and listening to during lockdown?
Reading:
I really enjoyed Empireland by Sathnam Sanghera and Sophia, a fascinating biography by Anita Anand about the last Rajput princess, The Mother of All Questions by Rebecca Solnit and a graphic novel called Moms by Yeong-shin ma. Also, A LOT of cookbooks. The one I've been dipping into most is East By Meera Sodha.
Watched:
TV: Michaela Cole's I Will Destroy You and Luca Guadagnino's We Are Who We Are, Delhi Crime which I loved, Gogglebox, Channel 4 news and Madhur Jaffrey's cookery programmes on iPlayer.
Films: Atlantico, a great Brazilian sci-fi called Bacurau with one of my favourite actresses – Sonia Braga, Australian film Babyteeth and another sci-fi film called Prospect about a dad and his daughter hunting for gemstones.
Listening:
To the birds.
The collection is now available at www.arket.com  Prices ranges from £5 to £70. Follow Nina Chakrabarti here @nina_chakrabarti
Categories
Tags