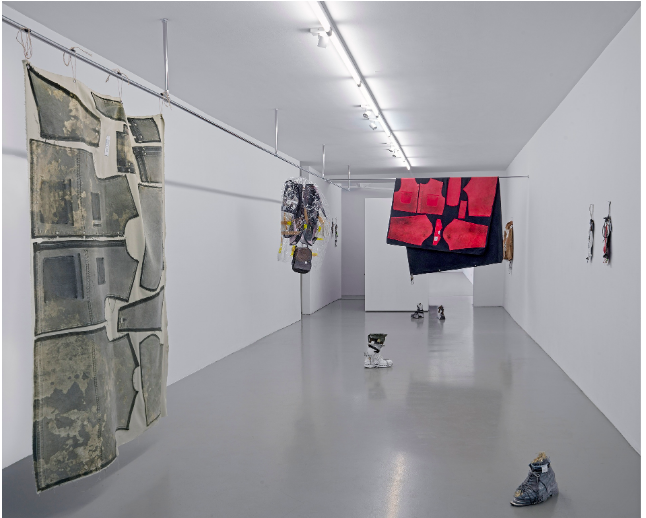 Kate Wong: Let's start with the title of your show, Georgics (how to style a chore coat). Can you tell me a little about where this comes from?
Tenant of Culture: The title of this exhibition is derived from The Georgics, a poem by the ancient Roman poet Virgil (70 BC – 19 BC). In the poem Virgil engages agricultural subjects in a eulogization of outdoor labour and the simple country life, presenting a heroic view of work as both a pleasurable and socially progressive activity. The poem informed my research for this exhibition, which looks at current workwear trends in fashion, as well as the romanticization of labour and rural life.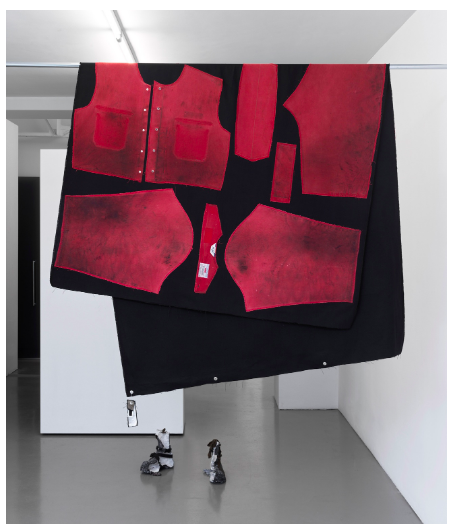 KW: You wrote an essay this year for bog.life's "The Issue of Dust", looking at American economist and sociologist Thorstein Veblen's Theory of the Leisure Class and 19th century English writer and art critic John Ruskin's concept of 'parasitical sublimity'. History plays an important role in your methodology. I am also interested in the ways in which you might imagine material histories and the "lives" of the garments and shoes you work with before they enter into the cosmology of your studio. Can you speak about this? Let's take the chore coat in this exhibition as an example.
ToC: Garments are my starting point because I am interested in the network of connections that they represent – looking at a garment not only as a product of the fashion industry or as an object of desire, but as a representation of the socio-economic relations involved in its production, distribution, and consumption. The chore coat, known more generally as the "worker jacket", is a hardwearing and straightforward piece of outerwear made of canvas, with four pockets on its front, and a pointed collar. This garment is currently a popular item amongst middle-class urbanites – often pre-faded, patched, and restored, and with versions of it available in both the lower and higher end of the market. The chore coat communicates a kind of humbleness, a desire for simplicity, and an identification with the rural working classes. The history of this jacket is diverse and blurs the boundaries between luxury and necessity, pastoral nostalgia and modernist ideas of progress. These fluctuations in value and meaning are the starting point for my thinking: looking at the broader trend of utilitarian workwear in fashion and attempting to understand its recurrence by literally deconstructing and unravelling garments. By exposing seams and focusing on stains and general wear and tear, I am able to reveal not only how a garment was constructed, but also fragments of its history.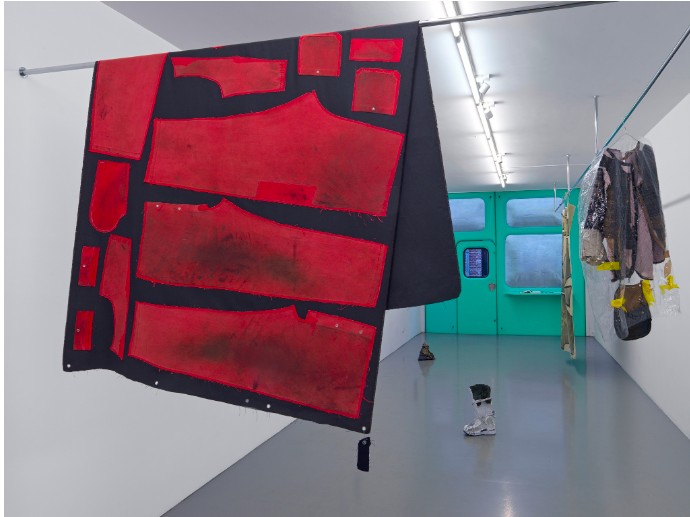 KW: You and I recently discussed Ruskin's essay, The Seven Lamps of Architecture, in which he identifies time as having the ability to imbue a building with more value than any earthly materials.[1] How does this apply to the way you think about the fashion industry?
ToC: A paradigm within the fashion industry is constant renewal; the industry exists in an accelerated version of time, functioning within its own fragmented understanding of temporality. Though "newness" is the highest currency within the industry, it also employs historical references as well as physical signs of age and wear to form its system of meaning, mostly as sign value. I work with discarded or second-hand garments where signs of time and use are often pre-existent, but also with clothing and shoes where signs of use are artificially manufactured. In the first instance, the stains, spillages, mud on shoe soles, or rips – elements that would normally decrease the value of a garment – become vital visual elements. Where signs of use are artificially manufactured, through stone washing, for example, or laser fading technology, garments are imbued with feigned authenticity. I am interested in the fetishization of these signifiers within the fashion industry, and how they function as indicators of value. Beyond the physical materials themselves, I am interested in the codification of visual signifiers and how they are employed as strategies for commodity production and consumption, obscuring dynamics of power. These seemingly arbitrary marks on our clothing assert social status through the perpetual re-/de-valuation of taste and goods. The practice of artificially ageing an object is not specific to the contemporary age. Ancient Romans produced weathered copies of Greek sculptures, for example. This process forms what Ruskin terms 'parasitical sublimity': a sublimity not inherent in the nature of a thing, but caused by something external to it. This is anecdotal to practices within the fashion industry of producing new but faded, ripped, and stained items of clothing and footwear.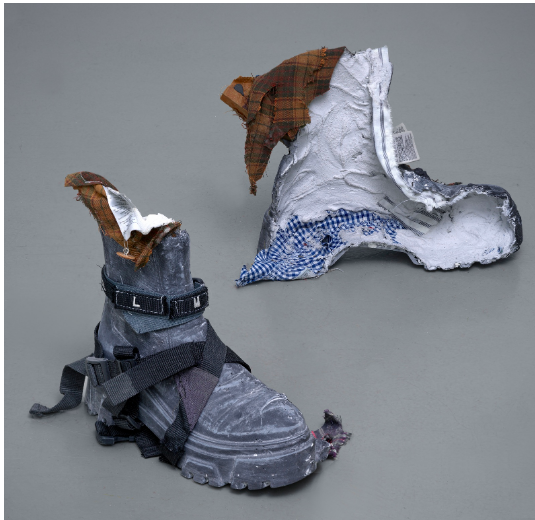 KW: You've discussed previously the importance of anti-strategy and improvisation in your work. In what ways do error, mistakes, or even failure propel you forward? What does anti-strategy look and feel like to you?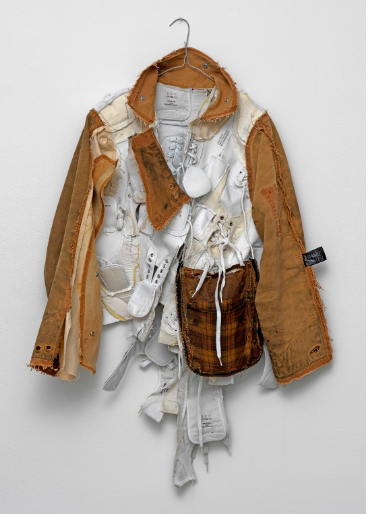 ToC: Working with found materials demands a certain flexibility. The garments and accessories I work with have had previous functions and use, providing them with additional layers of meaning and material complexity. For this reason, planning becomes impossible, and finding the right materials to work with is a process that is more elaborate and time-consuming than working with what is new and readily available. This complexity is what I love about working with used garments. The materiality of the work demands that I remain susceptible to external influences, and this porousness is an important aspect of my practice. I am interested in engaging in methodologies and formats that further allow for this adaptability, including collaborating with other artists, as well as facilitating workshops.

KW: How do you think that problematizing capitalist production and desire within the fashion industry allows us to better understand the relation between human consumption and the environment?

ToC: I am always seeking out paradoxes in the way the fashion industry responds to and borrows from environmental activism. I am fascinated by the industry's ability to strategically transform anti-consumerist narratives into consumerist ones. In these times of heightened ecological awareness, coupled with increased criticism of the malpractices within the fashion industry, it is important to problematize! The fashion industry's response to climate crisis is an aggressively persistent and nostalgic tendency towards environmentalist kitsch, seeking refuge in historicization, and thematically aestheticizing the ethical questions relating to its own methods of production – its distribution and waste. I often think through these issues through the lens of the Romantic Pastoral. Rather than to impose real structural change within the industry, fashion companies instead manufacture the escapist fantasy of a return to a simpler, rural, and more authentic way of life, removed from the complications of climate crisis. The use of natural materials such as linen and jute and garment styles such as the milkmaid top or the chore coat are examples of this tendency.

KW: You're absolutely right. The disguising within fashion of an authenticity linked to nature – as well as in architecture and design more broadly – is insidious…

ToC: …it's a concept that also appears in Timothy Morton's book, Ecology without Nature, which has also been influential in my thinking for this exhibition. Morton proposes that romanticism and capitalism support each other, and I became interested in the fact that, since the Romantic period, nature has been employed as a tool to support the capitalist theory of value: to point out what is intrinsically "human" and what is not. To justify competition, and also cruelty.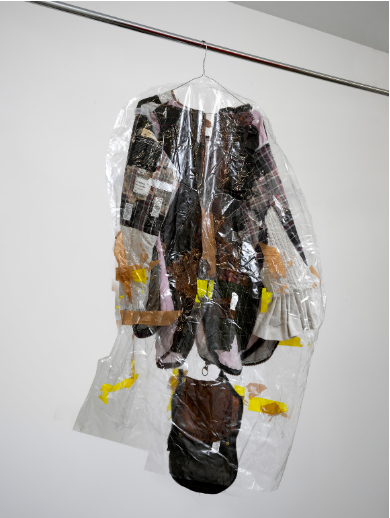 KW: And finally, what are you currently reading and listening to?

ToC: I am currently reading Making Sweatshops: The Globalization of the U.S. Apparel Industry by Ellen Israel Rosen, which provides a comprehensive report of the shifts in trade policy and global economics that have led to the textile and apparel industry as we know it today. I'm listening to Lafawndah's incredible new album, The Fifth Season, a beautifully haunting soundtrack for end times.

Kate Wong is a Chinese-Canadian writer and curator living in London.

Tenant of Culture – Georgics (how to style a chore coat) [temporarily closed] Galerie Fons Welters – Amsterdam- Front Space – 30th Jan 2021
fonswelters.nl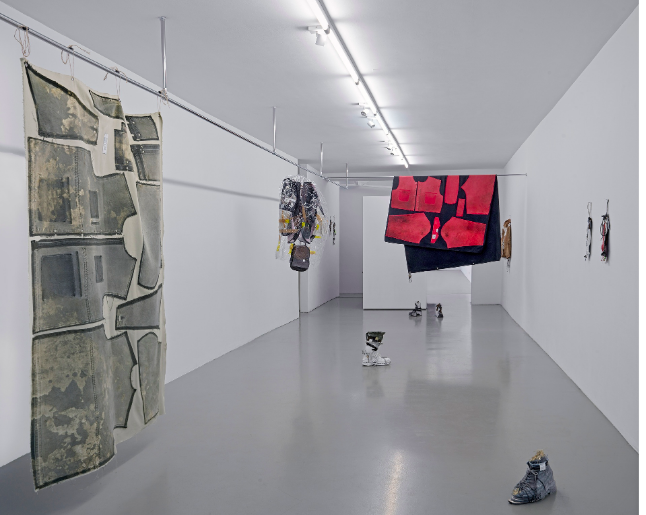 About the Artist
Tenant of Culture is the name of the practice of Hendrickje Schimmel (b. NL, 1990). She has completed a BA in Fashion Design at ArtEZ School of the Arts, Arnhem, NL followed by an MA in Textiles at the Royal College of Art, London, UK. Previous solo exhibitions include I forgot to tell you I've changed at Fries Museum (Leeuwarden), Eclogues (an apology for actors) at Nicoletti Contemporary (London) and Works and Days at Outpost Gallery (Norwich). Her work has been included in group exhibitions at Le Fondation Cartier (Paris), Frans Hals museum (Haarlem), Centraal Museum Utrecht (Utrecht), Bloomberg New Contemporaries (London), Exile Gallery (Vienna), Galerie Gregor Staiger (Zurich), Soft Opening (London) amongst others. Tenant of Culture has won the 2020 Camden Art Centre Emerging Artist with Frieze and will have a solo at Camden Art Centre, London in 2022.
Categories
Tags