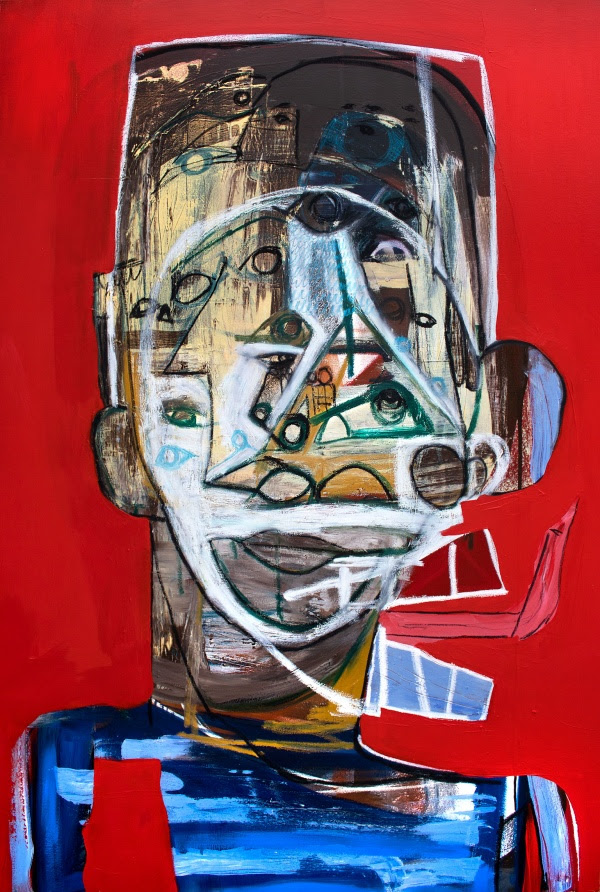 Almine Rech is to present Genesis Tramaine's second solo exhibition with the gallery and her first presentation in Brussels.
Genesis Tramaine (b. 1983) is an expressionist devotional painter who creates abstract portraits of men and women who transcend gender, race, and social structures. She digests the everyday and regurgitates it as work that evokes déjà vu, beckoning memories of past lives and glimpses of undiscovered futures. The blueprint of Genesis' style is rooted in a strong mix of 1980's urban New York graffiti and imagined images of gospel hymns sung on Sunday morning during church.
Tramaine paints with a confrontational and provocative use of color and through an urban-inspired, mixed-media approach. The artist describes her practice as focused on the shape and definition of the American Black Face, explaining that her subject's exaggerated features capture the spirited emotions of the untapped, underrepresented soul of Black people through a mixture of acrylic and oil-based paintings.
Tramaine's work is also powerfully influenced by Bible verses and other readings she studied in church. Her spiritual influences have a strong impact on the composition and depth of her paintings, which explore deeply human themes including ethics and insanity, the mundane and the inhumane, spirituality, sexuality, and sentimentality. 
Genesis Tramaine, Almine Rech Brussels January 7th – February 28th, 2021
About the Artist
Born in Brooklyn, NY, Tramaine earned her M.S from Pace University and B.S from Utica College of Syracuse University. Tramaine has exhibited nationally and internationally, including an inaugural solo exhibition with Almine Rech in London in February 2020, 'Parables of Nana', as well as exhibitions at Richard Beavers Gallery, Brooklyn, NYC; The Tree House, Governors Island, NYC; The Salt Space, Chelsea, NYC; The Raging Spoon Gallery, Toronto, Canada; AOF Gallery, NYC; and more. Her work resides in prominent museum collections including the Institute of Contemporary Art (ICA), Miami and the Contemporary Art Foundation, Tokyo. @genesistramaine
Categories
Tags