You still have 5 days to keep viewing Frieze's online viewing room a lot of galleries and so many artworks – here below and 5 that caught our eye,  colourful and fun -but also with something to say.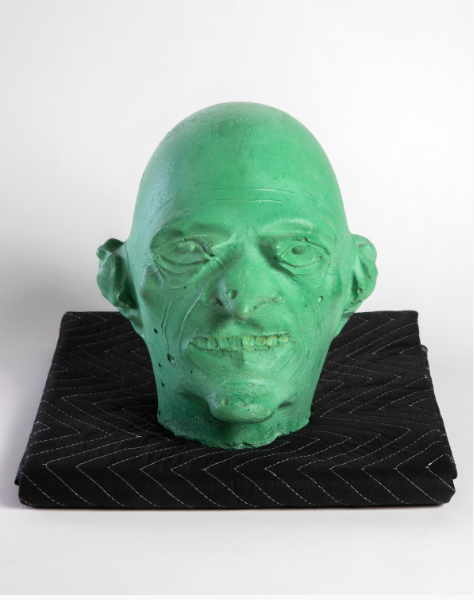 JEAN-LUC MOULÈNE UNCLE CREEPY (MEXICO CITY, 2017), 2017 11.42" X 11.42" X 9.06" (29 CM X 29 CM X 23 CM) SYNTHETèCèCONCRETE (ROKAM) $ 45,000
1 Jean-Luc Moulene  Uncle Creepy  shown by Miguel Abreu Gallery
This synthetic concrete sculpture, made by filling an inverted latex Halloween mask, is another variation of one of Moulène's central structures, the knot—here in its most simplest and condensed form of a single loop surface. With the "Tronche" series, Moulène destabilizes and plays with the age-old artistic genres of portraiture and monuments by purchasing pop-culture caricatures and neutralizing their representations as the active materials of mask and concrete find an uneasy equilibrium.

SABLE ELYSE SMITH COLORING BOOK 64, 2020 63.78" X 53.54" (162 CM X 136 CM) SILKSCREEN INK, OIL STICKS, OIL PASTEL ON PAPER
2 Sable Elyse Smith Colouring Book shown by Carlos/Ishikawa
Sable Elyse Smith is an interdisciplinary artist and writer. Smith works in photography, neon, text, appropriated imagery, sculpture, and video installation connecting language, violence, and pop culture with autobiographical subject matter. In 2018, Smith was an Artist-in Residence at the Studio Museum in Harlem.

DARREN BADER MUNDI 56 33.46" X 13.78" X 14.96" (85 CM X 35 CM X 38 CM) MILLED ALUMINIUM, ACRYLIC PAINT, ACRYLIC 2K VARNISH, STAINLESS STEEL; FBX FILE, USDZ FILE, GLB FILE EDITION OF 2 + A/P $85,000
3 Darren Bader Mundi  Mundi 56 shown by Sadie Coles HQ
Darren Bader's winsomely surreal Mundi 56 is a work both material and virtual: a meticulously painted aluminium and steel sculpture that doubles as an endlessly deployable augmented reality (AR) character. Composed of several distinct parts, Mundi 56 is piloted by a helium balloon emblazoned with a face from a beloved children's show. The balloon is tied to a rope that drifts through a headless-tailless, sock-sporting, turtle crowned with Ruscha-like signage. Exiting the turtle, the rope tautly fastens to a steel gurney freighted with a gargantuan piece of corn (with a light switch inset). Mundi 56 is the newest "denizen" of Mendes Mundi, Bader's ongoing AR project (begun for the 2019 Venice Biennale). Part bestiary, part consumer-sphere inventory, part social satire, Bader's project compiles "denizens" for an ever-growing imaginary world within our ever-growing virtual worlds. Mendes Mundi extends Bader's long-term enquiry into objecthood/thingness through auratic, aleatory, semi-encyclopaedic, and contemporary consumerist lenses. Experienced in augmented reality, Mundi 56 keeps a terrapin pace, hauling its load wherever you direct it. It's simple to launch on your smart device from the comfort of your home anywhere in the world: • Augmented reality Mundi 56 plays from a smartphone or tablet, using the device's camera to detect the user's immediate surroundings. • With a few quick taps on their touchscreen, the user can place the animated sculpture locally (bedroom, office, lawn, Leicester Square, Rockaway Beach, International Space Station, etc.). • Mundi 56 comes as an easy-to-install digital file (in addition to the painted metal sculpture and a digital back-up file).

DEBORAH KASS DAY AFTER DAY, 2020 33" X 116.5" X 3.15" (83.83 CM X 295.9 CM X 8 CM) ACRYLIC AND NEON ON CANVAS $ 120,000
4 Deborah Kass Day After Day shown by Kavi Gupta
The seven-panel Day After Day (2010) was made during the Obama administration when oil from a damaged BP rig was gushing into the Gulf of Mexico, day after day. The lyric is from Stephen Sondheim's "Not a Day Goes By," from the musical Merrily We Roll Along. At this moment, it seems also to speak to inescapable waiting.

LAUREN HALSEY UNTITLED, 2020 112" X 56" X 8" (284.48 CM X 142.24 CM X 20.32 CM) SYNTHETIC HAIR ON WOOD Price on Application
5 Lauren Halsey Untitled shown by David Kordansky Gallery
Lauren Halsey created a series of new works composed from an array of synthetic hair extension wigs, resulting in wall-based objects characterized by riotous palettes and rich sculptural texture. Hair extensions are elements that adorn the human body and transform it into something more ecstatic and visually bolder than it might otherwise be. Such extensions have been a major part of the costume of one Halsey's most important inspirations, the musician George Clinton of Parliament/Funkadelic fame. She translates the emotional timbre of Clinton's far-out, otherworldly persona into wall-based objects that celebrate local expression while maintaining a dialogue with numerous strands of art history, including Color Field painting and the soft sculptures of Mike Kelley.
FRIEZE OVR 2020 is live online until  11:59 Friday October 16th 2020 viewingroom.frieze.com
Categories
Tags