Photo by British Library on Unsplash
Art is something very personal to each person, and painters will often draw on their own experiences when creating their work. Others will look elsewhere for inspiration; famous examples include beautiful landscapes, animals, flowers, or poignant moments. 
Another source of inspiration that's often used by artists is sport. The tense battles between bitter rivals, moments of pure elation from victory, and complete sorrow from loss create powerful scenes that can be captured on canvas. 
Here are some of those sport-inspired masterpieces. 
Rugby
Rugby is a sport that began life as a fork from association football (soccer) in the town of Rugby in England. Its full name is rugby football, and rugby clubs usually have "rugby football club" in their name. 
That's why "The Football Players" by Henri Rousseau is called so, despite actually featuring four rugby players. It depicts them running between trees, carrying an egg-shaped ball.
The painting has an odd appearance as everything is out of proportion and the players have odd expressions on their faces. They're also pulling strange poses that wouldn't be seen in any rugby game. 
Nevertheless, it is an interesting painting and one that deserves admiring. If you'd like to see it, it's hosted in the Guggenheim Museum in New York.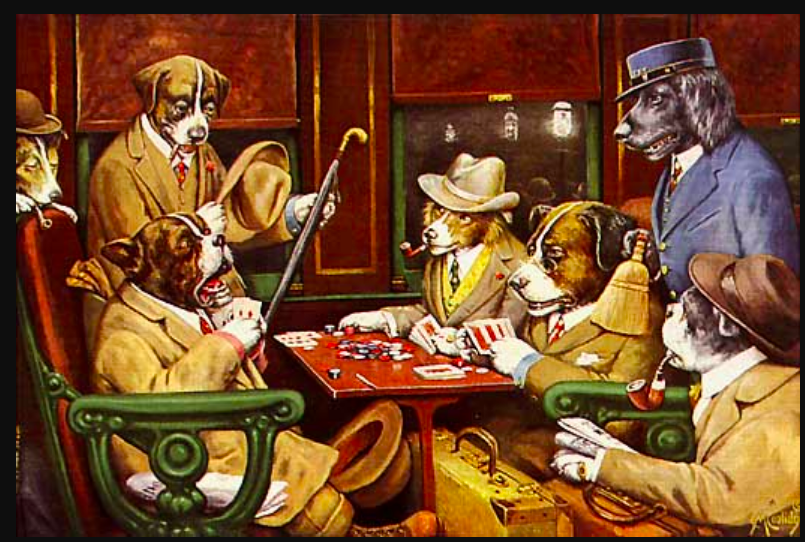 Photo by Cassius Marcellus
Card Games
Playing card games is a popular pastime, and dogs are arguably the most popular animal to keep as a pet. It's no surprise then that someone put these two together in a painting. As far as card games go, blackjack is the most popular table game played in casinos thanks to its easy-to-understand rules and multiple variants. Due to its popularity, you will find the game in almost every casino around the world. 
Cassius Marcellus Coolidge took inspiration from card games when he painted a series of sixteen oil paintings between 1894 and 1903. Called "Dogs Playing Poker", these paintings feature humanised versions of our four-legged friends in different scenarios, playing poker like humans do. 
Poker is similar to blackjack, although it's typically played against other players instead of a dealer, and was growing in popularity at the time it was painted, These factors made it a more suitable game for the dogs to be playing in the paintings. 
Horse Racing
Horse racing is incredibly popular in the Middle East, the Americas, Europe and parts of Asia. It's often called the "sport of kings", so it's no surprise that some artists have sought to capture its glamour in their work. 
One such artist is the American, James S. Hill. His 1866 oil painting "Horse Dexter & Budd Doble" shows Dexter pulling Budd in a cart. Budd and Dexter were one of the most successful pairings in racing at the time.
The painting is currently listed for sale by Pasadena Art Monkeys on the vintage art marketplace, rubylane. It has a current asking price of $7,840, which is a significant reduction from the $11,000 that was being asked around a year ago. 
Cycling
Like horse racing, cycling can be an exciting and adrenaline-fueled sport. Paintings of speeding riders racing through the streets of beautiful European cities or the picturesque greenery of mountain stages are very common. 
The 1913 painting "Dynamism of a Cyclist" by the Italian artist Umberto Boccioni is a little different. 
He's used colour and very deliberate straight and curved lines to depict speed, movement and contemporary technologies. It is a very clear example of the Italian futurist movement that aimed to modernise the country through technology and transport. 
Bicycles were a modern technology in Italy at the time, and the now-famous Tour de France was just a few years old when Boccioni created this piece. A modern equivalent would likely be space travel, electric cars or hyperloop technology. 
Just like many other areas of life, sport is a great source of inspiration for artists. The mix of movement, speed, emotion, and elegance can come together to create beautiful pieces that capture the complexity and emotion of sport.
Categories
Tags