In honour of the 57th anniversary of the March on Washington, Snapchat has teamed up with six Black artists to develop a series of "Raise Your Voice" augmented reality face lenses including masks, plus  US Capitol Landmarker and Bitmoji apparel designs. The project was developed to redefine masks as a canvas for protest and self-expression in support of the ongoing fight for racial justice. All of the lenses will go live today Friday, August 28th, the day of the March.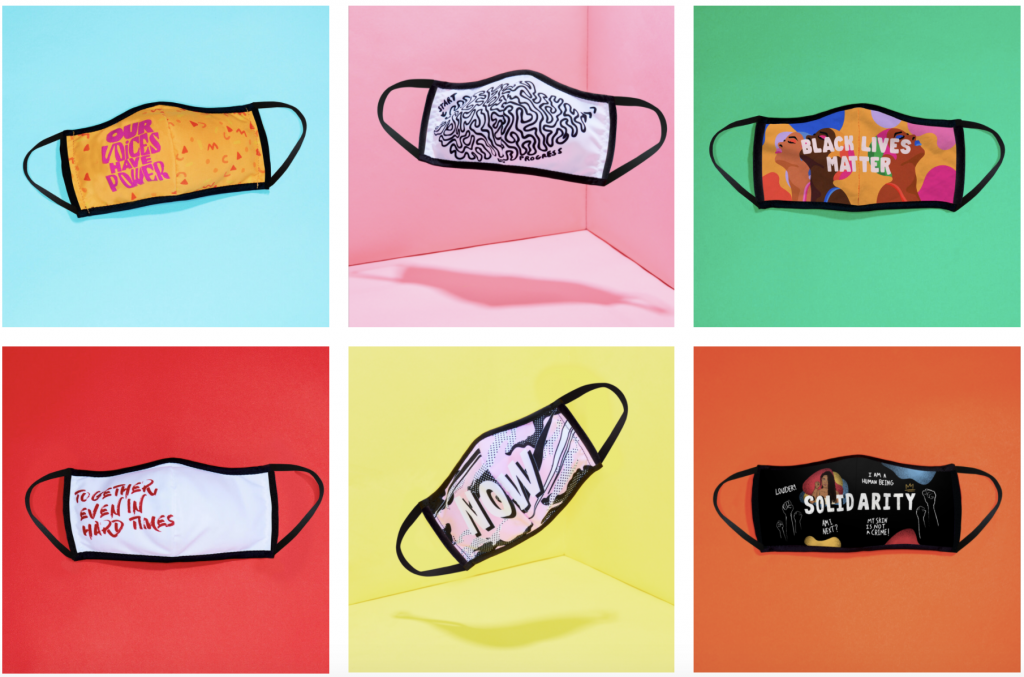 Masks have become a symbol of this unprecedented period in America, as we continue to battle two crises: COVID-19 and systemic racism. While an in-person march is planned in Washington DC to mark the anniversary, we also know the pandemic will force many supporters to participate virtually, rather than in-person.
"We believe that augmented reality can play an incredibly important role in helping young people express themselves and make their voices heard. (On average, over 180 million Snapchatters engage with augmented reality every day). We want to do our part to help Snapchatters commemorate this iconic moment in the fight for racial justice — and hope these powerful new lenses will help uplift the voices of the Black community and their allies."
Snapchat
To encourage mask-wearing as a symbol of protest and self-expression, Snap commissioned six Black artists to design the lenses, including Theaster Gates, Laci Jordan, No Kings, Chelsea Alexander, Mikel Patrick Avery and Marcio Lima (Snapchat Design Strategist).

"The COVID-19 pandemic has deeply affected all of our lives, from the way we gather and protest to the way that we breathe. This project embodies the mantra that I try to tell myself every day, that especially in hard times, we need each other more." – Theaster Gates 
Here's how the artists' designs will come to life on August 28th — inside and outside of the Snapchat app:
Inside the Snapchat app:
AR Face Lenses: When a Snapchat user opens Snapchat and puts the main camera screen in selfie mode, they can tap to open up a "carousel" of AR lenses that they can try on their face. Each of the lenses designed by the 6 artists will appear in this lens.
Bitmoji accessories: Every Snapchat user can create their own AR avatar, called Bitmoji. In addition to being able to design their Bitmoji to look like them, Snapchatters can also choose the outfits and accessories of their Bitmoji. Each of these six masks will also be available for Snapchat users to put on their Bitmoji, and choose to wear t-shirts featuring the designs.
Outside of the Snapchat app:
"Landmarker" lens on the US Capitol: When a Snapchat user puts the camera in external mode (not Selfie), they can also tap on the screen to access a carousel of lenses that work on real-world objects. Using a type of technology that allows us to create AR lenses for specific buildings, we worked with one of the artists to design a lens that will work on the US Capitol building. This means a Snapchatter would have to be standing at the Capitol to open up the lens.
Physical masks: To further support and elevate the work of these artists there is a limited supply of physical masks featuring the artist's designs, which can be purchased here or inside Snapchat. All profits from the sales will benefit Theaster Gates' Rebuild Foundation 
This initiative is the next step in Snap's broader efforts to advance civic engagement, racial justice and emerging Black artists. In recent months, Snap has worked with Black artists to design lenses, Bitmoji, stickers and other creative tools in support of Black Lives Matter, the anniversary of the Voting Rights Act and Black History Month. 
About Rebuild Foundation
Rebuild Foundation is a platform for art, cultural development, and neighborhood transformation. Our projects support artists and strengthen communities by providing free arts programming, creating new cultural amenities, and developing affordable housing, studio, and live-work space. Rebuild's mission is to make art accessible by demonstrating the impact of innovative, ambitious and entrepreneurial arts and cultural initiatives. The work is informed by three core values: black people matter, black spaces matter, and black things matter.
Categories
Tags