As art lovers, we are always on the hunt to find places that are exhibiting and places that offer free entry. Whilst you're on the road, it is important that you can stay up to date with this. If you're looking for art anywhere in the UK, it's important that you know where the best WiFi hotspots are so that you can find the places you want much faster. So which network has the best Wi-Fi options? It's time to look and get planning your next adventure, whether that's from your couch or on the road. 

Photo by Christian Fregnan on Unsplash
Google Art
Learn about art for free with the Google Art Project. There are other courses that talk about useful things you can do with Google – by finding a flight to navigating with maps – but Google also offers many opportunities to learn something just for the sake of learning. One of them is the Google Art Project, a showcase of works of art from around the world. It is part of Google Arts & Culture, a division of the company dedicated to providing free educational resources related to art, history and culture online. Google Art Project is a beautiful website, with over 40,000 images of paintings, sculptures, street art and more. Many works of art also include detailed explanations and general information, so you can really learn a lot with a simple tour!
Look at the paintings closely – really, really very closely
All images in Google Art Project are high resolution, which means they are detailed enough to view in large size. However, some of the paintings are really very high resolution, so you can zoom in and see details that you never could see otherwise – even individual touches! There are so many wonderful creations, not just paintings but sculptures and even inflatables!
Take a virtual tour of a museum
Couldn't you travel this summer? You can tour museums around the world with the Google Art Project. Click the "Collections" button at the top of any page to see a list of the museums and galleries that Google has art from. This can be a great way to explore an art form that interests you, such as street art or Japanese art. You can even take a walk to some museums: the Google Art Project offers a Museum View (similar to Street View Maps) from thousands of museums. You can navigate to these galleries virtually and click on the works you see to get more views.  You can see a list of the museums offered by Museum View by going to the Virtual Tours section of the homepage and clicking View All.
Photo by Elena Mozhvilo on Unsplash
Find a new favourite artist
While the Google Art Project has works by artists you may have learned about in school — Van Gogh, Picasso, da Vinci — it also contains thousands of works by artists you've probably never heard of. Browse museums or user galleries to find a work you like, then click the artist name to see more of his work. You can also find interesting artists appearing on the Google Art Project homepage, which rotates through many works. Once you find an artist you like, you can view his work at any time using the search tool.
Create a virtual collection of your favourite art
You can save any artwork for later by clicking the heart button at the top of the page. You can then sort your saved works into a gallery by clicking the menu button in the upper left corner of the page and then selecting Favorites. This can be useful for creating art lists that will be used in school or in a project – or just for art you like! Once you save an art gallery, you can share the link with others.
"Art offers the majority of medical students something beyond their personal and perhaps cultural educational experience and allows them to learn strategies for observation in the clinical examination room,"
explains Steven Russell, an associate professor of general medicine and paediatrics. and developed the program. The proposal for this course, which according to its inspirer so far has not been analogous worldwide, was immediately accepted by the rector of the university. This is because the coronavirus pandemic has highlighted the urgent need to shield medical students with data that will enable them to tackle racial prejudice, which affects medical diagnoses and burdens the health system.
Best galleries to visit
Every year, the leading architecture magazine  Dezeen selects ten of the most beautiful museums and galleries that were inaugurated last year. These are their choices for 2018, with some of the most impressive buildings in the world.
Dundee V&A Museum by Kenzo Kuma
V & A Dundee is the first dedicated design museum in Scotland. Designed by Japanese architect Kengo Kuma, the building is the only V&A museum in the world outside London and serves as an international hub for design, new discoveries and education.
Dundee V&A Museum by Kenzo Kuma
IK Lab, Mexico, by Santiago Rumney Guggenheim and Jorge Eduardo Neira Sterkel
Visitors must take off their shoes before entering the IK Lab art gallery in Tulum, which was founded by Santiago Rumney Guggenheim. It consists of curved surfaces of concrete and local wood and incorporates vineyards and tree branches. The site was designed by Jorge Eduardo Neira Sterkel and is part of the Azulik Ecological Resort in the Mexican coastal city.
Torre, Italy, by OMA
An old gin distillery was taken over and transformed on behalf of the Prada Fashion Foundation by the famous and award-winning architect, Rem Kulhaas. The famous tower opened to the public and with a height of 60 meters and unique rooms where works of contemporary art are hosted.  With the completion of the Tower, the southern end of the city of Milan was radically transformed into a place with provocative exhibition spaces.
Transart Foundation for the Arts and Anthropology, USA, by Schaum / Shieh
The Houston Museum area has acquired a new gallery from the American architectural firm Schaum / Shieh. The studio has replaced an existing building with panels sculpted in stucco, to create the Transart Foundation. The interior is a new multipurpose unit that hosts exhibitions, performances and events, with an existing photo studio next to the door wrapped in grey cement for contrast.
Amos Rex, Finland, by JKMM Architects
The Amos Rex basement in Helsinki has vaulted galleries that create a playful outdoor space covered with beige and orange tiles on the roof. Local company JKMM Architects renovated the functional Lasipalatsi building of the 1930s to create the building and new home of the former Amos Anderson Art Museum.
Guardian Art Center, China, by Ole Scheeren
Architect Ole Sheeren designed this art centre in Beijing as a "great culture machine" with a range of facilities, including art galleries, art facilities, a hotel, event venues and public transportation. The complex is formed by a complex of small squares with grey stone at its base, all perforated by small round windows.
Pavilions at the Glenstone Museum, USA, by Thomas Phifer
The American architectural firm Thomas Phifer and Partners has expanded the Glenstone Museum in Maryland with a series of minimalist volumes, organized around a swimming pool that provides a "meditative experience in this space that is open to heaven and light ". The work is home to an impressive collection of post-war art.
International Museum of Design China, China, by varlvaro Siza and Carlos Castanheira
Red sandstone slabs dominate the International Design Museum of China, designed by Portuguese architects varlvaro Siza and Carlos Castanheira. Inside, the soft interiors in white and light wood colors create an airy environment, while the building is completed with "green roofs". The triangular structure is part of the Chinese Academy of Arts in Hangzhou and features an impressive collection of works of art and many original pieces from the Bauhaus School.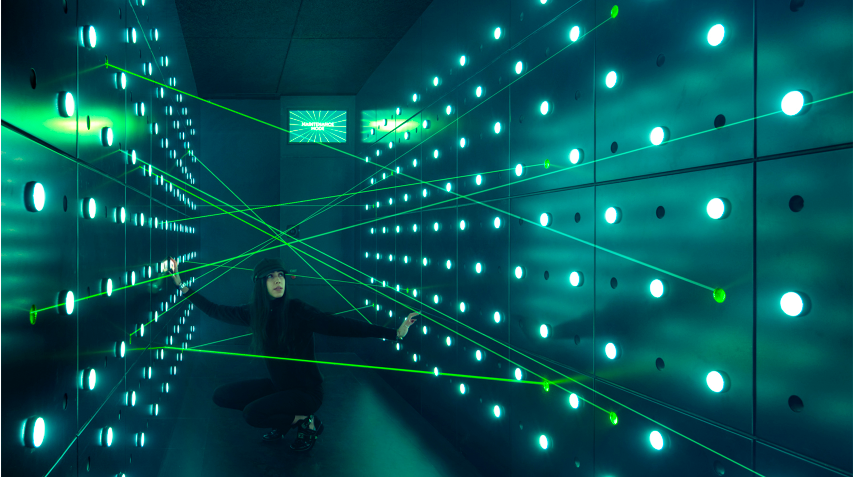 Spyscape, USA, by David Adjaye
British architect David Adjaye has completed work on the New York Museum of Espionage this year. The Spyscape Interactive Museum is housed in a renovated building in Midtown, Manhattan, which houses an exhibition focusing on surveillance, piracy, fraud and intelligence activities. The materials and lighting of the surrounding areas create a dark and mysterious atmosphere.
Museo Regional de Aysen, Chile, by Tirado Arquitectos and Bbats Consulting Projects
The roof of this museum in Chilean Patagonia refers to existing historic buildings in the area and creates a sequence of dramatic interiors. The project was created on a site where settlers established a community of cattle breeders in the early 20th century. This eventually developed into the city ??of Cohaique – the capital of the Aysén region and the gateway to some of the most remote areas of Patagonia.
The beauty of art never leaves us and often leaves a lasting impression on our minds for a number of reasons. Be sure that this autumn you have the best WiFi to ensure that you are able to find all the best art exhibitions online, and around the country, to enjoy all of art's beauty.
Categories
Tags