Alice Hartley – We Sit Together for a Minute, 2017, mono screen print on paper (pasted), 4 x 3 m, @ Kingsgate Workshops 2017
From 20th to 30th August – public notice: an exhibition is a free, exciting and unconventional art project that places artworks in the windows of independent businesses across East London. @publicnoticeexhibition
As society begins returning to what is considered 'normal', public notice encourages everyone to reconnect with the community through the discovery of high-quality art. Viewed from the streets, public notice provides an innovative and safe way to engage with art, responding to requirements of social distancing and months of solely online exhibitions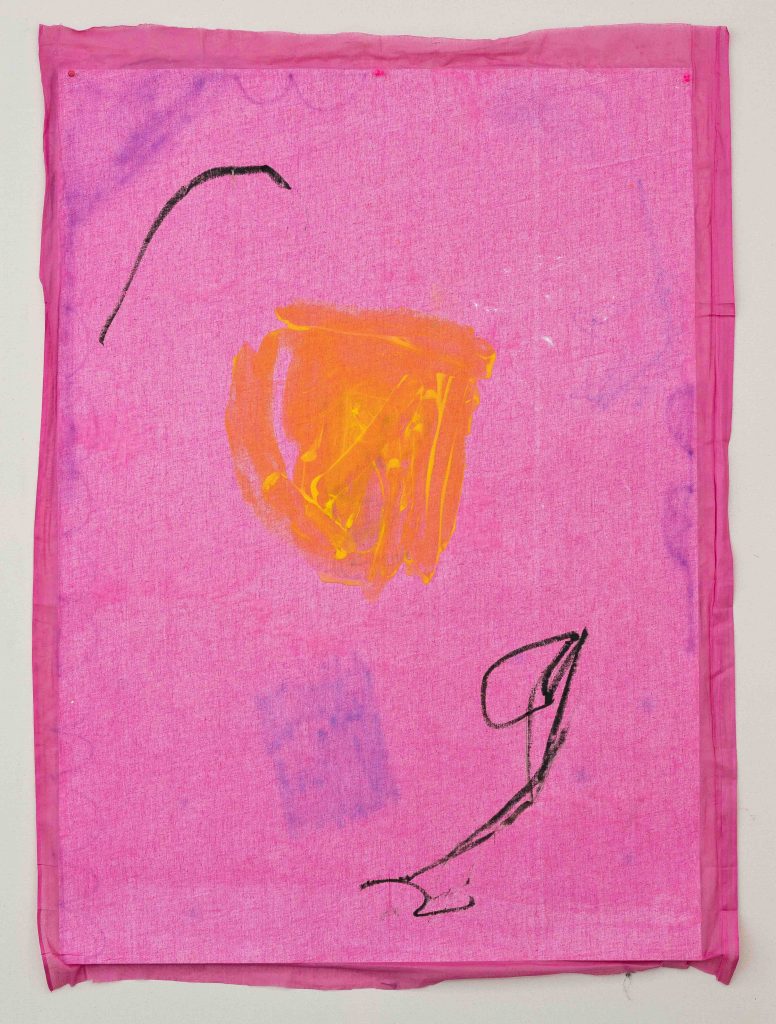 Jonathan McCree Observatory, 2020 Cotton mounted on paper, oil stick, raw pigment, acrylic medium and airbrush 20 x 18 x 40.5 cm
At a time when independent businesses are suffering, public notice highlights their importance to the identity of East London. The exhibition locations represent the neighbourhood's history and diversity, from fabulous florist Grace & Thorn, vintage designer store Nordic Poetry, and bespoke furniture makers Kent & London, to Newmans Stationery, established over 50 years ago by Tanzanian owners, Eastern European grocery store Mama Nasha, long-standing Frame Land, and Epra Fabrics the last Jewish-owned business on Brick Lane. (Full list below).
public notice: an exhibition showcases the work of emerging artists, including celebrated Bloomberg New Contemporaries, Alice Hartley, Nicole Coson and Isobel Napier; Januario Jano and Peter Spanjer, recently recognised by White Cube as the artists of tomorrow; and introducing new talents such as Connie Burlton and Sophie Nathan-King. (Full list below). New artworks are being created for the exhibition including a large-scale, site-specific work for the external wall of PEER, an internationally acclaimed arts organisation with deep roots in Hoxton's community.
By displacing artworks from the traditional gallery setting, public notice aims to make art accessible. Exhibition goers will be provided with an art map guiding them through the streets of East London.

Sophie Nathan King video stills from The body in production the body is the product.-19-mins-19-secs-2020.
'In recent times, experiencing less hectic lives, we gave ourselves permission to slow down and truly observe the world around us. public notice encourages us to extend this way of seeing. By punctuating our daily routines with art, we are reminded to slow down and observe. To stop and notice.'
– Kira Wainstein & Holly Pollard, exhibition curators.

Isobel Napier Paper Piece, 1, 2017 Laser cut newsprint plotting paper 70 x 80 cm 
Championing emerging artists and independent businesses, at a critical time for both, public notice : an exhibition celebrates East London and the importance of art to everyday life.
public notice : an exhibition curated by Emerging Fields Kira Wainstein and Holly Pollard, sponsored by Artmasters.
Exhibition Opening
The exhibition opening will be held on Thursday 20 August at GALLERY46, A LONDONEWCASTLE PROJECT Space investing in arts & culture. GALLERY46 is run by Martin J Tickner, Sean McLusky, Martin Bell & Wai Hung Young, developed from the non-conformist curatorial approach they deployed at Redchurch Street's infamous MEN Gallery. It has hosted works by artists such as Jake Chapman, Nick Waplington, Polly Morgan, Sean Dower, Barry Flanagan, Paul Fryer, EINE, Yuval Shaul, the Ai French collective OBVIOUS, exhibited renowned photographers David Hoffman, Philip Jones-Griffith, Nick Thornton Jones & Warren Du Preez – incorporating Bjork's 'Notget' immersive VR spectacular and also showcasing the premiere of James Lavelle's UNKLE film 'Cowboys or Indians'. @gallery46whitechapel
*with food and drink from Black Cow, Sodo Pizza and OOH Dining Club.*
Curators Independent curators and creative practitioners, Kira Wainstein and Holly Pollard, create events and exhibitions that are fun, accessible and thought-provoking while showcasing the best of emerging UK artists.
Exhibition Locations
Grace & Thorn, PEER Gallery, Kent & London,  Nordic Poetry, Hereafter Vintage, Flashback Records, The Common E2, Bridges & Brows, Epra Fabrics, Hackney Cycles, The BRIGHT Store, Mama Nasha, Newmans Stationery, Four Store, Girls Nail Den, Watermans Cleaning & Hygiene Supplies, Underleaf, Frame Land (no online presence)
Participating Artists
Alice Hartley, Jonathan McCree, Isobel Napier, Nicole Coson, Connie Burlton, Harriet Abbott, Kath Lovett, Seungwon Jung, Januario Jano, Sofie Keller, Sophie Nathan King, Jessica Jane-Charlston, Euphrosyne Andrews, Alexandra Searle, Alex Simpson, Andrea V Wright, Lydia Hamblet, Peter Spanjer
Sponsor
Artmasters Design Solutions provides an art sourcing, supply and design service aimed to reflect the aesthetic of contemporary residential and commercial residences.  As well as working with an extensive network of established galleries and artists, Artmasters promotes talented students, graduates and emerging artists, textile designers, graphic designers, photographers and those who have later in life developed alternative careers as full-time artists.
public notice is curated by Emerging Fields, a curatorial partnership between Kira Wainstein and Holly Pollard. Specialising in diverse fields of interest, from physics to poetry, the duo aim to destigmatise inaccessible areas of knowledge and learning through art. Exhibitions thoughtfully place communication, language and accessibility at the centre of each project, improving public consciousness of art.
Categories
Tags