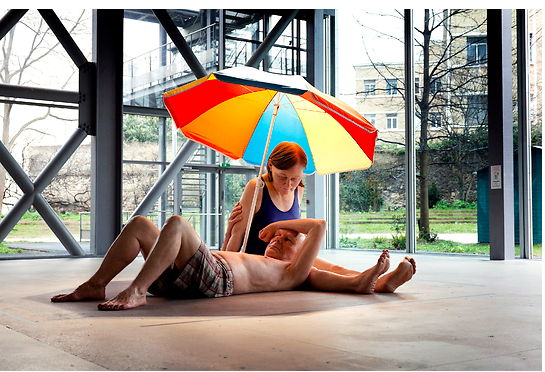 Ron Mueck Couple Under an Umbrella 2013 Mixed media 275 x 455 x 330 cm
Galerie Thaddaeus Ropac have announced that Ron Mueck is joining the gallery and his first exhibition will take place in their London gallery in October 2020. Some of the artist's most celebrated sculptures will be included, as well as recent, unseen work.
The artist's first exhibition in London in almost a decade will span his career from 1997 through to the present. The show will be mounted in collaboration with Anthony d'Offay, who gave Ron Mueck his first solo exhibition in 1998, followed by a show in 2000. Since closing his galleries that year, d'Offay has continued to represent Ron Mueck, in partnership with Hauser & Wirth from 2011, including a solo exhibition in their London galleries in 2012.
Ron Mueck's meticulously sculpted figures, ranging from the minute to the monumental, each reflect an inner world of private feelings with unsettling power. The artist's intimate, understated meditations on universal experiences of compassion, vulnerability, fear and loss, invite each viewer to reflect on their own. Mueck has shown himself to be a major sculptor whose work elicits an immediate emotional response, by using all the traditional elements of his medium: pose, gesture, facial expression, scale and realism.
Ron Mueck's virtuoso technical skill and poet's sensibility in his communication of the human condition have seen him produce some of the most distinctive and moving contemporary sculpture of the last 25 years. We are extremely happy to be working with him.
– Thaddaeus Ropac
Categories
Tags