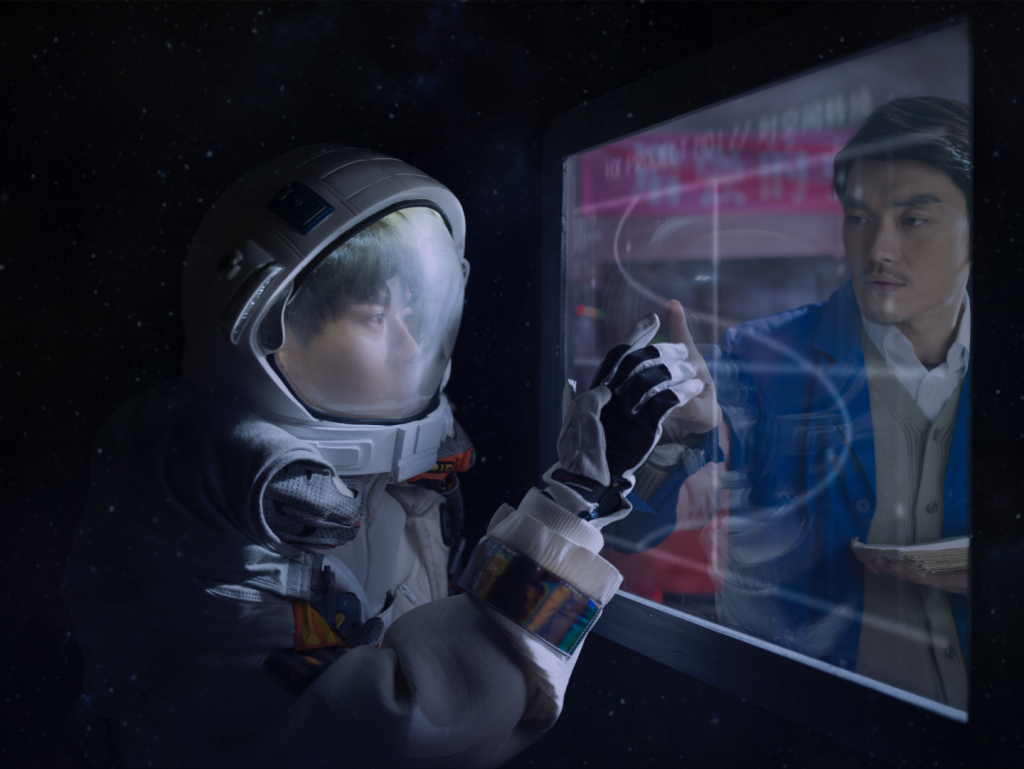 Image Credit: Cao Fei, Nova, 2019, Video, 109'. Courtesy the artist, Vitamin Creative Space and Sprüth Magers
Here are just some of the ways virtual visitors can connect with the Serpentine's work. Launching today, Friday 3 April, is Out of Blueprints, a new online exhibition realised in collaboration with NOWNESS and K11 Art Foundation.
As exhibitions across the world close in response to the spread of COVID-19, Out of Blueprints opens a new space for artists and audiences at this challenging time, with works that can be freely accessed digitally around the world.
Focusing on one artist and artwork each week, this special moving image programme brings together a group of East Asia-based practitioners, featuring additional online content from the artists, curators and project advisors.
The first work is from artist Cao Fei, Same Old, Brand New (2015), made in collaboration with artist Dickson Dee. This short film captures Cao Fei's large-scale light exhibition shown across the entire façade of Hong Kong's iconic International Commerce Centre during Art Basel 2015. The video highlights the striking skyline of Hong Kong during an uncertain time for this dynamic city.
New films will be added to the platform every Friday, with artists including Zheng Yuan, Kim Heecheon and Hsu Che-Yu.
Out of Blueprints is curated by Hans Ulrich Obrist and Joseph Constable, with advisors Cao Fei, Venus Lau and Yang Beichen, and is taking place while Cao Fei's major solo exhibition at the Serpentine, Blueprints, is temporarily closed.
How can art respond to the current climate emergency?
This 8-part podcast series follows artists and an art organisation developing projects, interventions and campaigns at the crossroads of art and the climate emergency.
Presented by artist Victoria Sin with Serpentine's curator of General Ecology Lucia Pietroiusti, plus special-guest hosts throughout, the Back to Earth podcast series brings together conversations, sound commissions, music and field reports, tracking the journey of an arts institution dedicating itself to artist-driven approaches to ecology, technology and equality.
This podcast is part of a wider Back to Earth project, which invites 65+ artists to devise an environmental campaign or intervention to respond to contemporary ecological crises. Back to Earth will run throughout the Serpentine Galleries' programmes, in 2020 and beyond. Bringing together voices across disciplines, the series offers a vital opportunity to join the research and discussions that inform the Galleries' activities at such a critical time of planetary-scale human and ecological emergencies.
Listen wherever podcasts are available or visit the Serpentine website
Sound design by Brian Eno. Additional sound by Cooking Sections.
Produced by Reduced Listening.
CAMBIO.WEBSITE
Cambio, from pioneering design studio Formafantasma, investigates the role of design in the climate crisis, asking how we can shape a better future for our forests. The films, texts, images, objects and ideas that make up the physical exhibition are forensically documented at Cambio.website, along with an extensive background reading list. The only thing missing from the exhibition experience is Cambio's specially designed smell, commissioned by Formafantasma from smell artist Sissel Toolas.
Exploring the ideas and collaborations behind Cambio, Studio Formafantasma host new conversation series Antenna Fantasma, live on Instagram every Thursday at 2.30pm UK time.
This live series explores some of the content and collaborations developed as part of Formafantasma's major exhibition Cambio, temporarily closed due to the spread of COVID-19. Hear directly from key contributors to Cambio, including Paola Antonelli, Senior Curator of Design and R&D at MOMA NY, and Emanuele Coccia, philosopher and botanist.
Watch the first Antenna Fantasma session with Formafantasma and Rebecca Lewin, Serpentine Curator of Exhibitions and Design here
Recent and archive commissions from our R&D platform.
The Escapist BHST  (2019) – Suzanne Treister
Move beyond our ailing earthly bodies with artist Suzanne Treister's psychedelic AR experience The Escapist BHST, a navigation tool for interdimensional travel. Using only your phone, you can discover portals in the sky and take a visit to the Museum of Black Hole Space Time.
I Magma (2019) – Jenna Sutela
Daily divinations from this oracle app, developed with the Serpentine in collaboration with Memo Akten and Allison Parrish.
do it (1993 onwards) – Hans Ulrich Obrist's open-source compendium of instructions by artists, designed to be simple enough that anyone can quickly complete them without preparation or special skills. @hansulrichobrist and @serpentineUK will be sharing instructions via Instagram over the coming weeks.
Categories
Tags