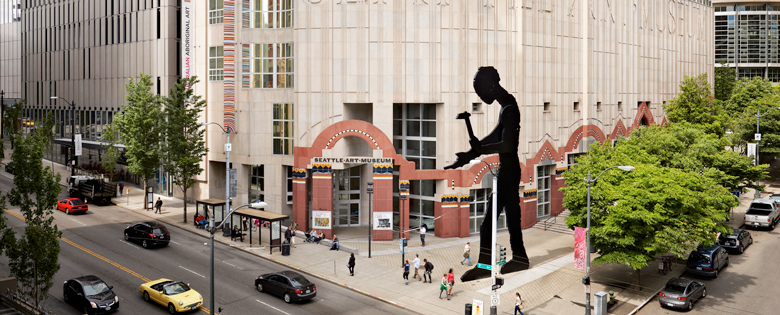 One of the greatest things about living, working or visiting Seattle, is the vibrant culture and art scene. Whether you are interested in dance, art or music, Seattle has plenty to offer. This Pacific Northwest city has a reputation for a reason. Here is a helpful overview to get you inspired:
Places to Visit
Art
Seattle is home to plenty of brilliant art museums and galleries, with the Seattle Art Museum housing global collections, temporary exhibitions and brilliant installations; the Frye Art Museum, home to the Founding Collection; the provocative and contemporary Henry Art Gallery, a space for new and emerging artists; and the stunning outdoor scenery and views of the Olympic mountains is free to enjoy at the Olympic Sculpture Park. These are just to name a few of the largest and most popular places for tourists, but there are so many more brilliant places to discover!
Theater
From contemporary pieces, re-invented classics, and Broadway hits, to magical cabaret and circus-style performances, there is plenty to see and to be entertained. For architectural delight, visit two of the oldest and largest theaters, Paramount and 5th Avenue Theater, and for a unique twist, try the Teatro ZinZanni. ACT theater is another of the largest theaters in Seattle, which has always had a focus on contemporary and showcasing local and national talents. There are of course so many more theaters – from small and local to big and historical. with so many brilliant venues and over 80 theater companies presenting and captivating audiences, there is always something to see.
Dance
If you want to be captivated, Pacific Northwest Ballet, founded in 1972, is sure to delight all audiences. Century Ballroom is the place to go for your very own swing and salsa lessons, and if you prefer to be in the audience, you can enjoy both international and national performances at The Paramount Theater, or On the Boards. Even the Cornish College of Arts can bring you lively performances from their up-and-coming dancers. 
Music
Seattle is the home to music legends like Jimi Hendrix, and bands like Nirvana and Pearl Jam, so it is certainly built to bring brilliant music to enamored audiences. The Crocodile is loved by rock fans with so many stories to tell through its decades of hosting live music, and was even named as one of "The Best Clubs in America," by The Rolling Stones Magazine! Venues like Neumos, The Triple Door and The Showbox can also bring brilliant live performances to the stage, hosting a variety of genres to please any music taste. You can also enjoy the beautiful Seattle Symphony at The Benaroya Hall, visit Dimitriou's Jazz Alley for jazz and fusion acts, or even Tractor Tavern for rockabilly, folk, and blues. There are plenty of bars, clubs, concert halls and taverns to please any music taste, so don't be shy!
Places to Stay
With so much to see and do, Seattle deserves a lot of time and attention. It is a place worth visiting, but even more – worth living in! To get a proper feel for the city, you should definitely plan a longer visit over a short one. Plus, you will find it much easier to locate suitable accommodation for the longer haul. Blueground for example, provides fully furnished rentals for one month or more across the best neighborhoods of Seattle. It can be challenging to find suitable accommodation that isn't a hotel, especially on longer trips, so Blueground is the perfect solution if you're looking for an apartment to stay in that feels like home. 
Explore the City
If you do decide to visit for just a quick trip to get a taste for the city before you commit, you should be sure to explore as many places as you can to get the best view of the city.  To start with, Pike Place Market is the best neighborhood for sightseeing and exploring the main attractions, Belltown is a trendy neighborhood with great nightlife, and Ballard offers great food and has a less-touristy atmosphere, with brilliant local pubs and a delicious farmer's market. Be sure to check out Waterfront too, if you love the maritime feeling. University District is home to the Henry Art Gallery and Burke Museum of Natural History and plenty of scenic, mountainous views, and head to the Seattle Center where you will find the Pacific Northwest Ballet and The Seattle Opera. 
With so many fascinating things to see and do the stunning scenery that surrounds Seattle, the vibrant arts scene is just the icing on the cake. Whether your stay is short or long, you will be sure to enjoy your trip to Seattle and all the plentiful things this city has to offer!
About Mark Westall