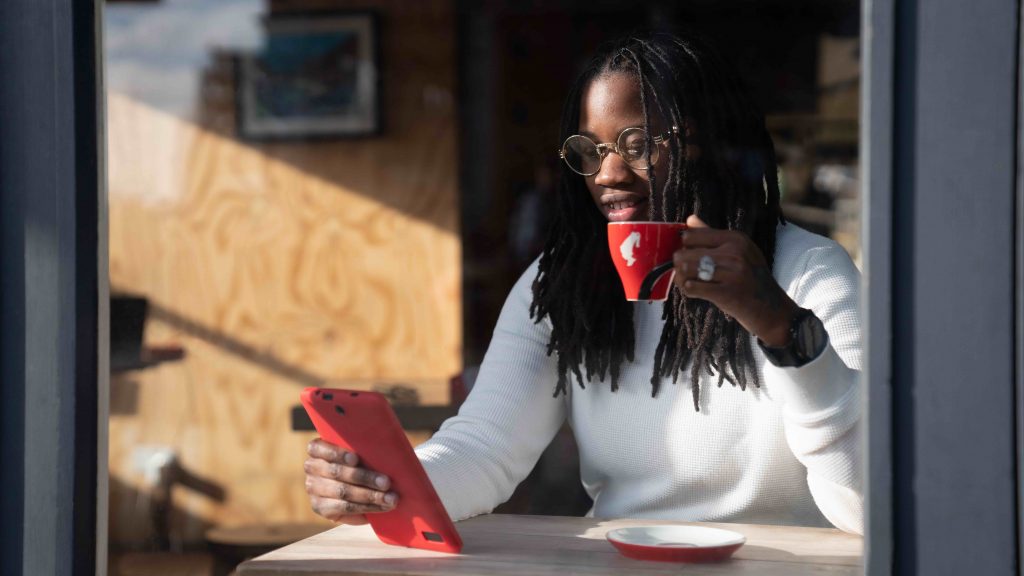 Poet and Published Author, Telixia was born and raised in Brixton, South London and she started writing poetry at 11 as a coping mechanism for her dyslexia – by the time she was 16 her words became the way she manoeuvred her experience of gang culture. Telixia now uses poetry as a tool to support people affected by poverty and inspire them to reach their full potential. For this World Poetry Day (21st March) Telixia has collaborated with Viennese coffee roasters, Julius Meinl, as part of their annual Pay With A Poem campaign. Julius Meinl together with global education charity Worldreader, is encouraging people to rediscover the power of words and use coffee as creative fuel to help improve the global learning crisis. FAD managed to sit down with Telixia to ask some questions about her collaboration for World Poetry Day.
Telixia, can you tell us a bit about you and your poetry?
I started writing poetry at a very young age because was I unable to learn from the school curriculum. So I used poetry as the tool to help me learn how to read properly and write. It was also the creative method I used to cope with my experience with gang culture, trauma, depression and anxiety. My poems have always been very serious, as my main topic used to be about my experience with school and feeling less than the other kids due to being dyslexic. Ever since making the decision to take my craft seriously, I decided to focus on topics such as mental health, education, diversity and inclusivity, gang culture, the criminal justice system, poverty and more. I believe that using art such as poetry to educate people and make change is what my calling truly is.
How are you involved with Julius Meinl and World Poetry Day?
My involvement with his campaign is major because Pay With A Poem is an amazing initiative that not only
encourages different people from all walks of life to participate in fighting the global education crisis, but uses poetry to support the mission 'one poem at a time' – it's genius. Being an ambassador for Julius Meinl and being able to use my platform to champion a cause I'm so passionate about for World Poetry Day is great, as it allows my supporters to see how important this art form can be and the change it can make to thousands or millions of people's lives.
Does coffee help fuel your creativity?
For me all I need is tranquility, however, coffee definitely has the power to fuel creativity – it can give you the extra boost you need to keep your creative juices flowing.
How do you feel poetry has transformed your life?
From the moment I was able to educate myself using such a tool, I knew I was onto something. Poetry was the very thing I was able to always go back to when things got tough – it helped me through battles other
people wouldn't have made it through. It helped me fight wars I was in mentally, emotionally and physically. Poetry made me grow in a way that no other art form could have done. It helped me transform from a stuttering, illiterate juvenile delinquent who had no sense of direction, into an articulate, confident, powerful educator who now uses her voice and story to make change.  Poetry saved my life.
How do you feel poetry can make our world a better place?
If people start to use poetry more as an outlet and tool for self-expression, then we will have less people bottling emotions inside and more individuals who are confident within themselves and able to
communicate effectively. The world we currently operate in isn't fit for future generations because they learn and process information differently than I did, however, by having poetry as an option for
educational purposes it can support individuals' personal and professional growth within today's society.
What poem/s do you read to make you feel inspired at the beginning of the day?
I read Maya Angelou Still I Rise every morning – it allows me to be progressive in my day, understanding that hurdles will arise but I am strong enough to overcome them. I love books from Iyanla Vanzant such as Acts of Faith. I also love to read The Warrior's Apprentice and The Art of War, and I'm currently reading Good Vibes, Good Life from Vex King. My selection of books are based off wanting to be progressive in writing poetry but writing as a whole – I'm inspired by growth and every day I want to better than the person I was the day before.
#PayWithAPoem
As part of its ongoing mission to make the world a better place through poetic inspiration, Viennese coffee and tea brand Julius Meinl has partnered with global education charity Worldreader for its world-renowned annual poetry initiative Pay with a Poem. This year, every poem counts towards a donation target in support of global literacy. You can get inspired and show your support by submitting your poem as a post on your Instagram feed, tagging #PayWithAPoem to count towards the donation target.
The most inspiring poetic submissions globally will be hosted on the Worldreader app for millions to read and enjoy. The judging panel will be made up of Christina Meinl, Head of Innovations at Julius Meinl Coffee Group and Global President of SCA, Colin McElwee, Co-founder and Senior Director of Worldreader and Telixia Inico, Published Author and Poet who will select the most inspirational poems from a shortlist of 40 submissions from around the globe.
This year because of the the COVID-19 situation you can still be involved, wherever you enjoy your coffee or tea, you can be inspired and submit your poem as a post on your Instagram feed and tag #PayWithAPoem.
All poems will still count towards this year's donation target.
To find out more about Pay With A Poem, and how you can unite with us to support Worldreader, visit meinlcoffee.com/pay-with-a-poem-2020/
Follow #PayWithAPoem and #PoetryForChange
Worldreader is a global nonprofit whose mission is to help the world read through increased accessibility to digital books. The organization provides a free digital library on tablets, e-readers, and mobile phones, complemented by a suite of reading support programs. Since 2010, more than 13 million people across 50 countries have read from the Worldreader digital library of thousands of local and international digital books. Worldreader works with device manufacturers, local and international publishers, government agencies, education officials, and local communities to help readers worldwide.
World Poetry Day: World Poetry Day is on 21 March, and was declared by UNESCO (the United Nations Educational, Scientific and Cultural Organization) in 1999. The purpose of the day is to promote the reading, writing, publishing and teaching of poetry throughout the world and, as the UNESCO session declaring the day says, to "give fresh recognition and impetus to national, regional and international poetry movements"
Categories
Tags